Image: Danny Lawson/PA Wire/Press Association Images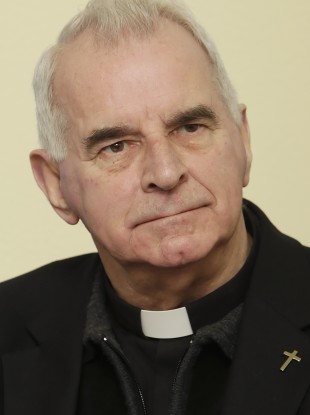 Image: Danny Lawson/PA Wire/Press Association Images
CARDINAL KEITH O'BRIEN, who resigned as Britain's most senior Catholic cleric last week, has admitted that his "sexual conduct has fallen below the standards expected of me".
The cardinal resigned last week following allegations in The Observer newspaper last month that he had engaged in inappropriate behaviour with other priests in his diocese in the 1980s but only yesterday did he admit to the allegations made against him.
O'Brien had initially contested the allegations by three priests and a former priest who said they told the Vatican's ambassador to Britain that O'Brien – who is well-known for his conservative stance on homosexuality – had committed the acts going back 33 years.
In a statement issued yesterday, O'Brien said: "I wish to take this opportunity to admit that there have been times that my sexual conduct has fallen below the standards expected of me as a priest, archbishop and cardinal."
"To those I have offended, I apologise and ask forgiveness. To the Catholic Church and people of Scotland, I also apologise. I will now spend the rest of my life in retirement. I will play no further part in the public life of the Catholic Church in Scotland."
The four claimants are or were all from the diocese of St Andrews and Edinburgh in Scotland where O'Brien was Archbishop.
One priest said he received unwanted attention from the cardinal after a late-night drinking session while another alleged that O'Brien used night prayers as a cover for inappropriate contact.
Cardinal O'Brien had been due to travel to Rome to help select the next Pope but resigned and removed himself from the papal conclave last week because he felt the allegations would be "too much of a distraction".
O'Brien's statement yesterday came on foot of more details in The Observer newspaper in which a former priest who reported the Cardinal attacked the church's response to the allegations he made.
"There have been two sensations for me this week," he told the paper.
"One is feeling the hot breath of the media on the back of my neck and the other is sensing the cold disapproval of the church hierarchy for daring to break ranks. I feel like if they could crush me, they would."