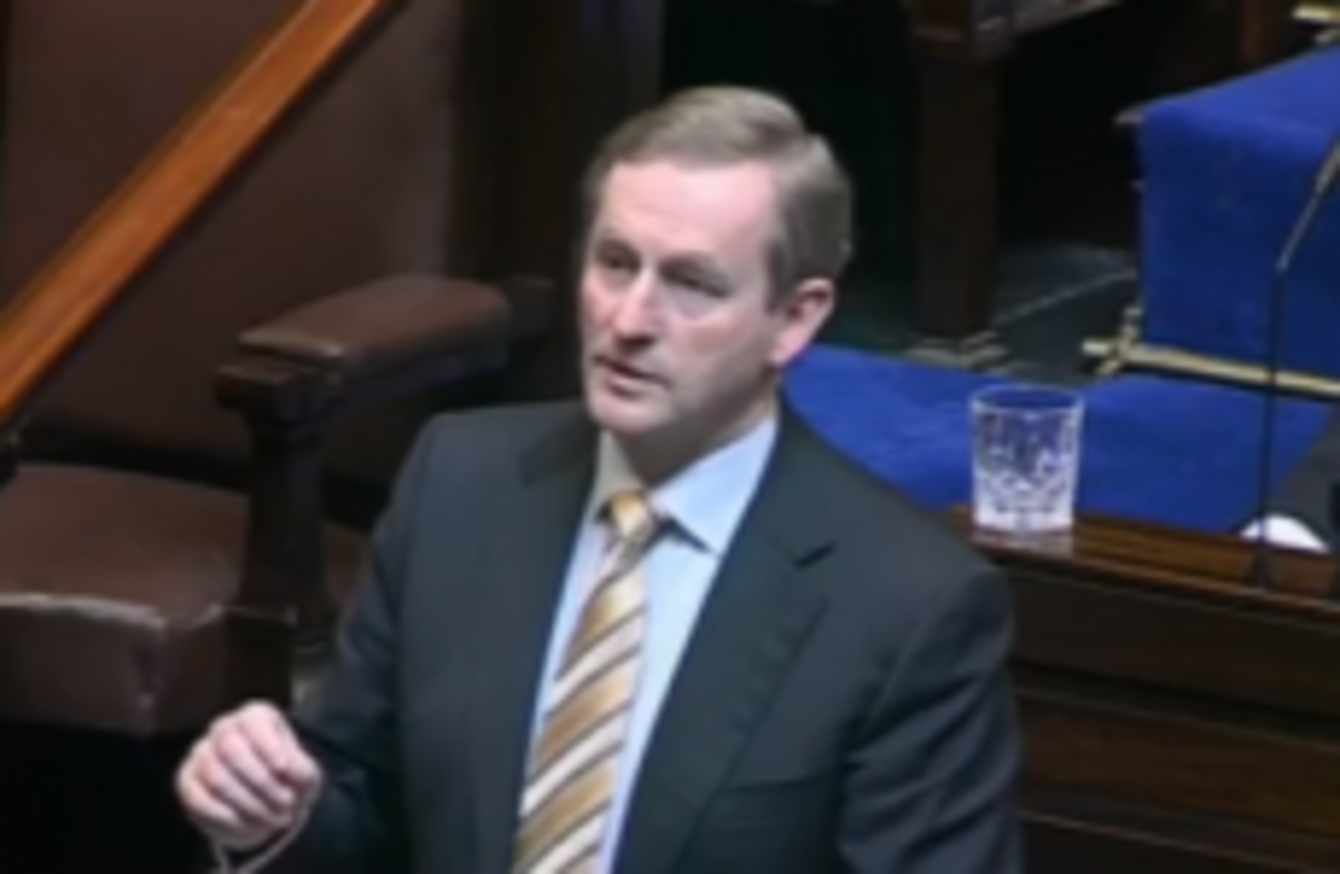 ENDA KENNY has told the Dáil that the "Europe Train is leaving the station" on the first of January next year – and that it is imperative that Ireland be on board by ratifying the fiscal compact treaty.
Speaking during leaders' questions in the Dáil this morning, Kenny told the technical group's Joe Higgins that Ireland is not being bullied into ratifying the fiscal compact, but that Ireland would be left out of European decision making if it did not sign up.
In the special sitting conducted entirely through Irish, to mark Lá na Gaeilge in the Oireachtas, Kenny said the compact was not driving an "austerity agenda", but a deal which hoped to return levels of exports and trade to where they had been in the 1990s.
Higgins had asked Kenny why Ireland was simultaneously sending Central Bank governor Patrick Honohan to seek a deal on the Anglo Irish Bank promissory note when it was also set to campaign in favour of austerity for the people of Ireland and Europe.
Higgins accused Kenny of signing off on an amended treaty creating a permanent European bailout fund, the European Stability Mechanism, which can only be accessed by countries accepting the fiscal compact, "in secret".
'Blackmail'
He also queried whether the Dáil, when ratifying that amended treaty, could amend it to remove this requirement. "Your ministers are saying it's been decided that the ESM can't be gotten without ratification," he said. "Why did you accept this blackmail?"
Kenny retorted that because the fiscal compact was not an EU treaty, Ireland did not have the power to veto it or place any conditions on its approval.
Earlier during the special session, Kenny accused Sinn Féin leader Gerry Adams of "going around the country lying about the government's education policy", when Adams suggested the government was seeking to close small schools.
"There won't be a single school closed as a result of an order or policy from this government," Kenny said, rebutting comments that the government was pursuing an anti-rural agenda.
The only reason why a local schooling setup might change, he said, was if local parents and community organisers came together and actively sought to set up a new institution.
Kenny also told the Dáil that new legislation for a state-backed loan scheme for small enterprises would be published in "five or six weeks", after Micheál Martin suggested the government had failed in its pledge to increase credit for small companies.
Members on all sides welcomed the opportunity to converse in Irish for the session, though Joe Higgins complained that the Dáil appeared not to have enough sets of headphones to provide simultaneous translations for members without sufficient Irish.
Higgins remarked that the silence from some TDs on his comments about the fiscal compact suggested many of them did not understand the proceedings going on in front of them.