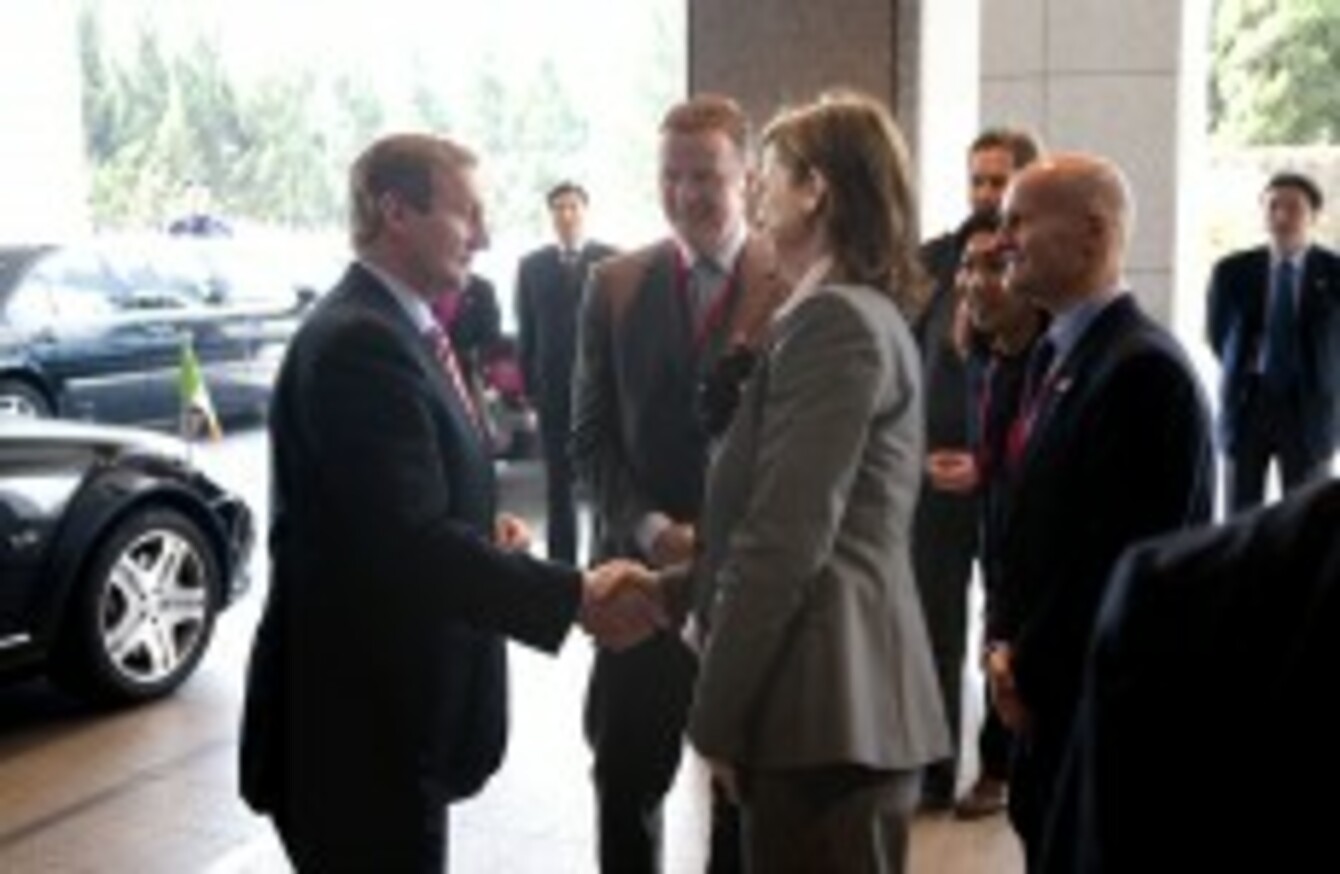 Taoiseach Enda Kenny at the new Morgan McKinley offices in Shanghai
Image: MKC Communications
Taoiseach Enda Kenny at the new Morgan McKinley offices in Shanghai
Image: MKC Communications
TAOISEACH ENDA KENNY has welcomed the opening of Morgan McKinley's offices in Shanghai.
The opening represents a €5 million investment by Morgan McKinley in its Chinese operations and also an expansion of staff numbers there from 70 to 200.
It is the first Irish recruiter to establish a presence in mainland China, with a network of offices also in Hong Kong, Singapore, Japan, Australia, Dubai, Ireland, France and the UK, managed from the company's corporate and administrative headquarters in Cork.
The event was atended by senior Chinese and multinational business executives and took place during the Taoiseach's four-day trade mission to China, which follows the recent visit to Ireland of Mr Xi Jinping, Vice-President of the People's Republic of China.
Speaking at the event, the Taoiseach said that Morgan McKinley "is a great example of how Irish companies can compete and win business anywhere in the world with innovative products and services".
Their success in China shows us how Irish services companies can become multinational players, bring inward investment into the country and create jobs.  The Government will continue to support the international growth of Irish companies and relentlessly promote the message that now is the time to invest in Ireland.  I congratulate Morgan McKinley on their achievements to date and wish them continued success.
Kenny was accompanied by Richard Bruton, TD, Minister for Jobs, Enterprise and Innovation, and Frank Ryan, Chief Executive of Enterprise Ireland.
They were welcomed to Morgan McKinley's Shanghai office by the Group's Chief Executive Officer, Pat Fitzgerald and Managing Director of Morgan McKinley China, Vivian Ng.
Enterprise Ireland said it has strongly encouraged and supported the company's international growth and expansion.  Morgan McKinley employs 635 globally, of whom 200 are based in Ireland.
Initial success in the highly competitive Chinese market has led to recruitment contracts for Morgan McKinley with a large number of organisations in China including multinational businesses.  Its clients in China include PricewaterhouseCoopers, Johnson & Johnson, Hang Seng, Giorgio Armani, Barclays and Pepsico, among other corporations.
Pat Fitzgerald, CEO Morgan McKinley said that in promoting the Pudong area of Shanghai as a location for foreign businesses to locate and develop, the Chinese government has given the company an opportunity to thrive in this region.
We are very happy to be part of the Chinese business community and look forward to seeing Shanghai continuing to grow as a leading international financial centre over the coming years. In turn we will play our part in that growth through our professional services recruitment expertise.
Kenny told a networking breakfast in Shanghai this morning that Ireland's economy had returned to positive growth.