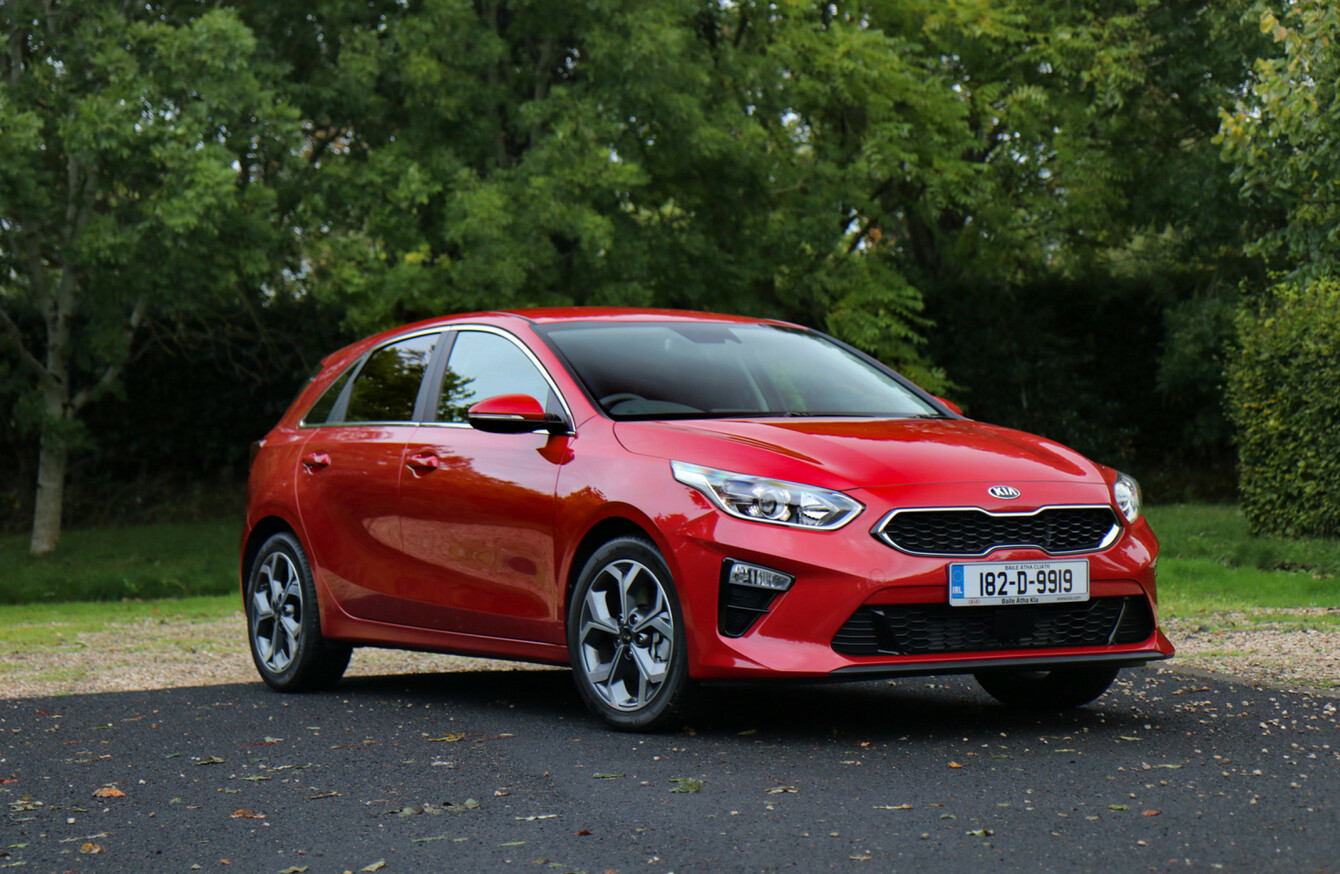 Image: Kia
Image: Kia
THIS IS THE third-generation Kia Ceed and it is priced from €22,695 for the entry level 1.0-litre petrol model in K2 grade. 
The design whilst sharp isn't exactly exciting. But once you sit inside the space, comfort, layout and build quality really impress.
The cabin's overall design is very functional and its well-laid-out buttons, switches, arm rests and touchscreen makes for a very comfortable and safe driving experience. So too does the ample adjustment in the seats and steering wheel and the shape and design of the gear selector. It's these little things that add up to a car that is pleasant to drive. 
The car comes well equipped as standard including wireless phone charging, Bluetooth, a seven-inch touchscreen and 16-inch alloys but you can also spec it up with plenty of bells and whistles. 
It also features plenty of safety technology and driver aids including cruise control, lane keeping assist, high beam assist, driver attention alert, forward collision avoidance (car and pedestrian) and a tyre pressure monitoring system.
As mentioned, there is plenty of space in the cabin all around including rear head and leg room and a boot that can hold 395 to 1,291 litres. As a comparison, the Volkswagen Golf can hold 380 to 1,270 litres, the Honda Civic can hold 478 to 1,267 litres and the new Ford Focus can hold 341 to 1,320 litres.
But it is out on the road where the Kia Ceed really shines. It's remarkable how far Kia has come in a a short period of time. The build quality is to a high standard for the segment and price point, and that's backed up by how well it drives on the road. 
Many buyers may turn their nose up at the prospect of a 1.0-litre engine in a car of this size. Yet there is no noticeable performance deficit here, in fact, the smaller turbocharged engine is better suited to the car than the larger 1.4-litre unit that is available. Even at higher speeds on the motorway the Kia still pulls well and it's only when fully laden with passengers and luggage that the engine starts to lose its breath.  
The steering is well-judged and the ride quality from the suspension is at the better end for cars in the segment. It doesn't have quite the finesse that the new Ford Focus or Volkswagen Golf has, but it really isn't far behind either. Through bends there is only minimal amounts of body roll and when fitted with smaller diameter wheels the ride comfort moves up another notch.  
Overall, the Kia Ceed is a well-tuned machine that does little wrong. It's well kitted out for the price and comes with a seven-year warranty.
Want to make sure you don't miss out on anything going on in the world of motors? Like us on Facebook and follow us on Twitter for the latest updates.