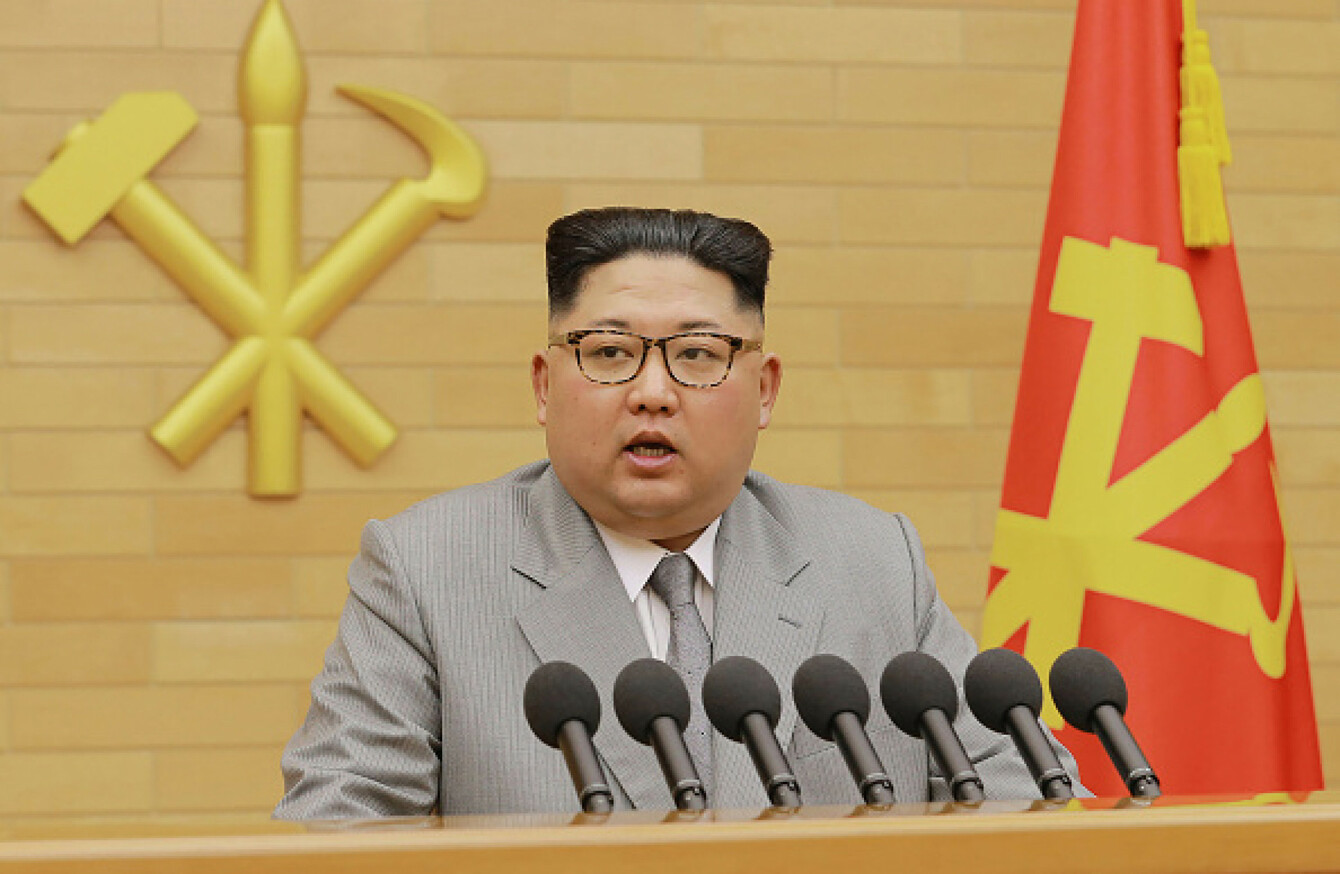 Image: AFP/Getty Images
Image: AFP/Getty Images
SPECULATION THAT NORTH  leader Kim Jong Un was in Beijing for his first ever foreign trip was rife today after Japanese media reported the arrival and departure of a special train met by an honour guard.
Heightened security at possible venues for a high-level meeting, motorcades driven under police escort, and a non-denial from Chinese authorities also fuelled the belief that Kim had come to pay his respects to President Xi Jinping.
If confirmed, it would mark Kim's first trip abroad since coming to power in 2011 and signal an intriguing twist in a rapid diplomatic thaw that has opened the door to separate summits between Kim and the presidents of South Korea and the United States.
Japan's Kyodo news agency reported the train's departure from a Beijing station but said it was not clear if Kim was aboard, a day after its arrival sparked rampant speculation about the mystery passenger's identity.
Foreign ministry spokeswoman Hua Chunying side-stepped a request to confirm if Kim or another high-level North Korean official was visiting, saying she was "not aware" of the situation.
"If we have information, we will publish it," Hua said, while adding that China was willing to work with North Korea to "continue to play a positive and constructive role in order to realise the denuclearisation of the peninsula."
Some analysts had suggested China – the North's only major ally – had been sidelined by Pyongyang's approaches to Seoul and Washington, but a visit by Kim would put Beijing firmly back at the centre of the diplomatic scrum.
Bill Bishop, publisher of the Sinocism China Newsletter, said Xi likely wanted to meet with Kim before a summit with US President Donald Trump, which could take place in May.
"They're concerned about being left out, with the North Koreans directly cutting a deal with the Americans that doesn't necessarily reflect Chinese interests," Bishop told AFP.
At the Diaoyutai guest house, where Kim's late father Kim Jong Il stayed during his visits to Beijing, there was an unusually heavy police presence with officers stationed every 50-100 metres in front of the imposing compound.
An AFP photographer saw a motorcade of limousines leave the guest house under a police escort on Tuesday morning.
There was also heightened security at two possible venues for a high-level meeting – the Great Hall of the People and Zhongnanhai, the central leadership compound next to Beijing's Forbidden City.
South Korean media speculated that the visitor might also have been Kim's sister Kim Yo Jong, or the country's ceremonial head of state Kim Yong Nam.
Official silence
The mystery began after Japanese broadcaster Nippon TV showed footage of a train – similar to that used for foreign visits by Kim Jong Il – pulling in to Beijing Station and being met by a military honour guard and a convoy of black limousines.
China's Weibo micro-blog was censoring searches for Kim Jong Un's name and variations on it Tuesday. Beijing often tightens news controls during sensitive political periods.
South Korean broadcaster SBS TV said that guests at a hotel in the border city of Dandong, overlooking the train link from China to North Korea, had been asked to leave and curtains were drawn across the hotel windows.
Kim Jong Il, who was known to be fearful of flying, visited China several times on his private, armoured train. His visits were confirmed by Chinese and North Korean state media only after he had left the country.
The younger Kim has not undertaken any official trip abroad since taking power following his father's death in 2011. And he has yet to host a single head of state, having snubbed the president of Mongolia who visited Pyongyang in 2013.
In Washington, the White House said it was unable to confirm Kim's presence in Pyongyang and the government in Seoul said only that it was closely monitoring the situation.
For decades Beijing has been Pyongyang's key diplomatic protector and main source of trade and aid, but their relationship has soured in recent years.
Kim broke with tradition by not travelling to Beijing to pay his respects to Xi after the Chinese leader came to power, and Beijing has become increasingly frustrated with its neighbour's nuclear weapon programme – showing a new willingness to agree to, and enforce, tougher UN sanctions.
At the same time, Beijing fears the collapse of the regime in Pyongyang and the instability it would bring, potentially sending waves of refugees into China and the possibility of US troops stationed on its border in a unified Korea.
High-level inter-Korean talks are scheduled for Thursday to pave the way for a summit between Kim and South Korean President Moon Jae-in in late April. Discussions have also begun on a possible summit with Trump in May.