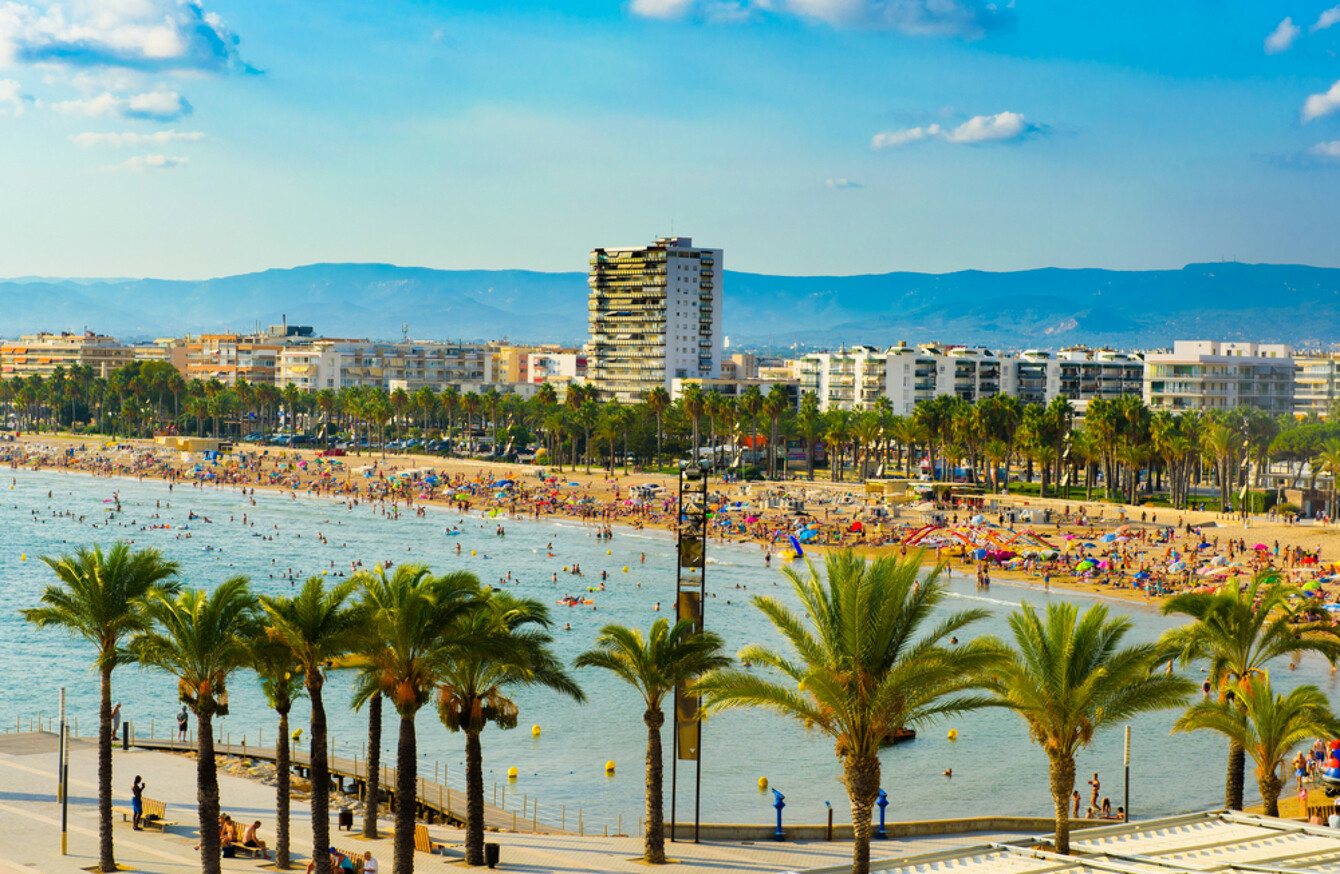 The resort of Salou.
Image: Shutterstock/gg-foto
The resort of Salou.
Image: Shutterstock/gg-foto
A SENIOR MEMBER of the Kinahan crime cartel arrested in his Spanish hotel bed earlier this week evaded capture at an airport last year.
Armed officers held the Irishman after storming his room as he was fast asleep beside an unidentified woman at the hotel in the Costa Dorada resort of Salou 60 miles south of Barcelona.
Footage released by police showed the elite team – carrying semi-automatic weapons with flashlights on them – running into the room after getting radio orders to strike as colleagues went in through a back terrace.
They can be heard shouting in Spanish, "Las Manos, Las Manos" – English for "Hands up, hands up" before yelling in English, "Don't move".
The 34-year-old Irishman, wanted on weapons and drugs charges, appeared to be asleep at the time although the television in his hotel room was still on.
The fugitive, also a suspect in the 2010 murder of gang boss Eamon "The Don" Dunne, who cannot be named for legal reasons, was driven to Madrid after his arrest for an extradition hearing.
It was not immediately clear if he had consented to extradition or opposed his forced return to Ireland at the behind-closed-doors hearing.
The hotel where the arrest took place has not been named.
Major league
Today Spanish police revealed they had come close to catching the wanted "major league" gangster in November last year at Malaga airport.
He escaped after crossing a busy motorway as officers closed in on him when he went to meet relatives arriving from Ireland.
The European Arrest Warrant was issued after two guns and cocaine were found in his car during a 2013 search.
He is also understood to be facing serious charges over the gunning down of Eamon Dunne at a friend's birthday party at a pub in Cabra in April 2010 in what was described at the time as "a perfect hit".
The gangland boss was sitting on a bar stool when his killer calmly walked in and told other terrified customers to "get on the floor" before blasting his victim with two shots to the head and three others to vital organs.
A Spanish police spokesman, confirming the Costa Dorada hotel arrest and identifying the detainee only by his initials, said:
"Spanish National Police officers have arrested an Irishman born in 1982 on foot of a European Arrest warrant at his hotel in Salou near Tarragona.
"The warrant was issued by Irish authorities for illegal possession of firearms and drugs offences, relating to a search on the suspect's vehicle in 2013 in which gardaí found two loaded guns and cocaine.
"Investigators were made aware that the fugitive had left Ireland to head to Spain in May 2016 using a a passport issued by the Irish authorities which he had in a false name.
"Efforts to locate him centred on the province of Malaga due to his alleged links to the Kinahan organised Irish crime family."
The spokesman, revealing how the suspect narrowly avoided capture in November last year, added:
"Subsequently it was discovered several members of his family were due to travel to Malaga and a surveillance operation was set up on Spanish soil, thanks to which he was located with his family at Malaga Airport.
"He reacted with great violence against officers who went to arrest him and fled, crossing several lanes of a motorway before managing to escape."