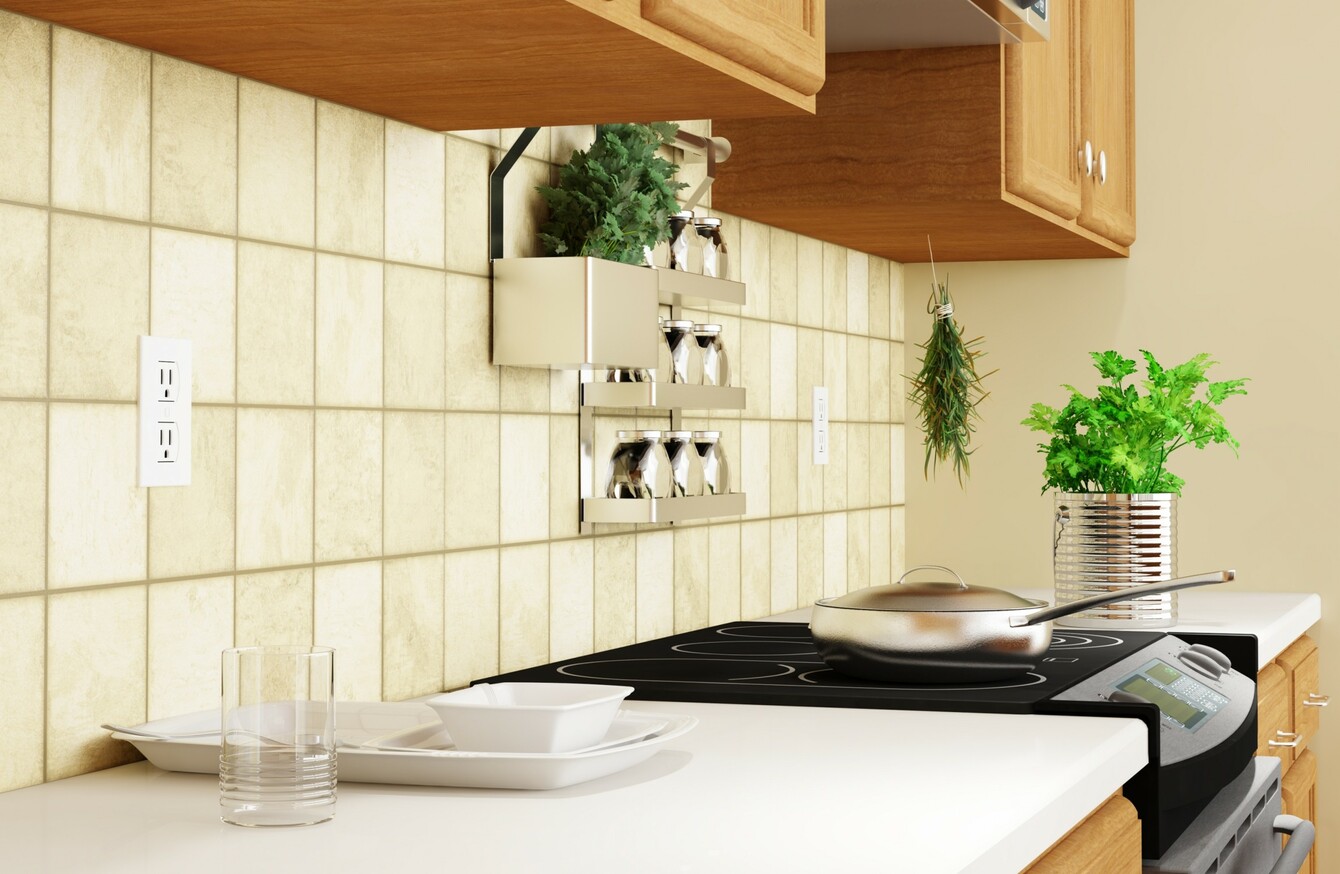 Image: Shutterstock/F.Schmidt
Image: Shutterstock/F.Schmidt
LAURA DE BARRA regularly brings her lifestyle and home maintenance masterclasses to the Glenveagh Home Magazine on TheJournal.ie. This week: four ways to change up kitchen tiles without removing them completely.
Swapping out old or dull tiles can be costly, but there are plenty of ways to clean up or change up your current tiles without removing them completely.
A note before we begin: preparation and pre-cleaning is key for all tile updates, to ensure that anything you add – be it paint or stickers – can bond properly.
It's also worth investing in products from a reputable company with good reviews. Many cheaper interior products will be of poor quality and finish, and the extra few euro can make all the difference.
Read on for four different ways to transform your tiles – plus the big pros and cons of each method…
1. Paint the grouting
Older grouting can become yellowed or faded, so shop around for some grouting paint to freshen things up. Regular paint won't do here by the way, it doesn't stick and will crack.
If you just want to make the tiles look new again, you can opt for white paint, but dark grey or black can give a more industrial vibe to white tiles or metro shapes. You can go the colour pop route here to and opt for a shade like blue, orange, yellow or pink.
Pros: This is a cheap and easy way to bring a new lease of life to your wall. The paint itself won't stick to the tiles, so you can wipe off any smudges.
Cons: This option doesn't change the tile itself. It's also not suitable for natural tiles – it will only work with a 'sealed' or glazed tile.
2. Or paint over the tiles themselves
If you really detest the tile colour and can't work with it at all, this one is for you. You'll use a primer first, and then paint with your chosen colour. Be sure to read the primer packaging before choosing your tile paint.
Prepping the area is vital here. Tiles around the hob will be loaded with grease, so take your time cleaning these. Grease is a primer's nightmare!
Pros: This is a low-cost way to make your kitchen look completely different. Lighter colours work particularly well as you will barely notice the painted grout. It is super easy to do and can last years when done correctly.
Cons: It's very tricky to paint both tile and grouting separately, so most people will just paint everything in one shade. The result is a flatter look that is obviously painted, so it may not be to everyone's tastes.
3. Try temporary tile stickers
These vinyl patterned sheets sit on the surface of the tile, giving it a whole new look. Buy or cut to size, apply, and then peel off if and when you want to.
If you are uncertain on positioning, you can pop some magic tape on the back and play around with the stickers before you commit. Do this over a few days and you'll find the perfect layout for you.
#Open journalism No news is bad news Support The Journal

Your contributions will help us continue to deliver the stories that are important to you

Support us now
Pros: These stickers are available in so many patterns and colours that you'll easily find something to suit your space and tastes.
Cons: Cheaper brands can lift at the corners during their lifetime, and you'll need to be careful of steam from kettles and pots too, as the vapour can lift the glue.
4. Or opt for permanent stick-on tiles
If you own your property and want an update for a small cost, consider permanent stick-on tiles. These sheets of thin fake tiles are waterproof, stick straight over tiles and have their own faux grouting. All you need to do is cut them to size, peel and stick.
Pros: These stick-on tiles will completely cover old tile and grout, and can even be used to 'tile' bare walls.
Cons: It's tough to get these tiles back off and they'll take wall paint with them, so be certain of positioning before you stick. They are a perfect fix if you want to eventually retile the area but would like a temporary change, but they won't last forever – around three or four years is the lifespan.
Want more tips and hacks? Laura de Barra's debut book, Gaff Goddess: Simple Tips And Tricks To Help You Run Your Home is on shelves now, published by Transworld Ireland. Buy it here or in all good bookshops, and follow Laura on Instagram for even more cleaning and lifestyle tips.