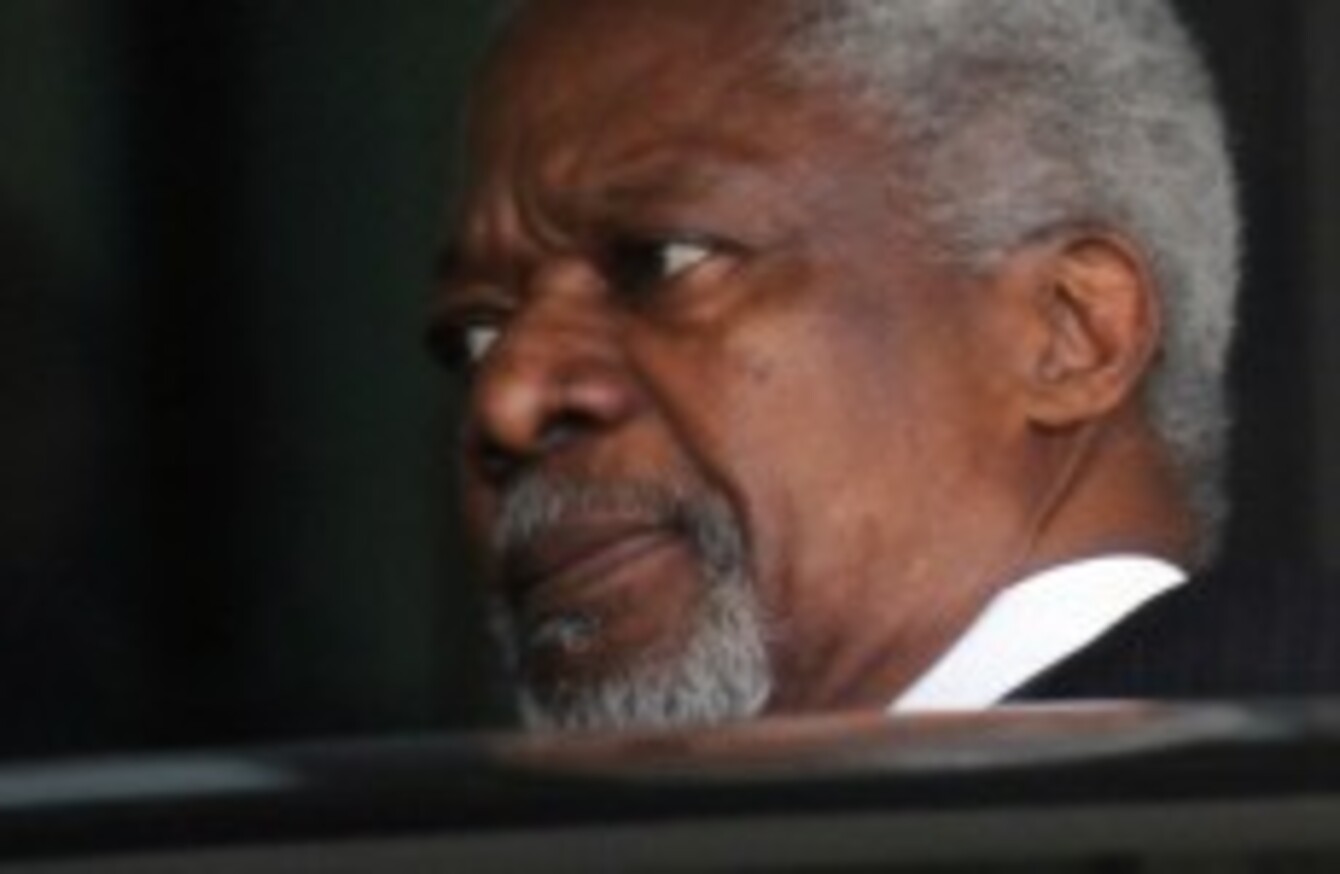 Kofi Annan leaving a hotel in Damascus today
Image: Bassem Tellawi/AP/Press Association Images
Kofi Annan leaving a hotel in Damascus today
Image: Bassem Tellawi/AP/Press Association Images
UN ENVOY KOFI Annan is meeting with Syrian President Bashar Assad in Damascus today in a bid to stem the violence in the country's year-long conflict.
The state-run news agency reported that Assad received Annan. There were no further details on the meeting, which is aimed at a halting violence that began with crackdowns on mostly peaceful protests against the authoritarian regime but appears to be transforming into a civil war.
Annan's visit comes amid reports that further high-ranking military officers have defected from security forces to join the rebel Free Syrian Army.
An FSA spokesman told Reuters that seven brigadier generals have now defected, with four joining the ranks over the last three days after fleeing to a refugee camp in southern Turkey.
The latest diplomatic mission to end the Syrian crisis stumbled even before it began, as the opposition rejected Annan's calls for dialogue with Assad's regime yesterday.
The dispute exposes the widening gap between opposition leaders who say only military aid can stop Assad's regime, and Western powers who fear more weapons will exacerbate the conflict.
Snipers, tanks, gunmen
Annan's visit marks a new international push for peace nearly a year after protesters took to the streets to demand Assad's ouster, inspired by Arab Spring uprisings in Tunisia and Egypt. Since then, the regime has dispatched snipers, tanks and civilian gunmen to crush dissent. As the death toll mounted, protests have spread, and some have taken up arms to defend themselves and attack government forces.
The conflict is now one of the bloodiest of the Arab Spring, with the UN saying more than 7,500 people have been killed. Activists put the number at more than 8,000.
Annan, the former UN secretary-general, was appointed last month as the joint special envoy of the United Nations and the Arab League.
- Additional reporting by Michael Freeman