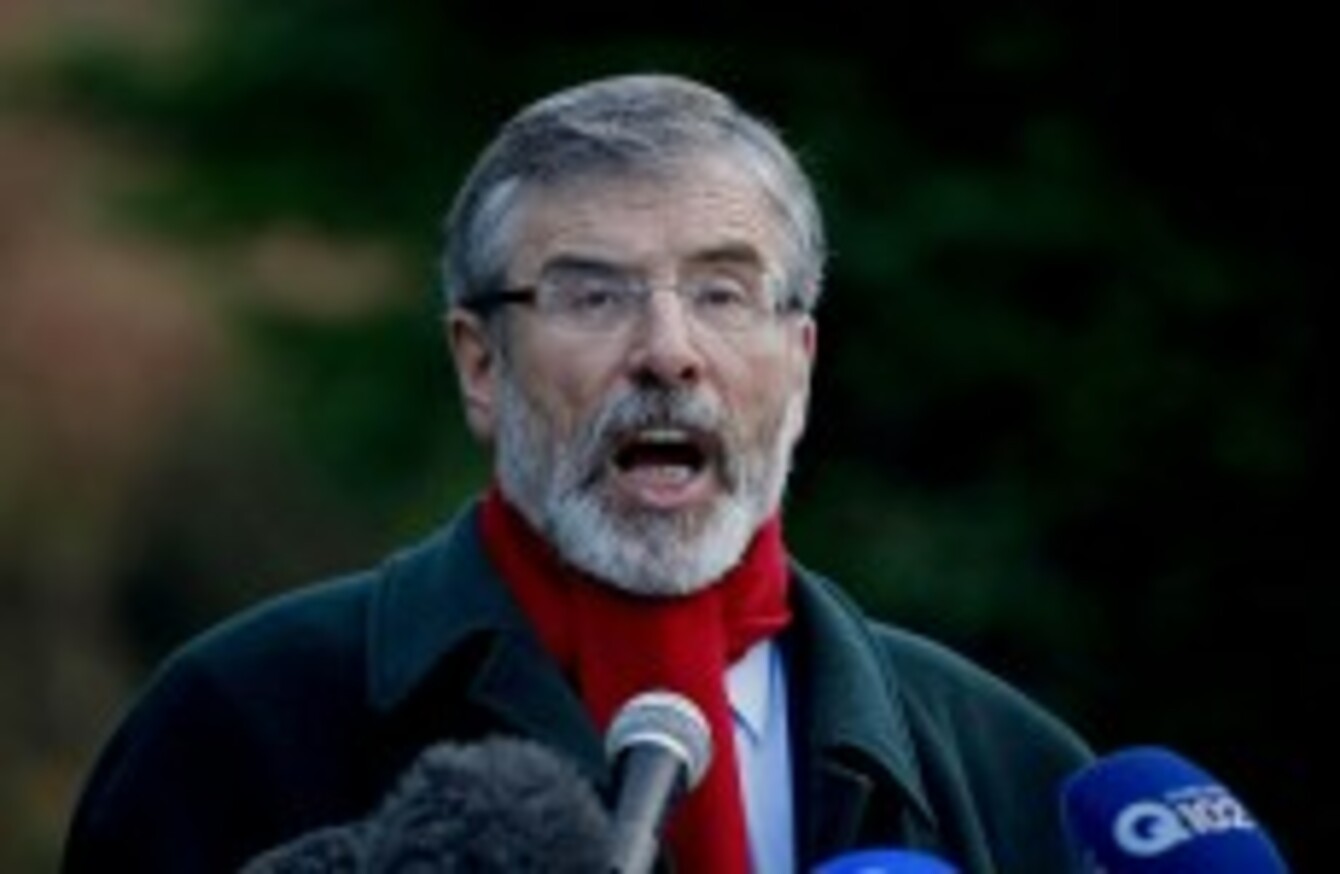 Image: Julien Behal/PA Wire
Image: Julien Behal/PA Wire
SINN FÉIN president Gerry Adams this evening further upped the ante in his war or words with Labour leader Eamon Gilmore, insisting that Sinn Féin does not intend to put either Fianna Fáil or Fine Gael into government.
In a statement released tonight, Adams dismissed claims made by Gilmore earlier when the Labour leader said Sinn Féin could form an electoral pact with Fianna Fáil, labelling them a "flimsy attempt" to distract attention from his own intention to support Fine Gael.
"Sinn Féin has no intention of putting either of these conservative parties [Fianna Fáil or Fine Gael] into government," Adams said, adding: "There is a need for realignment in Irish politics."
This morning Adams had told Morning Ireland that neither Fine Gael or Fianna Fáil was willing to enact the "root and branch" reform that Ireland needed.
This afternoon, Gilmore had insisted that his Labour party would not entertain a coalition with Sinn Féin, saying his party would not be forming any pre-election alliances, unlike in 2007, and said it seemed more apparent that Sinn Féin was hoping to allege with Fianna Fáil.
The two parties had apparently worked well in 1998 during the negotiation of the Good Friday Agreement, he said, and there would be room for the two parties to find similar common ground after an election.
He also repeated an earlier assertion that the "mathematics" of forming a coalition with Sinn Féin would not work, and said he was focussing on trying to win Labour the 50 seats it would need to become the largest party in the next government.
Gilmore had yesterday said Labour was entitled to outline its objectives, and said it was not in the country's interests to include governments with parties "on the edge of politics".
Fianna Fáil senator James Carroll also this afternoon rejected Gilmore's assertion of a potential Fianna Fáil-Sinn Féin pact, saying that given Gilmore's "Official Sinn Féin background and Gerry Adam's role as leader of Provisional Sinn Féin, a Labour-Sinn Féin tie-up is a much more likely prospect".
Carroll referred to 2007, when a Labour-SF pact resulted in the election of Pearse Doherty to the Seanad, the first time a Sinn Féin member had been elected to that house.