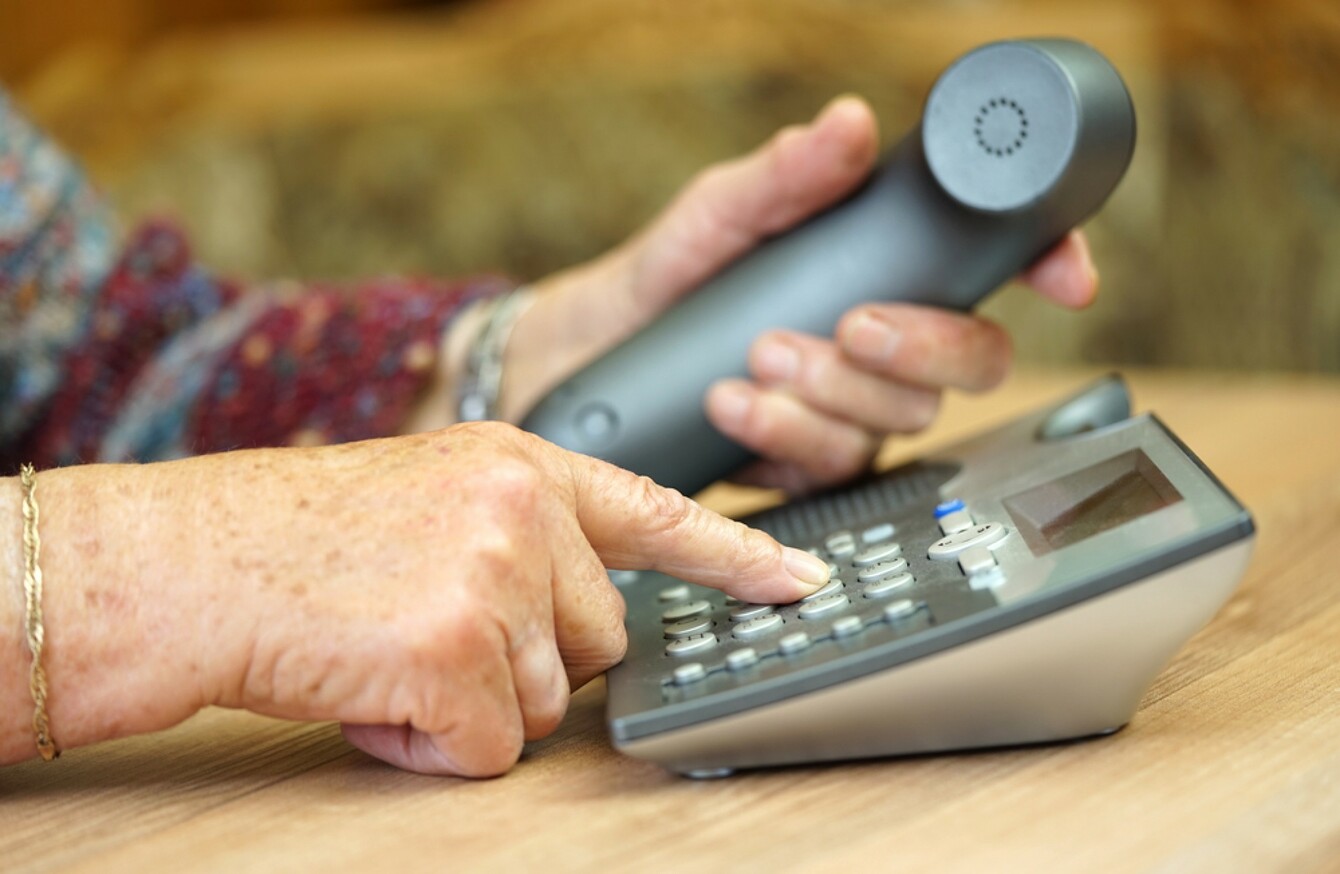 Image: Shutterstock/Bacho
Image: Shutterstock/Bacho
DISCOUNT LANDLINE OPERATOR Yourtel has been fined €2,500 and ordered to pay €10,000 in legal costs for repeatedly billing a retired school teacher for a service it did not provide.
Dublin District Court heard that pensioner Briain Mac Diarmada, 74, was threatened with debt collectors and reported to a credit ratings agency when he took a stand against the phone company.
Following an investigation by industry watchdog Comreg, German telecom firm Yourtel went on trial on a charge under the Communications Act for charging Briain Mac Diarmada for a service or product that was requested but not supplied.
The offence can result in a fine of up to €5,000.
Judge John Brennan convicted the firm and accepted the offence would have caused Mac Diarmada to fret.
He imposed the €2,500 fine and agreed to make an order compelling the firm to pay Comreg's costs.
The company, which has claimed to operate the lowest-priced landline calls in the country, entered the Irish market in 2013 and had pleaded not guilty to the charge.
"Out of the blue"
Mac Diarmada, from Newtownmountkennedy, Co. Wicklow, told Judge Brennan that in 2013 he switched from Eircom to Yourtel for calls.
He said that after being cold-called "out of the blue", he entered into a new contract with Yourtel in October 2014 but in January 2016 he noticed that he had been being billed by both Yourtel and Eircom for calls.
He was supposed to be billed by Eircom for line rental only and by Yourtel for calls, the court heard.
After realising he was paying twice he contacted Yourtel and learned it was not providing the service.
He told the court he decided "I would take a stand" and not pay the latest €23.95 bill. He said that at the end of January he received a correspondence from Yourtel demanding payment of the bill as well as late payment fee.
He agreed with prosecution counsel Ronan Kennedy that he received further correspondence from Yourtel on 9 March last year.
He said this informed him his account was being deactivated and that "I have sent your data to a debt collection agency" and the letter went on to say his data had been filed with a credit agency. The letter ended with "Yours Sincerely, Yourtel Legal Department," the court heard.
Mr Mac Diarmada said he was "deeply unimpressed", he did not like his data being passed to a credit agency and he had never been threatened before.
He wrote to Yourtel explaining that he had wanted to be connected.
He agreed with Kennedy that he was charged for a product which had not been provided and he then contacted Comreg and gave them documentation to support his case. He said he did not receive the service from September 2014 until January 2016.
He said that as far as he was concerned he had a contract with Yourtel and it was broken by the company. He agreed with defence counsel Oisin Clarke that in April last year his account was terminated and the bill was waived.
Eircom's head of Operations Support Systems told the court that during the period in question all calls on the line were provided by Eircom not by Yourtel.
The court heard the onus was on the telecom company gaining a new customer to organise a seamless transfer of calls from the previous provider.
Refused a refund
Miriam Kilraine, Regulatory Operations Manager at Comreg, said Yourtel had refused to refund the customer.
Clarke, defending, said that in August last year Yourtel apologised to the pensioner and had informed him that an employee had been disciplined. She disagreed that it was unfair that summons were issued while Yourtel were attempting to resolve Mac Diarmada complaint.
The court heard that Yourtel does not have premises in Ireland but use a distribution service with an address at Kill Avenue, Dun Laoghaire, Co. Dublin to forward post to their address in Germany.
Last year in prosecution brought by the office of the Data Protection Commissioner, Yourtel was fined €5,000 for unwanted marketing calls targeting Eir customers.
The company had also been spared a court conviction in 2015 by paying €2,500 to charity after it was prosecuted by Comreg for other communications offences.