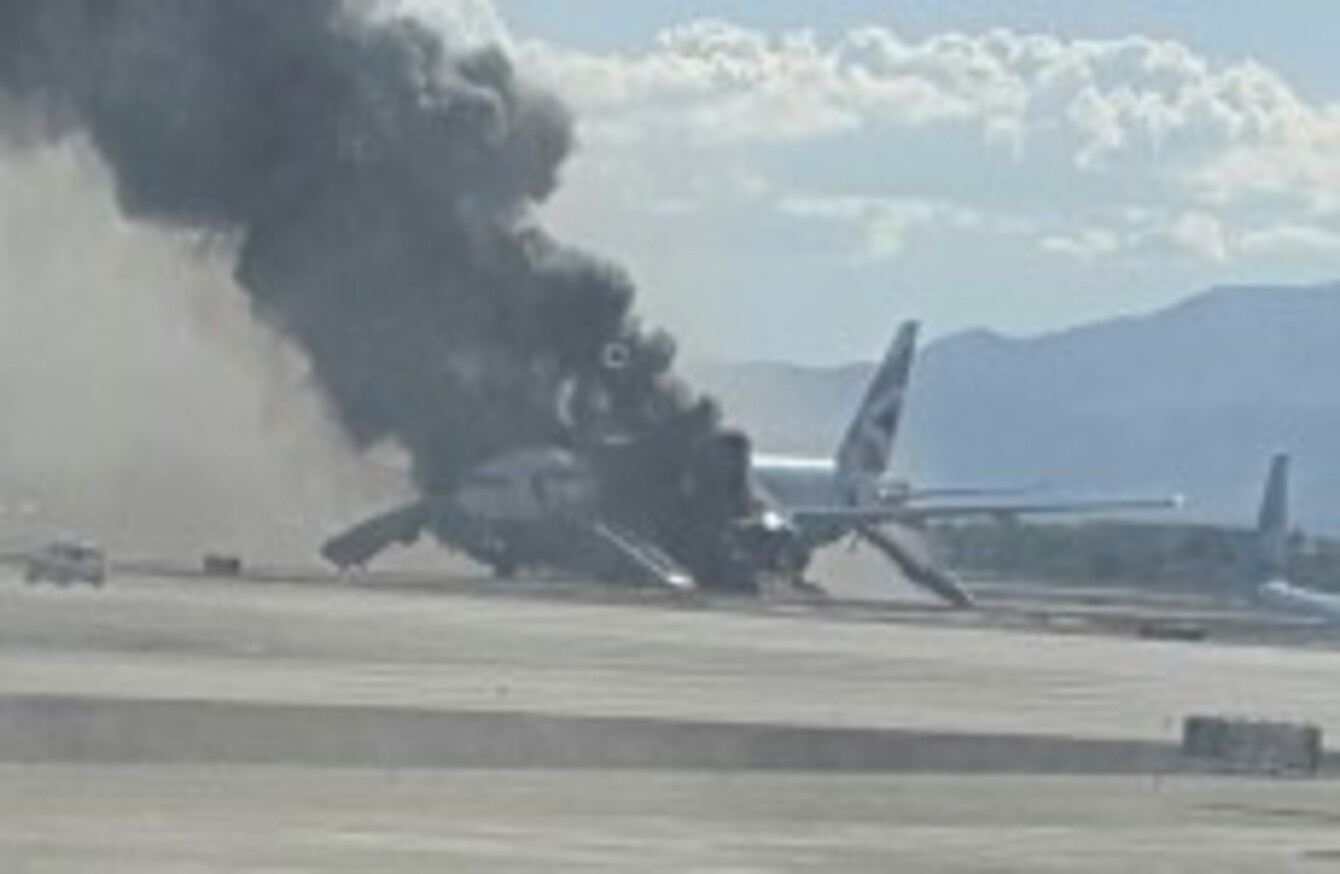 Image: AP
Image: AP
A LONDON-BOUND flight that caught fire dramatically on the runway of Las Vegas' international airport on Tuesday had a Meath man as co-pilot.
Speaking on The Anton Savage Show on Today FM today Callaghan's father Paddy spoke of how "very, very proud" his whole family are of him.
"It's only now in the aftermath he's realising what a close shave it was," said Paddy.
He had excellent training, but we're really all very proud of him. He'll be home in the next couple of days and we can't wait to have him home to be honest.
I'm no expert but as I understand it they had started the takeoff procedure, they had hit 80-90 mph and suddenly serious red flights started to flash and some major decisions had to be made.
There are such horrific implications in an incident like that, but all went great thankfully.
All 159 passengers and 13 crew members aboard Flight 2276 were able to get off the plane, McCarran International Airport spokesman Chris Jones said at the time.
The Federal Aviation Administration delayed flights to Las Vegas from some airports for more than two hours after the fire to slow the flow of planes while the disabled Boeing 777 made two of the airport's four runways inaccessible. One of the runways reopened about 2.5 hours after the fire.
Paddy describes his son as a "cool, collected customer, always good under pressure".
"He had always wanted to be a pilot as soon as he had finished his Leaving Cert, though it took him a year to get a slot  in a training programme," he said.
Callaghan in fact spent several months "peeling carrots" at his family's Nature's Best factory in Drogheda before commencing pilot training.
He lives in Drogheda now, even though he works for BA. He's on long haul so he could be away for a week at a time that kind of thing.
He never wanted to do anything else. We all like to travel but I don't know where he got his love of flying from.
He had one focus, one ambition in life, to be a pilot. One of the things they look for is people who are good under pressure, and that stood him in good stead on Tuesday.
When he got off the plane all he had was his mobile phone and all he wanted to do was make contact with his family and Claire his girlfriend and let us know that he was ok.