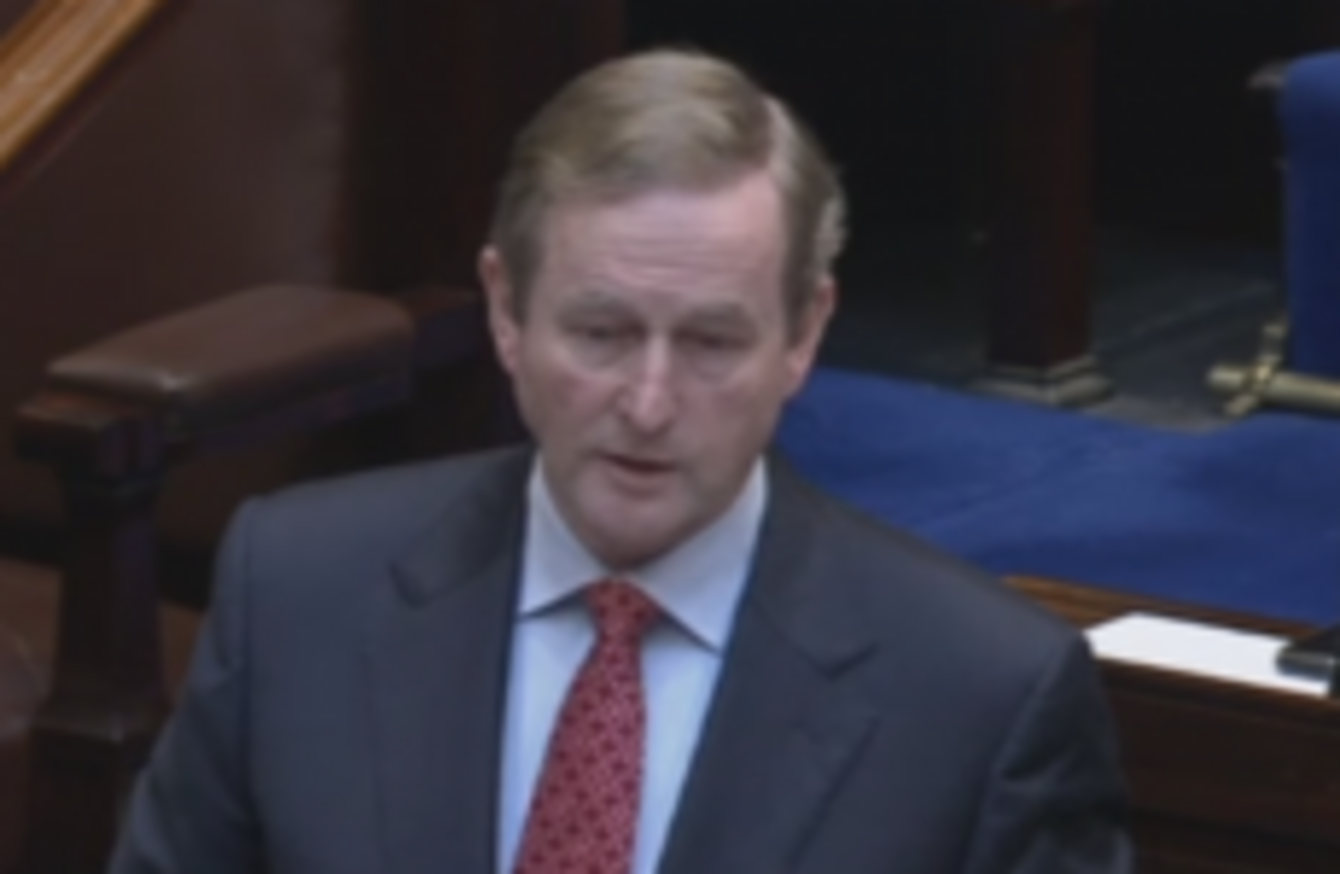 Taoiseach Enda Kenny
Image: Screenshot via Oireachtas.ie
Taoiseach Enda Kenny
Image: Screenshot via Oireachtas.ie
THE GOVERNMENT IS in the middle of cleaning up legacies 'of untold proportions', the Taoiseach has said, and has reiterated that a charities regulator will be appointed next month.
Speaking during Leaders' Questions this afternoon, the Taoiseach was pressed by Sinn Féin President Gerry Adams on the implementation of the Charities Bill 2009 following a Private Members Motion on the topic.
The Dáil heard during the debate last night that close €4 million worth of Rehab lottery scratch cards sales earned just €9,452 profit in 2010.
"Shocked citizens"
Following on from this, Deputy Adams called for the full salary of Rehab Group CEO Angela Kerins be disclosed, adding that last night's revelations had "shocked citizens".
He said that efforts by Justice Minister Alan Shatter to implement various aspects of Charities Bill were welcome, but they were "piecemeal" when short of full implementation of the Bill.
Adams said that the unregulated charity sector had done "untold damage".
"What we want is a system where all charities are treated the same", the Taoiseach has said, and that monies donated are going to where they should be.
Kenny said that the government is still moving to implement a "a much more accountable system", adding that:
Many of the political carpets that have been lifted, many of the financial carpets lifted in the past period, have been infested with maggots.
The Taoiseach also responded to questions from Fianna Fáil leader Michael Martin on remuneration policies within Irish Water, saying that he didn't have the answers.
He confirmed that Minister Phil Hogan has written formally to Irish Water requesting that this information be supplied, and that the government previously wasn't aware of what these policies were.
Answers
"I am telling you the truth here," the Taoiseach said, "I don't have the answers to these questions."
People Before Profit TD Joan Collins also raised the issue of a 79-year-old constituent whose Widows Contributory Pension had been cut off as part of a random security check, and called on the Taoiseach to reinstate it as the woman's situation had not changed.
Kenny responded by noting that there is a duty of care to ensure that payments are made to those are entitled, and that the system isn't being taken advantage of. He requested that the details of the incident to be passed on.