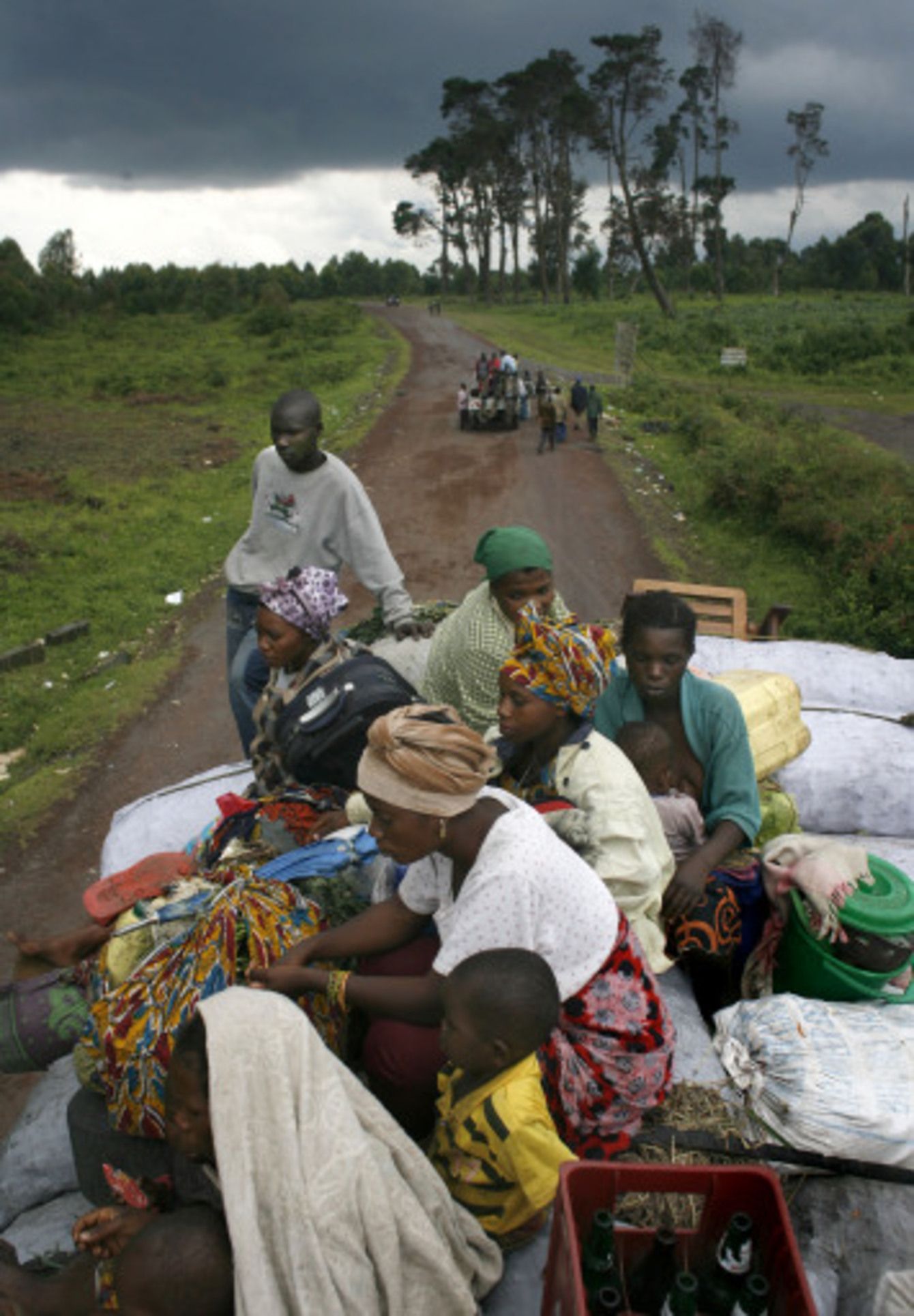 Displaced people in eastern Congo, Sunday Nov. 9, 2008
Displaced people in eastern Congo, Sunday Nov. 9, 2008
ATROCITIES CARRIED OUT in Democratic of Congo (DRC) over a 10 year period have been classed as war crimes by the United Nations, according to a leaked draft report.
The report says that the Rwandan army could be responsible for carrying out genocide against members of the Hutu tribe in DRC, during a conflict between the two countries that spanned from 1993 to 2003.
The 600-page document outlines how Hutus were the victims of rape, murder and looting at the hands of Rwandan forces. It details how large numbers of Hutu families were rounded up and violently killed with hoes, hammers and axes, or burned alive.
It concludes that most of the victims were women, children, the elderly and the infirm.
Rwanda has blasted the findings, dismissing them as "rubbish" and an "amateurish NGO job", according to various reports. The Rwandan government is likely to find the report highly embarrassing as it is attempting to detach itself from its own bloody past and present Rwanda as a modern country.
At one point, the draft report details Rwanda's invasion of DRC (then Zaire) in 1996, when Rwandan Tutsis pursued fleeing DCR Hutu soldiers.
The report states:
The extent of the crimes and the large number of victims, probably in the several tens of thousands, are demonstrated by the numerous incidents detailed in the report. The extensive use of non-firearms, particularly hammers, and the systematic massacres of survivors after camps were taken prove that the number of deaths cannot be put down to the margins of war. Among the victims were mostly children, women, old and ill people.
Rwanda invaded DRC again, in 1998, when it suspected the country's new regime supported Hutu rebels. The conflict involved eight countries and 21 militia groups. DRC's rich mineral deposits were plundered of diamonds, gold, copper, cobalt and zinc.
Angolan rebels are also implicated for raping and looting during the invasion.
A spokesman for the UN high commissioner for human rights, Rupert Colville, has said that the leaked document was only a draft and that the final report (due to be published next month) would be likely to contain revisions.
However, Rwanda reportedly urging the UN to retract some of the more serious allegations contained within the report. If the changes in the final report prove to be significant, the UN could be accused of submitting to the pressure.
See this BBC report for background details of  the conflict in DRC.