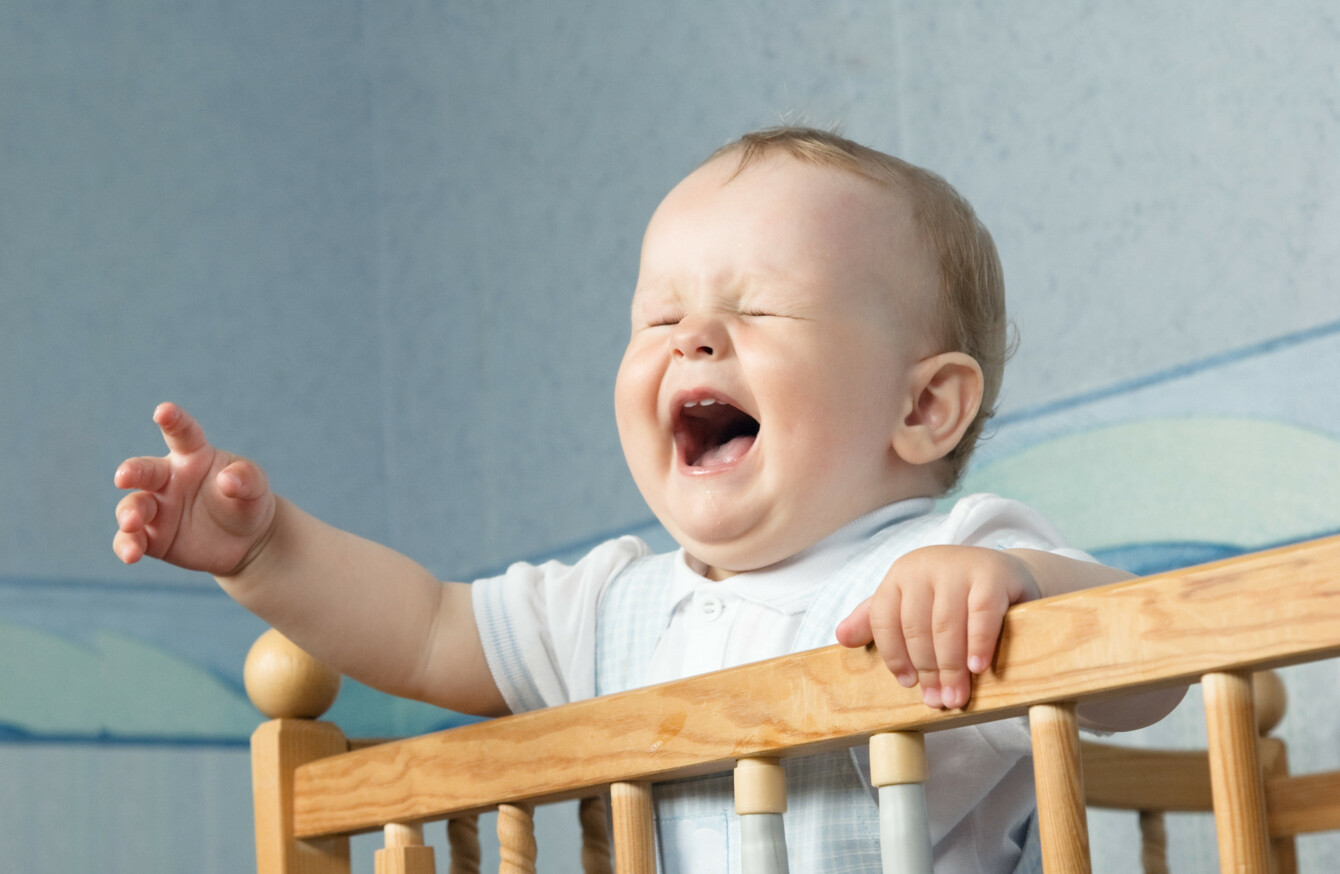 Image: Shutterstock
Image: Shutterstock
EACH WEEK, WE hear from a reader who can't figure out what to do about a tricky parenting situation. To get a balanced take on the dilemma, we ask three Irish parenting experts to weigh in.
Creating a sleep routine that works for both you and your child can be a tricky thing to navigate, but what happens if they'll only fall asleep when you're there? 
This week, one parent is conflicted over whether she should persist with letting her cranky six-month-old daughter 'cry it out' in order to help her get to go to sleep – despite the tears from all sides.
Have a parenting dilemma you're struggling with? Let us know anonymously here and we'll share it with our panel of experts.
This week's dilemma
My six-month-old cries endlessly most nights when we put her to bed until we come and hold her until she falls asleep. Like clockwork, as soon as we walk through the bedroom door she stops crying pretty much immediately. Several of my family and friends have highly recommended letting her cry it out, but I can't bear to hear her upset for a prolonged length of time. I've tried to do it but I end up going into her 10 minutes earlier every time. However, I don't see any other solution at this stage. Am I being unreasonable by leaving my baby to cry it out?
What the experts have to say…
You are not being unreasonable. Two of my three children had a tough time settling to sleep. I had to use a specific sleep approach, whereby part of it was going in and out of the room at very regular monitored intervals. The difference between that and crying it out is that crying it out is leaving the child to cry until they fall asleep. It's really important that you research which approach works best for you and your child and importantly what you feel most comfortable with as every parent and child are different.
Sleep is such an emotive aspect for parents because if we are exhausted, it's often hard to know what to do. You say your baby is only six months old, she is still so tiny and is really only now entering into her natural sleep pattern similar to adults. It is important to remember that crying is the only voice any baby has, and it's her way of saying that she is tired and frustrated.
- Aoife Lee, Parent Coach at parentsupport.ie.

Research on infant development suggests it is unreasonable to leave a baby to 'cry it out'. Leaving a baby crying for long periods raises stress hormones and this has an effect on physiology, on emotional and mental well being and on development. 
When I had my first baby, I assumed he would breastfeed and then be put down to sleep. When this wasn't the case, people told me to leave him, but that just didn't feel right, so I started doing my research and realised it is normal for babies to need the closeness of a parent. At that age, a baby's wants are their needs. Your family's sleep solution is unique to you, so it's always best to listen to your intuition. 
- Krysia Lynch, Maternity Care Expert at Krysia.ie.

No, I don't think you are being unreasonable. Instinct kicks in when you hear your baby cry and you want to soothe them. Your baby has learned, "If I cry, my parents will come." It is not easy but if you sit beside the cot and maybe place your hand on your baby's belly, while quietly singing a lullaby, you are still present with baby but resist the urge to pick them up. It's not an easy task, but this worked for my first born
- Brian Purcell, Occupational Therapist.

So what's the final tally? Is this reader being unreasonable?
Yes – 1
No – 2
Tell us your thoughts in the comments!
Have a parenting question you want answered? Let us know anonymously in our survey here or email us on family@thejournal.ie and we'll put it to the experts.