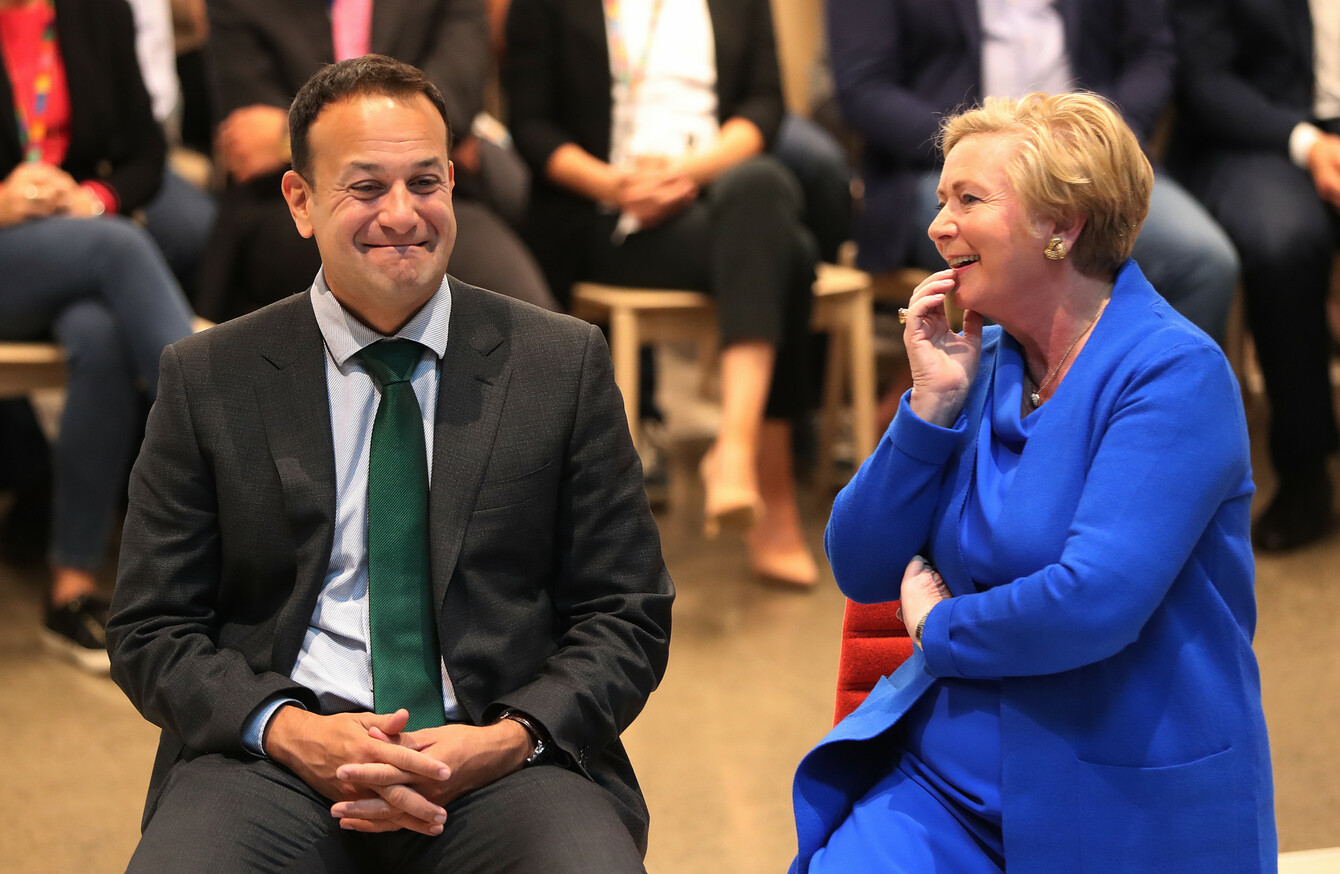 Taoiseach Leo Varadkar and Tanaiste Frances Fitzgerald in September 2017.
Image: Niall Carson via PA Images
Taoiseach Leo Varadkar and Tanaiste Frances Fitzgerald in September 2017.
Image: Niall Carson via PA Images
AS MANY OF us tend to do at this time of year, Taoiseach Leo Varadkar is reflecting on his high and low points of 2017.
Perhaps unsurprisingly, he's said that the resignation of his close colleague Frances Fitzgerald from her position as Tánaiste and Minister for Business as the low point of his year.
"She is a good woman who has done a lot for this country," he told The Sunday Independent.
Fitzgerald resigned in November of this year after coming under increased pressure over revelations relating to the Garda whistleblower Maurice McCabe saga. Fitzgerald was accused of doing nothing about the legal strategy taken against McCabe by the then-Garda Commissioner Nóirín O'Sullivan during Fitzgerald's time as Minister for Justice.
Fitzgerald has maintained that she was advised against taking action, and Taoiseach Leo Varadkar, as well as other Ministers including Simon Coveney, Eoghan Murphy and Simon Harris have all defended Fitzgerald's actions (or inaction).
Varadkar also told The Sunday Independent that his high point of the year was striking a last-minute deal during Brexit negotiations over the future of the border on the island of Ireland.
"It was probably the positive outcome of the first phase in the Brexit negotiations. it was a good result for Ireland but we have more to do in the new year ahead to secure it."
Although the deal was hailed as a major victory for Varadkar and his new Tánaiste Coveney, relations became tense after the deal was announced – with the UK government claiming that the deal wasn't legally binding, comments which both Varadkar and Coveney dismissed.
Varadkar was taking part in the newspaper's annual Living Christmas party, which invites a number of celebrities to reflect and review the year they've had.
Among those who were present were RTÉ's presenters Joe Duffy and Marty Whelan, former Miss World Rosanna Davison, Game of Thrones actor Liam Cunningham, singer Frances Black, Met Éireann's Nuala Carey, and Minister of State Mary Mitchell-O'Connor.
Some of the guests were asked about how Varadkar is faring in the premier role so far – many answered to praise his handling of the Brexit negotiations, but said more work needed to be done to alleviate the housing crisis and help the homeless.
"The very 'Good Friday' Brexit agreement on 8 December projected a very powerful image worldwide of the Taoiseach and Tánaiste towering over their hapless British counterparts," Joe Duffy said. "A good day's work for Ireland. Sock it to them."
While Frances Black, who's an independent senator, agreed on his performance during Brexit negotiations, she said that "he needs to do more on the homelessness issue."
When asked to review other aspects of the year, Varadkar said that Harvey Weinstein was the "villain" of 2017; and said that he does miss TV3 presenter Vincent Browne, who retired from his television show this year. "He's irreplaceable," he said.