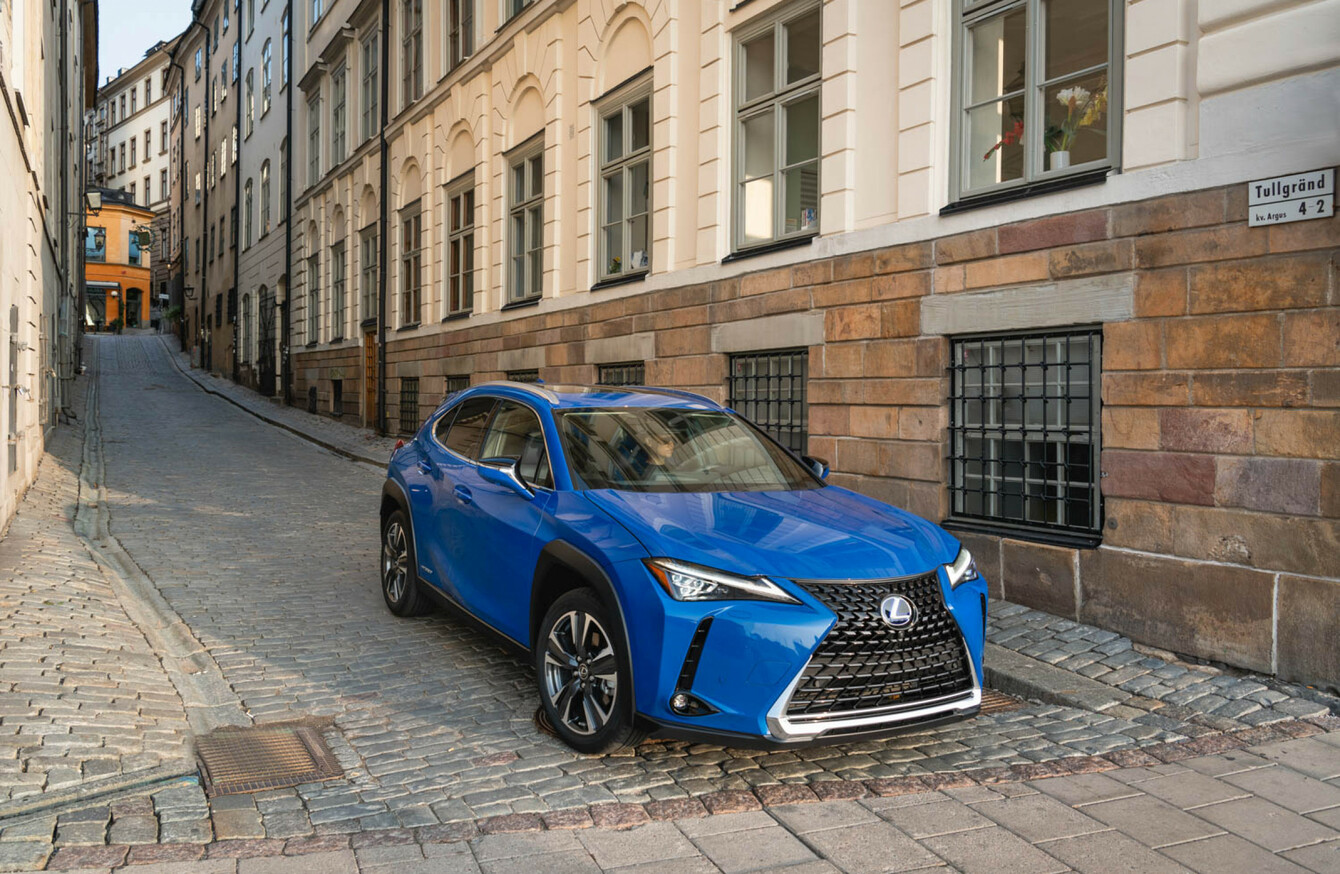 Image: Lexus
Image: Lexus
LEXUS IS HOPING that its new flashy compact crossover will make a splash in an already crowded segment. It is hoping to do this by offering its new UX with a hybrid powertrain, something that its rivals lack.
However, with just this one powertrain on offer, is this enough to attract buyers or will the UX be limited in appeal?
The Lexus UX (Urban Explorer) is a five-door, five-seat compact crossover. In Ireland we will be getting the 250h model which is powered by a 2.0-litre four-cylinder petrol engine with synchronous electric motor mated to an electronic continuously variable transmission (E-CVT). As mentioned, it will be the only premium crossover with a hybrid powertrain.
Its main rivals will be the Audi Q2, BMW X1 and Volvo XC40. Prices are yet to be confirmed but should start in the region of €39,000.
Dimension-wise, the Lexus UX isn't all that bigger than its NX sibling, but it is lower. The design of the UX is more jacked-up hatchback than upright SUV. 
The exterior styling is quite striking, and the baby Lexus looks more styled than many of its rivals. There's a lot going on, especially with that large grille up front and those sharp creases along the sides.
Continuing around the back, the rear lights protrude from the body, which is said to aid aerodynamics. These tail lights are connected by a continuous line of light made up of 120 LED lights that stretch across the bootlid.
The stylish design continues in the cabin which feels well screwed together. Design-wise, the use of different surface levels, materials and shapes give the cabin an interesting look and feel. There are also some lovely materials and finishes including a new dash inspired by Japanese paper. 
The touchscreen, especially the optional 10.25-inch version, is nice and easy to use but what isn't so easy to use, especially when driving, is the touchpad controller. Thankfully though, there are plenty of logically placed buttons so that you don't have to use the touchpad.
Seats are comfortable and visibility is good as is storage up front, however, there isn't much storage or legroom in the back. Taller adults might find it a bit cramped back there, especially if the front seat occupants are also tall.
However, this is also a general complaint about many of its rivals too.
The UX is the first Lexus to be built on the new GA-C global architecture platform, delivering the lowest centre of gravity in its class (according to Lexis) and, crucially for an urban vehicle, a tight turning circle. 
Out on the road, the chassis feels sorted and although a little on the firm side for a Lexus, still compliant. It does a decent job of smoothing out rougher road surfaces.
If you opt for the F-Sport version this adds a sportier suspension that can be further augmented with Lexus' adaptive variable suspension, which adjusts in conjunction with the anti-roll bars to reduce roll in corners and improve comfort on straightaways. 
Through flowing bends there is a nice amount of weight to the steering, which improves the level of feedback. The low centre of gravity is evident through faster bends where there is a noticeable lack of body-roll and lean – this in turn eggs you on to push the UX harder.
However, when do you push the car harder and put the foot down, that E-CVT gearbox can cause a bit of a racket. Acceleration is noisy and the nature of the CVT means that it works best when driven more smoothly – attempting a quick overtake tends to result in a steep climbing engine revs that are not matched by pace.
Once cruising along, the UX is rather smooth and comfortable. Unfortunately, if you don't like automatic gearboxes or CVTs in particular, you don't have another option as it is the only transmission offered in Ireland with the UX.
With the hybrid powertrain, you are getting a quiet ride especially in start-stop traffic, when the system prioritises the use of the battery and electric motor to move along in near silence. When the engine does restart, the interaction between the powertrains is almost seamless. 
Overall, with its bold design and hybrid powertrain, the Lexus UX stands out in the crowded premium crossover segment. However, the E-CVT gearbox doesn't do it many favours. Like its rivals, rear passenger room isn't great, but the cabin feels solid and the design is rather lovely, especially in Executive trim and with the larger touchscreen.
With its on-trend looks and green credentials, the UX should tick many boxes for a lot of buyers especially those who live in urban areas.
The Lexus UX will go on sale in Ireland in March 2019.
Want to make sure you don't miss out on anything going on in the world of motors? Like us on Facebook and follow us on Twitter for the latest updates.