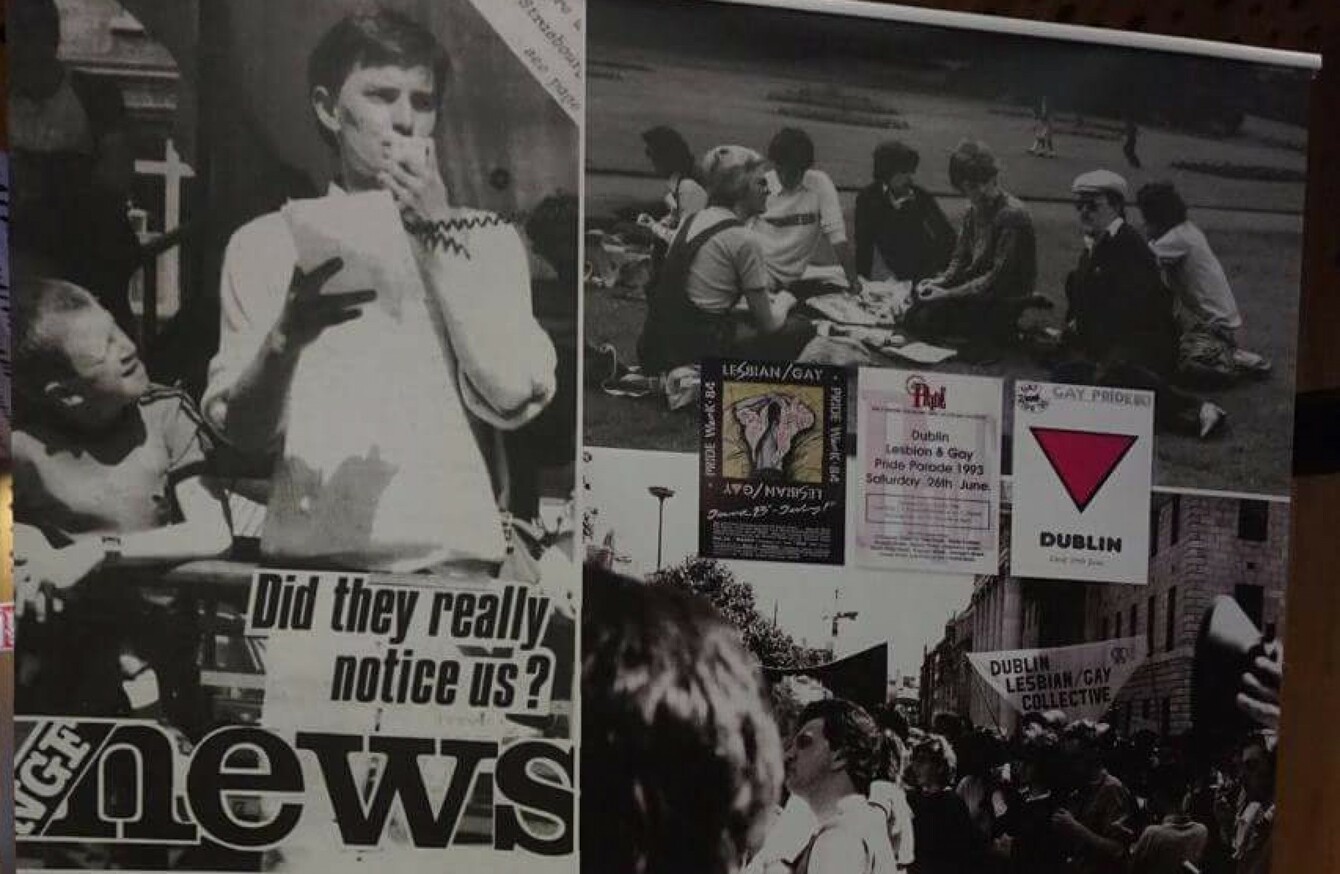 Image: Irish Queer Archive/NLI
Image: Irish Queer Archive/NLI
A NEW EXHIBITION gives a snapshot of 40 years of LGBT activism in Ireland.
The Road to Equality exhibition was put together by The National LGBT Federation (NXF) and the Irish Queer Archive and offers an insight into the people and events that brought the community to where its stand today.
The exhibition is currently on display in Bank of Ireland on College Green and will remain there until tomorrow at 4pm. Afterwards it will travel to different locations and events around Ireland, including the Cork Library during Pride at the end of July.
Noelle Moran who works with the NXF told TheJournal.ie that she wants to give credit to people who didn't get their stories told during the campaign for same-sex marriage.
People became really conscious of LGBT activism during the marriage equality referendum but there's a wider story that goes back through 40 years of work that people did.
Visitors can expect to see 12 pull-ups, with each one telling a different story. Moran describes the transition of the topics:
There are the early stories like the first Pride which was all about the politics and then it's going up to right now where it's all about the party.
One particular section called Crisis in the Community deals with what happened when HIV hit Ireland in the 1980s. Moran describes how important this is:
HIV is on the rise again – There needs to be real awareness raising about the issue and focus on safety especially for young men.
One pull-up is dedicated to services like help-lines, which Moran feels might help people who visit the roadshow.
If someone reads this pull-up and they are struggling they will know who to get in touch with.

BeLonGTo

 have done brilliant work helping kids come out and get confident – some of the most important work that has ever been done.
Other pull-ups tell the stories of civil partnerships, the fight for marriage equality, lesbians in Ireland, LGBT services and transgender people and their rights.
Moran says she hopes LGBT people will learn more about their own story and history.
I would also really like people to become proud. I think something Ireland lacked when I was coming out was role models in the LGBT community.
She is also optimistic that a lot of straight people will visit the exhibition. She said:
Straight people who come might even end up becoming allies and activists. It's all about understanding that marriage equality was just a stepping stone. It's not over now – kids are still being bullied and there's high suicide rates and drug use within the community.
What's next?
Moran says the exhibition is simply a taster of what could be done.
The National Library is fantastic but it's under-resourced – at the moment there isn't any funding to archive the material.
There are people offering diaries, photos and memorabilia but we simply don't have anyone at the moment who can take them and archive them properly. There's people in the community who are getting older and we don't want their stories to get lost.
With enough funding, the group hopes to be able to employ someone to archive the material so it can be put on display properly.
The Road to Equality exhibition will be open until 4pm tomorrow in the Bank of Ireland on College Green before travelling around the country. Keep up to date with locations and counties on their Facebook page.