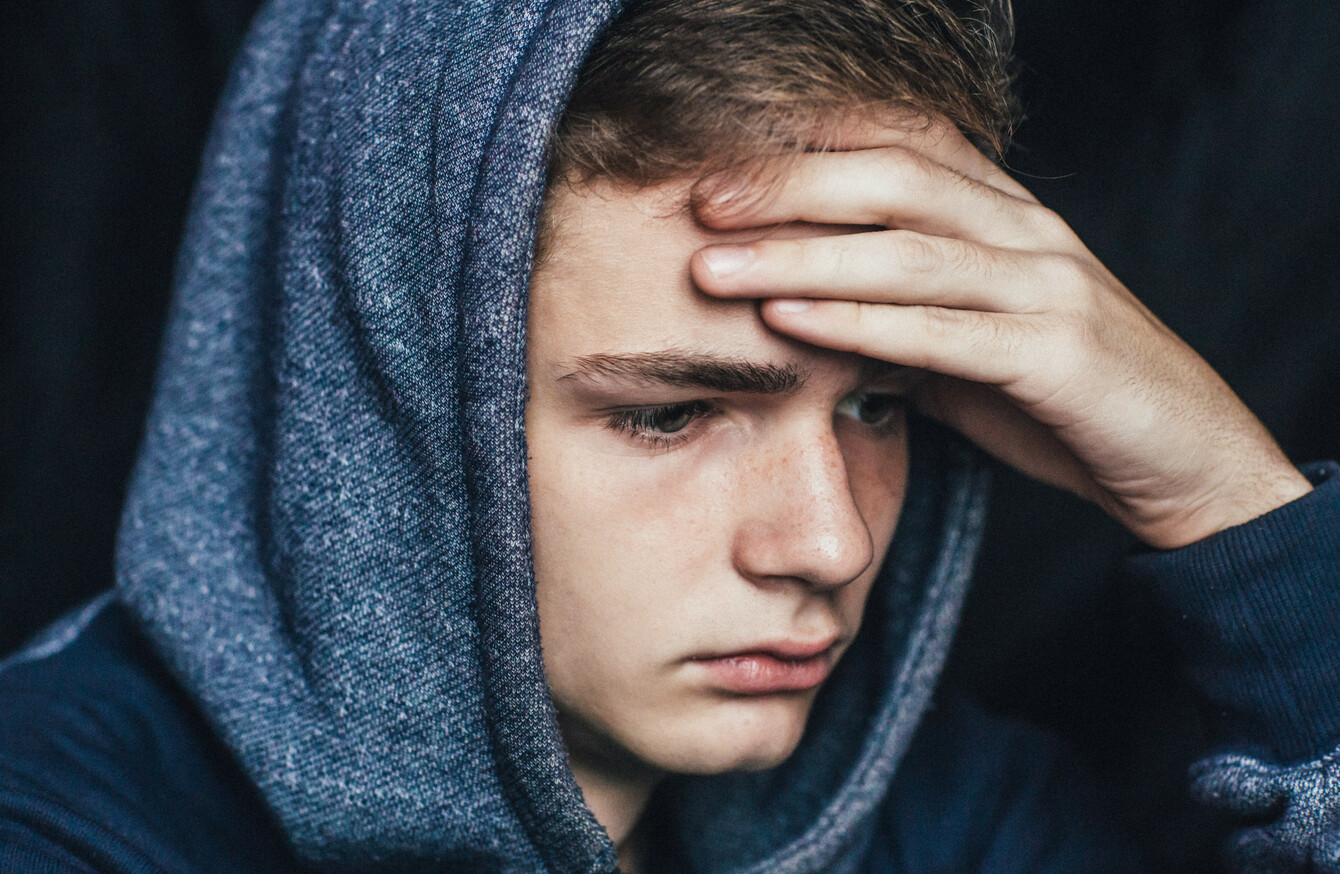 File photo
Image: Shutterstock/polya_olya
File photo
Image: Shutterstock/polya_olya
Updated Jun 15th 2021, 12:29 PM
ALMOST ALL MEMBERS (97%) of the young LGBTI+ community are struggling with anxiety, stress or depression, according to new research.
A national survey carried out by BeLonG To Youth Services reveals the impact of the Covid-19 pandemic on LGBTI+ young people.
Six in 10 young people surveyed are struggling with suicide ideation (rising to around 75% among trans youth) and half are struggling with self-harm, according to the survey.
Previous research highlighted that LGBTI+ youth were twice more likely to self-harm, three times more likely to experience suicide ideation, and four times more likely to experience anxiety and depression than their non-LGBTI+ peers.
More than 2,200 people took part in this year's survey, the largest number of participants in a BeLonG To survey of this kind to date.
The research indicates that the pandemic has further exacerbated young people's mental health problems, as well as the previous housing situation many of them experience.
Key findings from the LGBTI+ Life in Lockdown: One Year Later include the following:
63% of LGBTI+ young people are struggling with suicide ideation (up from 55% in 2020)
50% are struggling with self-harm (up from 45%)
83% are feeling acute loneliness throughout the pandemic (up from 60%)
58% described their mental health as "bad" or "very bad" (up from 48%)
56% surveyed in 2021 said they are not fully accepted in their home environment
The research also found that 6% of young people who responded had experienced some form of homelessness. Of the 119 LGBTI+ young people who had experienced homelessness in the last year:
34% had to stay with friends after being forced to leave their homes or following an experience of domestic abuse
32% were forced to stay with family that they would not usually live with
14% were forced to stay in temporary accommodation
8% had to stay in emergency accommodation and/or a family hub
13% were forced to sleep outdoors
The 37-question survey was conducted online from 29 April to 10 May.
Some 3,194 young people started the survey. A number of respondents fell outside of the inclusion criteria, and 16 responses, including homophobic and transphobic rhetoric, were removed. The final sample consisted of 2,279 LGBTI+ young people between the ages of 14 and 24 years.
People who took part in the survey gave anonymous details of their thoughts in the past year:
I can't see friends, I'm estranged from family, so being on my own all the time has messed with my head.
"I've had thoughts of self-harm almost daily for the first time in five years."
I have spent the entire year of this pandemic at least somewhat suicidal, to the point of very active suicidal planning at times. Eventually this resulted in me attempting to end my life.
"I've had to stay in a deeply homophobic household 24/7. Luckily I'm not out yet but it still hurts."
I have found being around my family so much kind of hard. I think it has made me internalise their homophobia more. I used to be more accepting of my sexuality.
"I don't know enough about protection and when you should be getting sexual health check-ups as a lesbian. We only covered the topic from a heterosexual point of view when I was in school."
#Open journalism No news is bad news Support The Journal

Your contributions will help us continue to deliver the stories that are important to you

Support us now
Safety nets gone 
Speaking about the findings, Moninne Griffith, CEO of BeLonG To, said the past 12 months "have been extremely difficult for LGBTI+ young people".
"Levels of self-harm and suicide ideation are rising as LGBTI+ young people experience unique mental health challenges.
"Many formal and informal safety nets, supports, and services have been unavailable because of lockdowns and increased social isolation."
Commenting on the fact that over half of those surveyed said they are not fully accepted in their home environment because of their sexuality Griffith said: "Family rejection, feeling unaccepted, and a denial of identity can result in loneliness, stress, anxiety, and more complex mental health challenges."
BeLonG To has made a number of recommendations including the following:
Maintain vital services made available through one-off state funding during Covid-19, including free counselling for young people struggling with identity-based trauma
Reopen sexual health clinics as a matter of priority in line with public health advice, particularly those clinics which cater to the LGBTI+ community, including a full reopening of the Gay Men's Health Service
Amend the 2001 Mental Health Act to allow young people under 18 to access to mental health services without parental consent
Implement robust legislation to combat hate speech and hate incidents offline and offline, including the Criminal Justice (Hate Crime) Bill 2021 and the Online Safety Bill 2021
Need help? Support is available:
Aware – 1800 80 48 48 (depression, anxiety)
Samaritans – 116 123 or email jo@samaritans.ie
Pieta House – 1800 247 247 or email mary@pieta.ie (suicide, self-harm)
Teen-Line Ireland – 1800 833 634 (for ages 13 to 18)
Childline – 1800 66 66 66 (for under 18s)