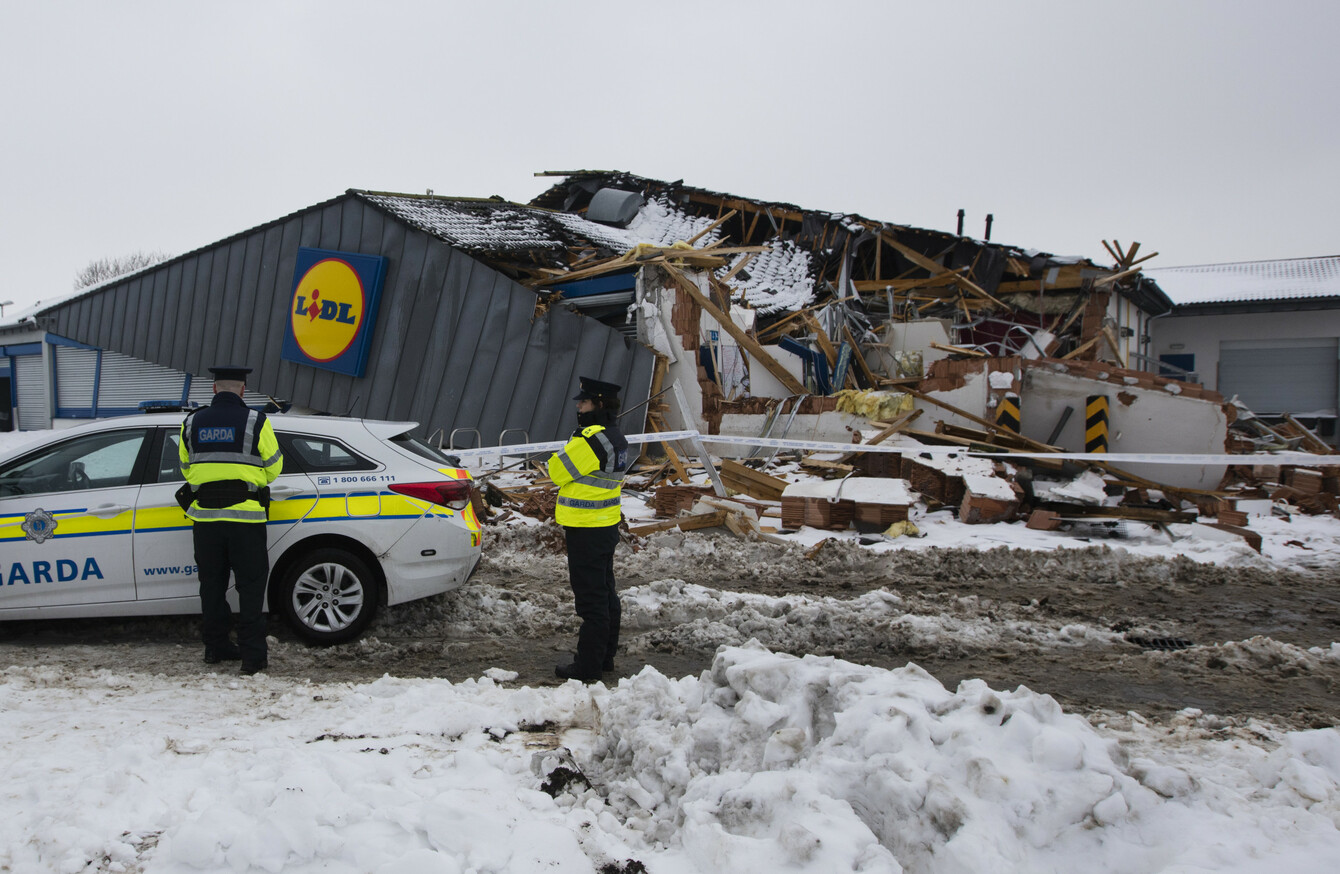 Gardaí at the scene of the Lidl store in Fortunestown Lane in Tallaght
Image: Eamonn Farrell via Rolling News
Gardaí at the scene of the Lidl store in Fortunestown Lane in Tallaght
Image: Eamonn Farrell via Rolling News
LIDL HAS CONFIRMED that it will demolish the remainder of its Fortunestown Lane store in Tallaght, Dublin following the incident on the premises last Friday night.
A number of garda units were deployed to the premises on Friday following reports of burglary and thefts of vehicles in the Fortunestown Lane area of Tallaght.
Gardaí said "substantial damage" was caused to the supermarket and further damage to another premises in Jobstown.
In a statement this afternoon, Lidl said its team of engineers have completed their assessment of the damage caused to its store at Fortunestown. Based on their recommendations, Lidl had made the decision to demolish the remainder of the building "in the interest of health and safety".
"At present, we are yet to make a final decision on future plans for the site," the statement said.
It is understood Lidl Ireland had applied to South Dublin County Council for planning permission for the redevelopment of the store on 22 February 2017.
The application proposed the demolition of the existing single-storey building in order to make way for the construction of a two-storey mono-pitch licenced food store.
It also proposed the redevelopment and extension of the existing car park to provide an extra 145 car parking spaces.
However, Lidl has this week said the proposed redevelopment is now under review following the incident that took place at the store last week.
Lidl lifts
Lidl said today that it is aware that some of its customers in the Fortunestown area are experiencing difficulty in accessing and doing their shopping in other Lidl stores.
As a result, Lidl has announced that it will offer a once-a-day complimentary shuttle bus service from Fortunestown to its Whitestown Way store in Tallaght.
"We have been overwhelmed by the messages of support from the community and to show our appreciation to our valued customers, we will be offering a complimentary shuttle bus service from Fortunestown to our store at Whitestown Way, Tallaght," a spokesperson for Lidl said.
The service will run once a day from this Friday 9 March and the 40 seater bus will operate on a first come first serve basis.
The bus will depart from directly opposite the Fortunestown store at 10.30am each day and will drop customers to Lidl at Whitestown Way. The bus will wait for one hour whilst customers complete their shopping.
The shuttle bus will leave Whitestown Way at 11.45am and return to Fortunestown.
On Monday, Lidl confirmed that all 30 staff members at the shop will be redeployed to other stores in the area.
Eight men between the ages of 24 and 47 have been charged with various offences including theft, burglary and trespassing, arising from the incident on Friday.
Comments are closed as legal proceedings are ongoing.