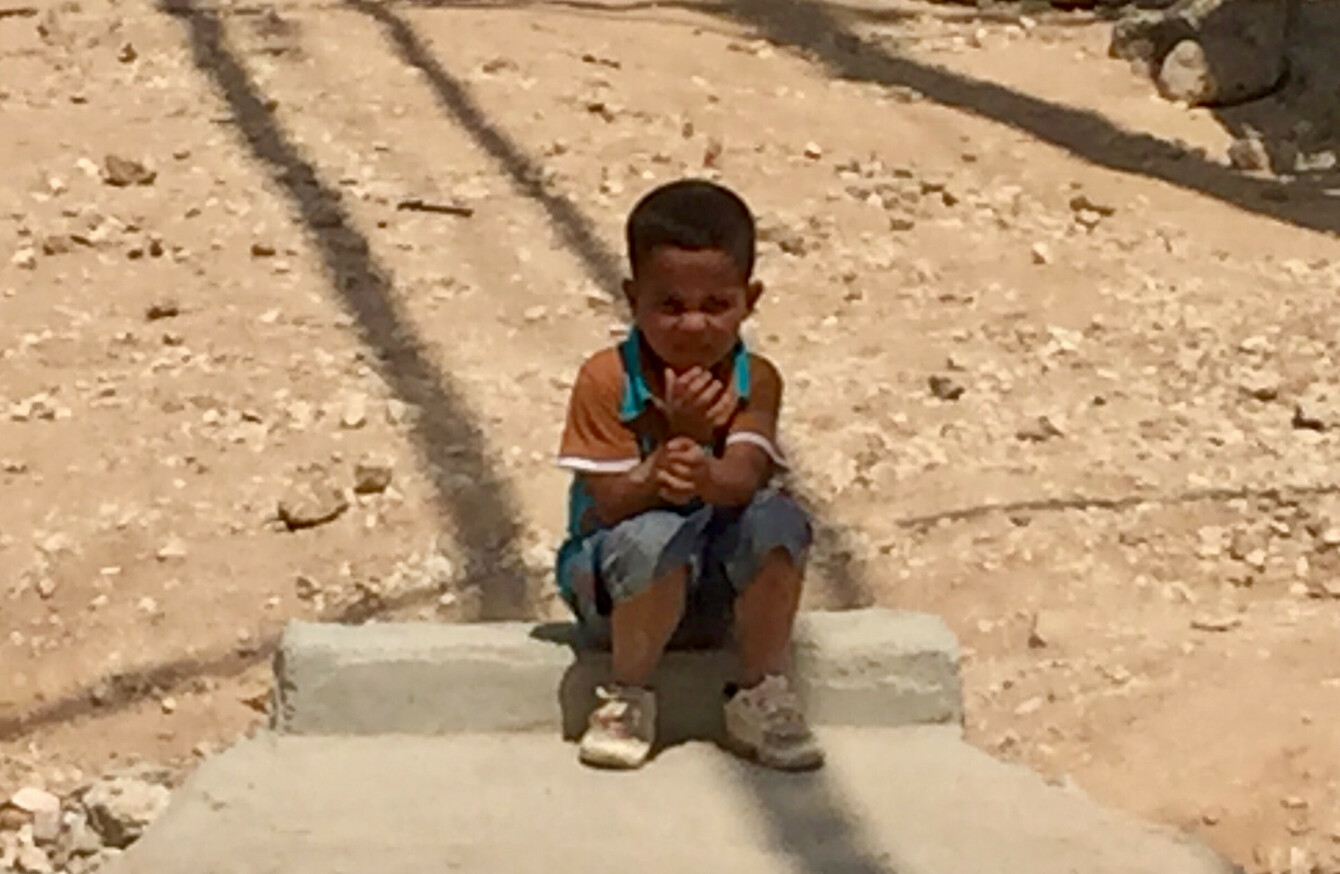 Adnan (4) was born in Zaatari refugee camp, Jordan, and has never been home.
Adnan (4) was born in Zaatari refugee camp, Jordan, and has never been home.
AS THE WAR in Syria enters its seventh year, the effects it's had on women have been particularly brutal.
The majority of those displaced are women, but fleeing the conflict didn't mean they escaped violence and poverty. When they arrive in overcrowded refugee camps they must struggle to access basic services and start new lives.
Jordan's Zaatari refugee camp
It's a scorching morning in Jordan's Zaatari refugee camp. Dust devils whip around the white prefabricated huts in this sprawling desert camp. A small group of women sit in front of sewing machines inside one of the Oxfam-run workshops.
The women are busy making tote bags out of canvas. I later find out the canvas is from the original tent city that stood here. They've turned this tiny space into a veritable factory assembly line, the heart of their new business venture making bags to sell in Amman's markets and overseas.
Wars are so often viewed through the lens of men with guns and men making decisions. We seldom see the heroic roles women are playing in the background. But the women have their own stories. Many have lost not just their homes, but also their husbands and sometimes their children too.
New gender roles
Many Syrian refugee women have now become the heads of their households, their roles utterly changed, defying a cultural norm where men have always been the sole breadwinners. Syrian women used to need their husband's consent to work outside the home but now, according to the United Nations, 42% of Syrian refugee families in Zaatari are female-headed households.
Nada, an Oxfam worker, tells me how Oxfam set up the sewing project to give women a sense of purpose and a small income. "This project aims to empower Syrian refugee women by building their skills in sewing but also gives them the opportunity to provide for their families' needs", she says.
She explains how without support families arrange child marriages for housing and financial reasons, or as a way out of the camp, even though these early marriages often lead to regret and teens dropping out of school. But when options are limited, getting married young can seem like a logical step.
'Even though we are waiting, we are not doing nothing'
"Even though we are refugees waiting in Zaatari we are not doing nothing," Suha, a shy 34-year-old grandmother, tells me as she tugs at the long sleeves of her loose red abaya, the ankle-length robe. Suha escaped from her war-torn native province of Daraa more than five years ago, along with her six children. Her first grandchild was born here in Zaatari. The family left to escape the constant shelling of their village and the military raids.
They were among the earliest residents of the Zaatari when it opened in 2012 – it's since ballooned into the world's biggest Syrian refugee camp. Every refugee in the camp has their own tale of loss, of hopes dashed and hardships endured.
Sahar is a widow and spends her days learning new gardening skills. "God only knows what the future holds, but I want to learn new things," she says. "In Syria I used to garden in my house but I'm learning new techniques here. It means that I can earn some money for my children if I can find work with a Jordanian farmer." People tell her to marry again. She's still young, they say, and life must go on.
Making the most of a dire situation
Like all of the refugees here, Sahar and her children receive free food packages of  rice, lentils, and other dry staples from the United Nations. It administers the camp together with the Jordanian government.
She makes a little more than €50 a month from her work at an NGO gardening project, but the job is about more than just earning money. "Work helps me forget a little," Sahar says. "The women joke and laugh and help each other. And it reminds me of being in my little garden back in Syria."

Despite the horrors they've fled, these women are making the most of their dire situation. Listening to these women chat about their working day in the greenhouses, at the sewing projects and their young families, I'm struck by the normalcy of their routines and worries.
#Open journalism No news is bad news Support The Journal

Your contributions will help us continue to deliver the stories that are important to you

Support us now
Suha tells me about her granddaughter's asthma and I could be chatting with almost any worried grandmother. It's only when they talk about home that I'm reminded that these women are fleeing war.
There's no going home for now
I had expected my visit to Zaatari to be difficult. I was ready to fight back tears as I listened to their stories. I did cry. It would be hard not to be moved when a new mother talks about her fears for her baby's future.
All of these people have lived through such horrible atrocities that you wonder how they are still able to get up in the morning, never mind try to live something resembling a regular life.
"My home's name is Daraa," Amena tells me. As she begins to spell the southern Syrian province, I tell her that I already know how it is spelt. I have seen its bombed out towns on my television screen so many times.
Right now, there's no going back home. Most of Zaatari's residents took the rebels side and a Syria with Assad in control would be very dangerous for them now.
But does Amena think she will ever go back? "If the war ends I will go back but I don't think I will be able to do this for years. I have to admit that I might never be able to. They [the Syrian regime] will come after us if we go back," says Amena, as her foot hits the pedal of her sewing machine and continues hemming the bag's handle.
Supported by the Simon Cumbers Media Fund.