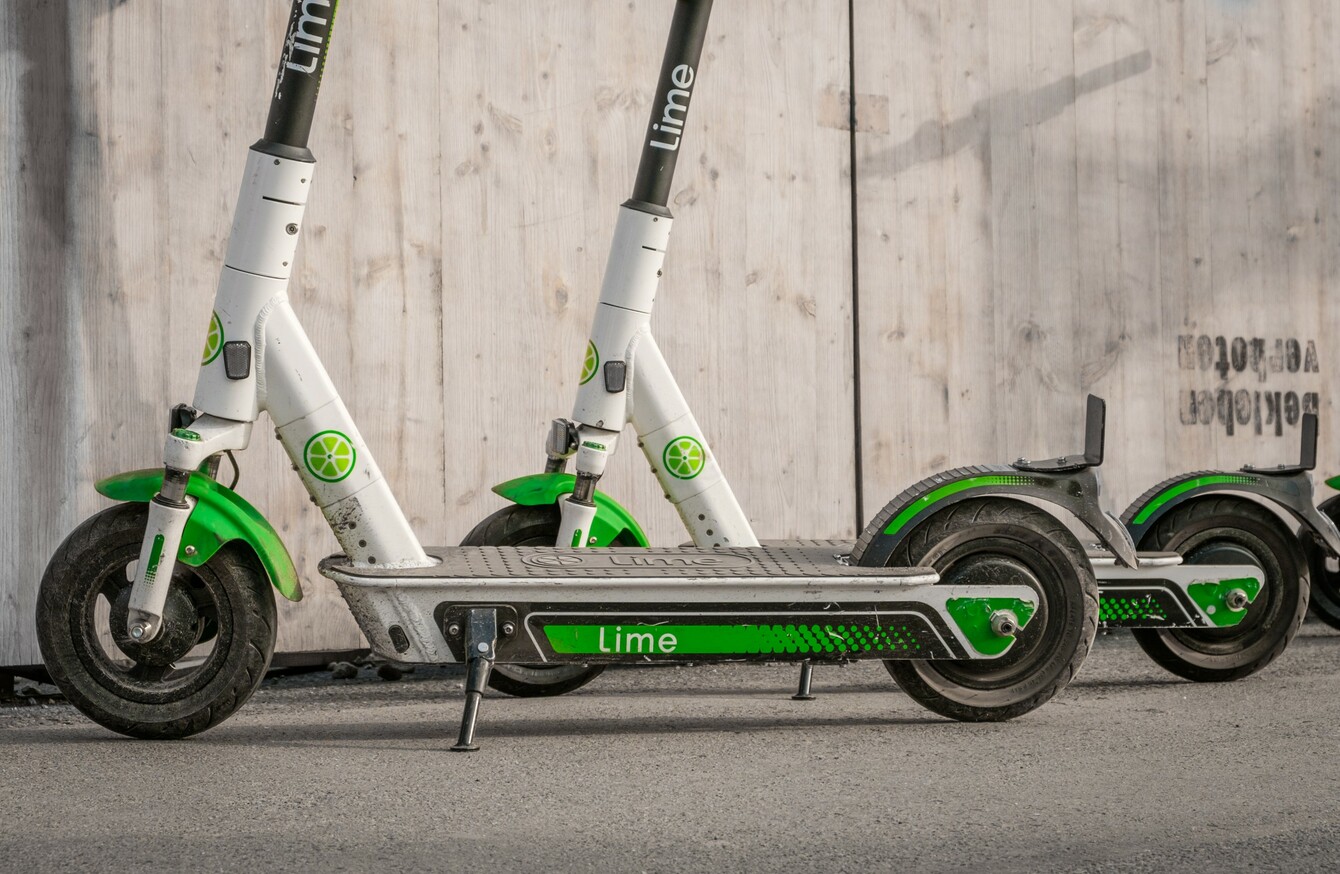 Image: Shutterstock/hanohiki
Image: Shutterstock/hanohiki
LIME, THE $2.4 billion e-scooter company, has been busy making its case to Irish officials to legalise its e-scooters – but has no immediate plans to launch its bikes here.
Lime allows users to find electric scooters around cities, and in some markets electric bikes, that are unlocked and rented via an app.
It opened an office in Dublin earlier this year but has no services in Ireland.
E-scooters have grown in popularity over the last two years, raising concerns over safety and legality.
The vehicles are technically not legal in Ireland. No company like Lime has opened services here, but personally owned e-scooters have become increasingly common on roads.
The Road Safety Authority recently published a report that made the case for clear legalisation of e-scooters on Irish roads.
It found that there is still little evidence available to inform best practices in regulating e-scooters but recommended guidance around safety standards like helmets, licences and weight restrictions for scooters.
The government is opening a public consultation that will inform future rule changes and Lime has met with officials from the Department of Transport and Dublin City Council.
Fora understands that other major e-scooter firms, including Bird from the US and Sweden's VOI, have also met with officials to make their cases.
Lime has recommended use of e-scooters on roads and cycle lanes, regulations on maximum speeds and requirements like lights in its bid to get its vehicles on Irish roads.
David Dobbyn is Lime's head of legal for Europe, Middle East and Africa and is based in the Dublin office.
"There are good examples of sensible regulation from other European countries which we look forward to sharing as part of the government's consultation process," Dobbyn said.
"We believe e-scooters can be used safely, conveniently and responsibly on roads and cycle lanes. Regulation surrounding things like maximum speeds, maximum power outputs, and minimum safety requirements – such as lights and brakes – all help deliver this goal."
As well as e-scooters, Lime provides an electric bike-share service but it has not indicated any plans to launch that service in Ireland should its e-scooter efforts fail to launch.
"At present, we're focused on supporting the government's consultation on e-scooters," Dobbyn said.
Irish startup Bleeperbike is currently providing e-bike sharing in the capital.
As previously reported by Fora, Lime opened its European regional headquarters in Dublin earlier this year despite the fact that its core e-scooter sharing service has no legal standing here.
The office has responsibilities for the European business including financial and legal functions.
Lime is active in several European cities but has faced stiff competition from rival companies and scrutiny from regulators over its business.
Valued at $2.4 billion with more than $765 million in VC money, Lime is reportedly courting investors at Japanese giant Softbank for a major funding round that will fuel its next growth phase.
Get our Daily Briefing with the morning's most important headlines for innovative Irish businesses.
Written by Jonathan Keane and posted on Fora.ie