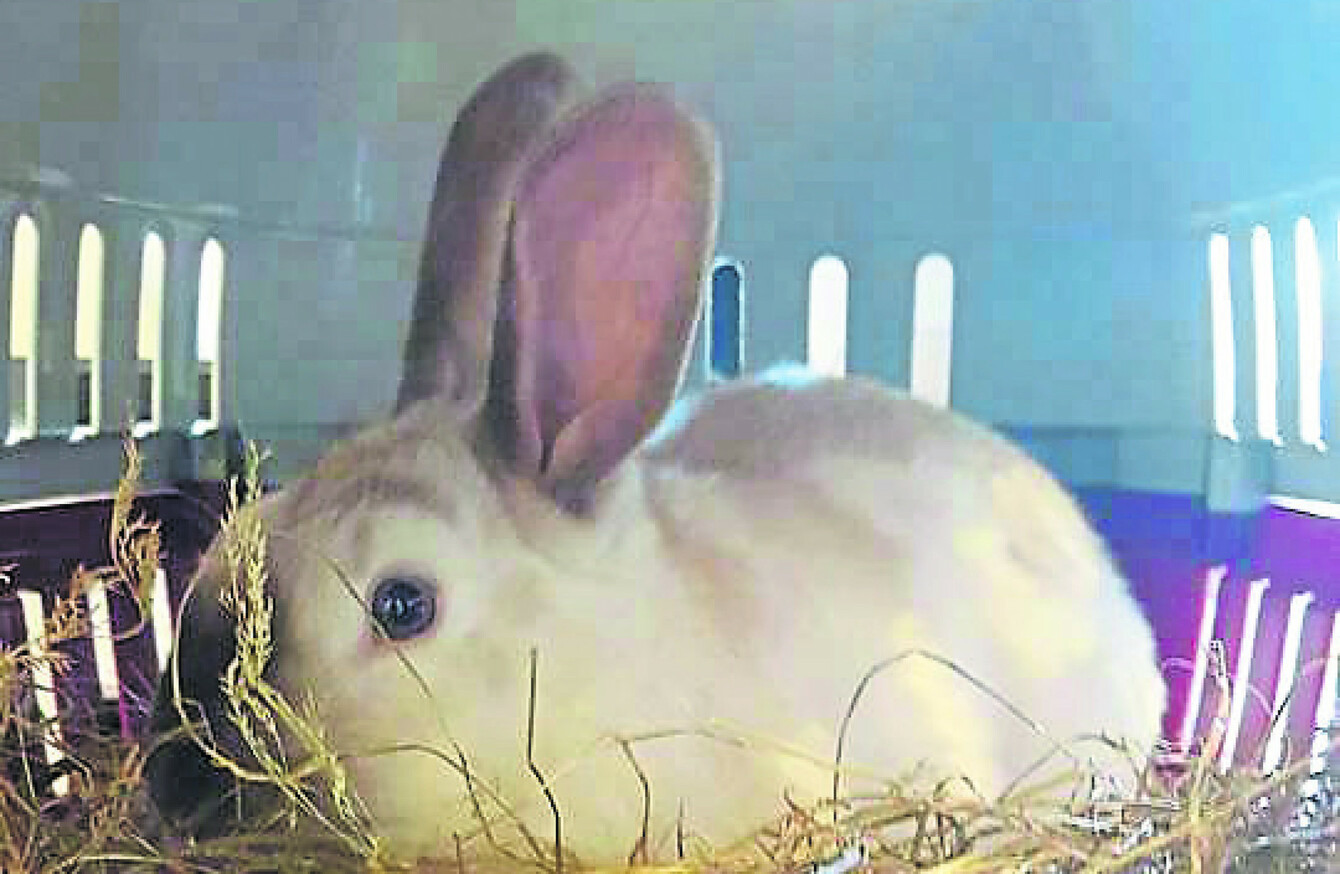 Image: Limerick Leader
Image: Limerick Leader
A DEFENCELESS RABBIT was left fighting for its life after Limerick youths tied it up and let their dogs attack it.
Limerick Animal Welfare is caring for the baby rabbit after a passer-by rescued it from horrific cruelty at the hands of local teenagers.
They had tied a rope to its leg, before repeatedly throwing it towards the river, and letting their dogs head in after it.
The incident – which took place this week in rural county Limerick - has been described as "shocking" and "disgusting" by a local politician, and condemned by the boss of Limerick Animal Welfare Marion Fitzgibbon.
The charity is nursing the small creature back to health following the incident, which only stopped after a female passer-by intervened and demanded the animal off its abusers.
The good-hearted passer-by then brought the rabbit it to the charity's sanctuary in Kilfinane, Co Limerick.
"This was torture of a baby rabbit," Fitzgibbon said.
Sadly rabbits are abused all the time. People put ropes onto their legs, and they're thrown to teach greyhounds how to turn them.
Fitzgibbon added that it is often peer pressure among teenagers which leads to the cruelty taking place.
"One gets an idea they are going to do this. It's the younger lads who are pressured, while others join in, even if some don't want to," she said.
"They want a buzz, they want some excitement. And unfortunately, a lot of it is drug-related. They feel hyped up."
Independent councillor Lisa-Marie Sheehy, who lives near the animal sanctuary in Kilfinnane said: "I am an animal lover, and these stories make me sick to my stomach. I don't know what motivates these people. I can't even try to put myself in their mindset as it's so cruel."
The former Sinn Fein member also called for the council to give more funding to Limerick Animal Welfare to help them provide education to stamp out this cruelty.
#Open journalism No news is bad news Support The Journal

Your contributions will help us continue to deliver the stories that are important to you

Support us now
"We as members of the community need to step in like this lady did if we see any animal abuse going on," she added.
Fine Gael councillor Jerome Scanlan, who chairs the local authority's environmental committee asked: "What kind of mentality does it take to do this to a creature? I thought we were a nation of animal lovers, not animal abusers."
He called for better education of younger people around how to treat animals.
"I'd have concerns among these children's upbringing, and their parental guidance in this case. Pets are not game. You wouldn't treat a wild rabbit like this if you caught it. You wouldn't treat a rat like this," he said.
Fitzgibbon confirmed the rabbit is "miraculously" set to survive its ordeal.
She added that fortunately, the rabbit was rescued when the weather was relatively clement, increasing its chances of survival.