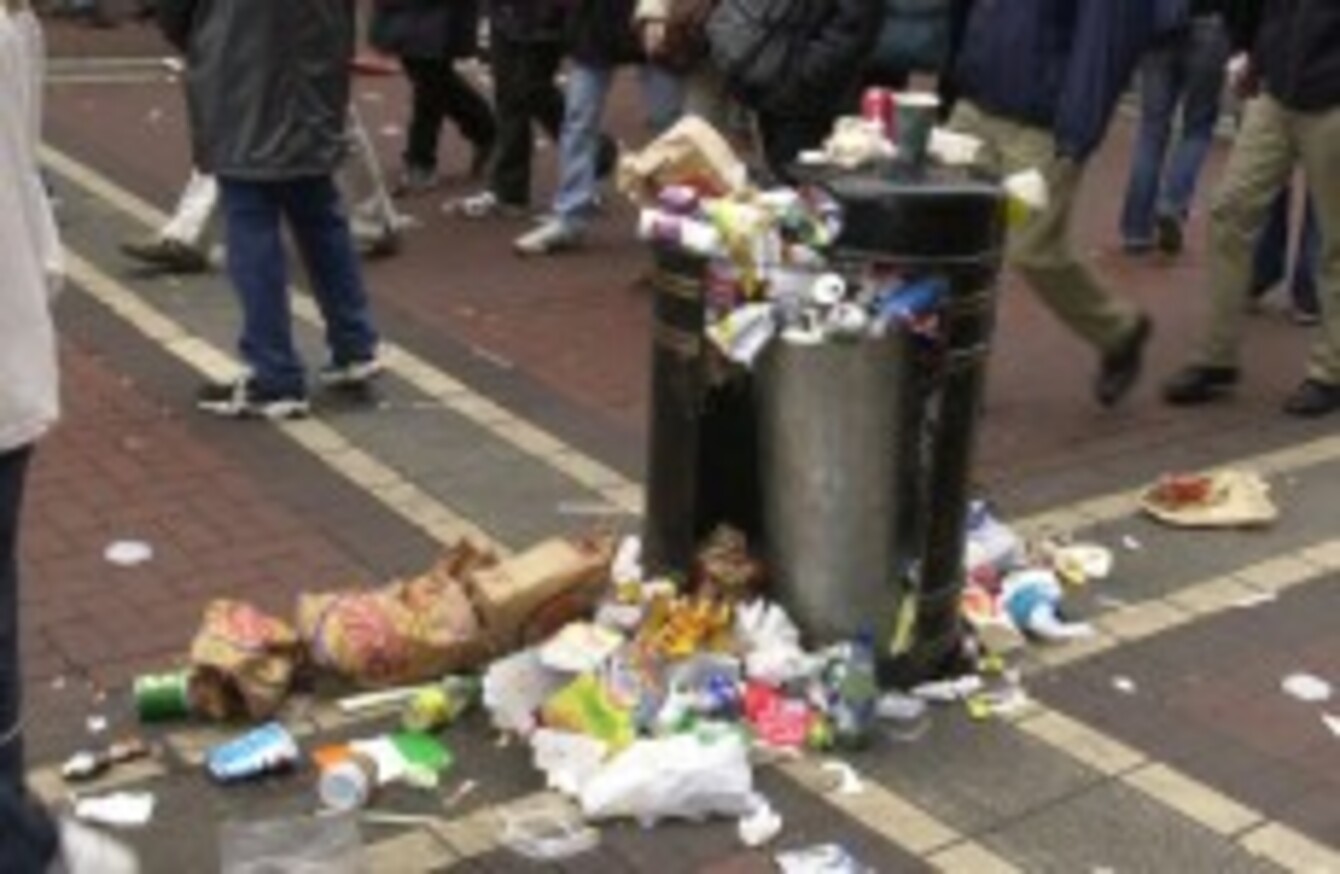 File photo of litter bins overflowing with rubbish during St. Patrick's Day on Grafton Street
Image: Eamonn Farrell/Photocall Ireland
File photo of litter bins overflowing with rubbish during St. Patrick's Day on Grafton Street
Image: Eamonn Farrell/Photocall Ireland
Updated at 3pm
AN OFFICIAL IN Dublin City Council has responded to accusations that the city remains a "dirty old town" by emphasising the responsibility of the city's residents to keep it clean.
In a letter published in today's Irish Times, executive manager Declan Wallace said the council workers are deploying "enormous resources" to tackle problems like graffiti and dumping.
"To suggest as you did that Dublin City Council is complacent fails to recognise the scale of the challenge", he said, responding to an editorial in the same paper earlier this month.
This criticised a report by the council that claimed that there wasn't a litter problem in the north inner city, and called for European standards of daily footpath cleaning and graffiti removal from all buildings.
"In cities such as Barcelona or Paris, to name but two, such measures to protect the public realm would be regarded as normal, and they must also become the norm in Dublin," it read.
Wallace argues that the the council works to keep the capital's streets clean "seven days a week, 365 days a year", with crews working from the early hours of the morning until 10pm, and overnight when needed.
"We do wash streets and remove graffiti," he said.
However, he has called for Dubliners themselves to make sure the city is kept clean:
All Dubliners must take responsibility and play their part in keeping our great city clean.
A report earlier this year by Irish Business Against Litter found that Dublin's north inner city is a lot cleaner than it was earlier this year, and is no longer a litter black spot.
However, it is still the second most littered area in the state, according to the latest litter league tables.
Dublin city was named as the third most littered area, cited as being "moderately littered".
In a recent Seanad speech, Senator David Norris said the city's north Georgian core is facing a substantial litter problem – "There is no enforcement whatsoever" – but went on to say one of the few redeeming features of O'Connell Street is the work of the council's street cleaners.
I pay tribute to one section of the local authority, namely the cleaning section. The cleaning of O'Connell Street is quite extraordinary because we are a genuinely filthy nation. We are a filthy race of people but O'Connell Street is kept really clean and wholesome all the time.