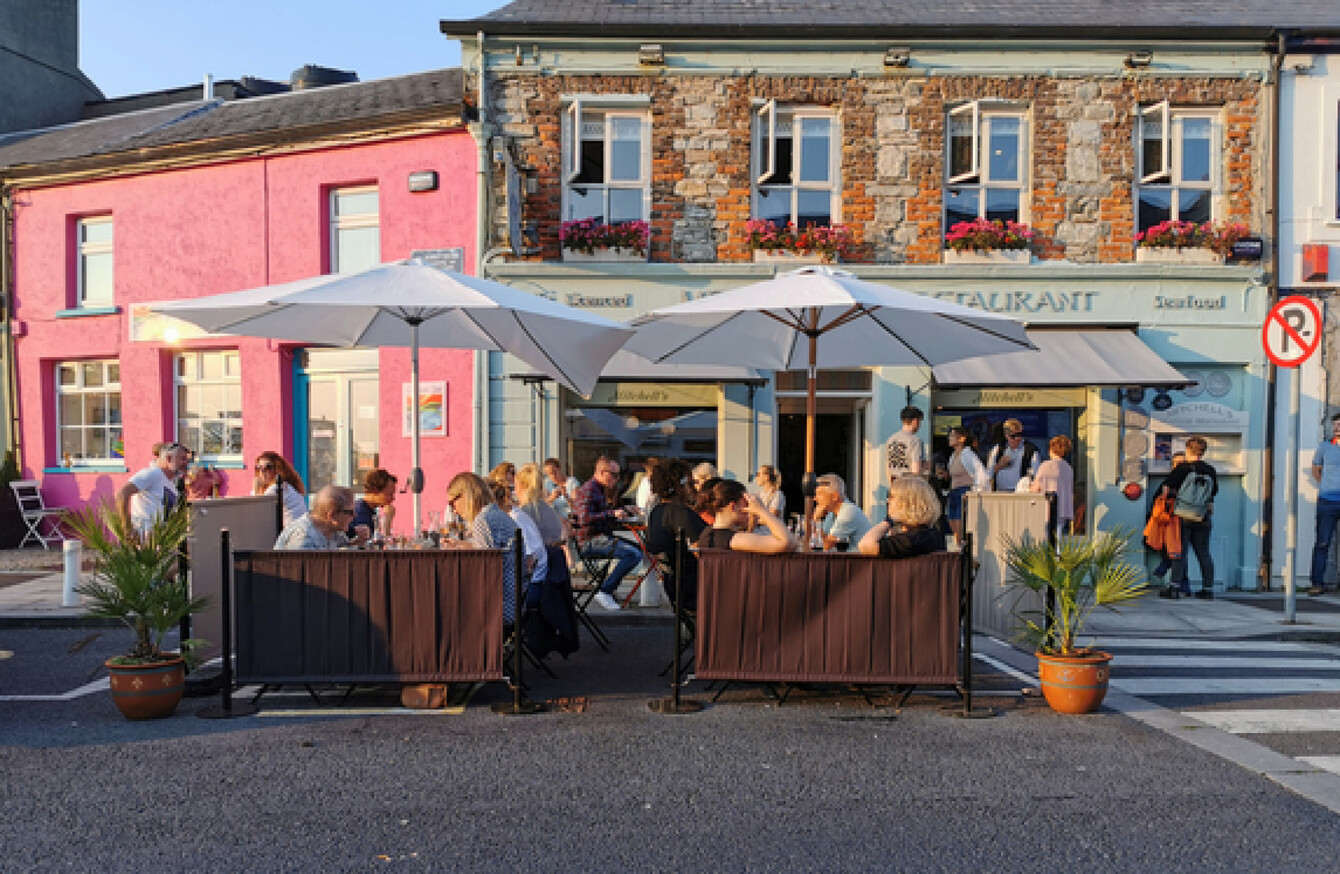 Clifden in Connemara yesterday evening.
Clifden in Connemara yesterday evening.
Updated Aug 24th 2021, 3:15 PM
ALL REMAINING RESTRICTIONS will be lifted before Christmas, according to Health Minister Stephen Donnelly.
The minister said the government plans to press ahead with the next phase of easing Covid-19 restrictions. 
However, he said the timing of such easing may depend on the advice from the National Public Health Emergency Team (NPHET), which is meeting tomorrow.
"Let's see what they have to say," he told reporters today.
Asked if all sectors will be reopened by Christmas, the minister said "obviously specific dates are something that we would be looking to NPHET for and we'll be discussing that at Cabinet, but yes, certainly the view would be that we would be open this calendar year."
He said there may be "basic" public health advice that will remain "for some time", such as guidance around wearing masks in some environments.
The minister said the government wants to "provide real certainty for people." He said the government want to lift the restrictions as quickly as possible – and want to ensure that when everything is open it remains open.
Speaking this afternoon at the Department of Health, Chief Medical Officer Dr. Tony Holohan said he hoped remaining restrictions could be gone "much sooner" than Christmas. 
"It's hard to be certain about in advance but obviously our hope and ambition is that we might get there much sooner than that," he said. 
Holohan added that that levels of vaccination area key in determining whether "unsafe" activities can return and that Ireland may be in that place in "four to six weeks". 
"Obviously it's going to depend on us getting as far as we reasonably can in terms of our vaccine but the nature of vaccination and the time it takes for an individual to receive both doses and then to become vaccinated it will be well into September by the time we complete the vaccination programme," he said. 
Holohan added that, based on data from Britain showing rising virus incidence, Ireland's high vaccination rates should not yet provide confidence about the lifting of all restrictions.
It's simply not right for us to be expressing such optimism on the basis of how well we've done on vaccination, that in some way or another that's going to protect us, we still need to keep going.
"We think we need to get another four to six weeks of vaccination and get as many people, particularly in the under 40s and especially the under 30s where simply the time hasn't been there for them to come forward to be vaccinated to have both doses and for the protection to kick in."
He added: "If we got there, I think there's good reason for us to believe that many of the activities that we regard as being, let's say, unsafe, less safe for people who are not vaccinated, we'd see those activities as being possible."
Cabinet
Minister for Foreign Affairs Simon Coveney said today that clarity on the reopening of the live entertainment industry will be given "within days" as the Cabinet meets next week to finalise plans on Tuesday.
Coveney said the government will follow through with its commitments to provide a comprehensive plan for this sector. 
Live events
Comparisons have been made in recent days between the large crowds at recent sporting events and the regularity of live performances in Northern Ireland. 40,000 people attended Croke Park on Sunday for the All-Ireland hurling final. 
Speaking to RTÉ radio at the weekend, the minister said there was a "big difference" between this final and live entertainment events.
He said the match was outside, structured, in a large stadium and with social distancing measures in place. 
Gardaí are looking into alleged breaches of Covid-19 restrictions at a licensed premises following Sunday's final, it was reported yesterday. 
Speaking to Newstalk Breakfast this morning, Coveney said that "the government had worked with sports organisations to facilitate larger crowds in very large stadia where people in the stadiums can be separated from each other, wear masks and try to create as controlled an environment as possible". 
"That said, of course it's a risk to have that many people in one stadium and, more importantly, meeting before and after an All-Ireland final. Of course that's a risk and it's a calculated risk," the minister said. 
He said the entertainment sector will be able to take similar calculated risks once the government's reopening plan is finalised over the next week. 
"We have given a commitment that within a week we will give a timeline now for the opening of the arts sector in terms of live performance and so on, and the government will follow through with that commitment.
"We will give the sector the certainty that they're asking for within days."
The health minister said he understands the frustration held by the sector. 
#Open journalism No news is bad news Support The Journal

Your contributions will help us continue to deliver the stories that are important to you

Support us now
"I think their ask is very reasonable," he said.
"What I want to see and what we all want to see is an increase in the capacity for live events," he said. "I think those in the music industry are asking very reasonable questions.
"I think we are looking at the capacity we saw in Croke Park and I think they are saying does that match with 500? I think these are very reasonable questions so we are looking at all of this at the moment and again we do want to see it open up," said Donnelly.
The Minister for Arts and Culture Catherine Martin has proposed that indoor arts, drama and dance classes should return in September in line with schools reopening. 
She is set to meet with representatives from the live entertainment industry tomorrow.
Roadmap
The Taoiseach Micheál Martin has promised "a comprehensive roadmap" for how restrictions will be lifted over the coming months and the beginning of "a new era in the management of Covid-19″.
He said last week that the roadmap will provide a plan to last "hopefully to the end of the year, maybe beyond". 
Advocates within the live music and entertainment sector have been asking for a specific roadmap for their sector for some time, but nothing so far has been signed-off. 
The Minister for Children Roderic O'Gorman said there will be "significantly more clarity" on the situation after Cabinet meets next week. 
"I think everybody wants to see live indoor entertainment reopen safely as soon as possible," he told RTÉ radio's Morning Ireland. 
"Every other sector of society has seen a roadmap towards reopening and has seen a phased reopening and that's what's brought us to the situation now where, despite the Delta variant, we have managed that well." 
Additional reporting by Christina Finn and Rónán Duffy