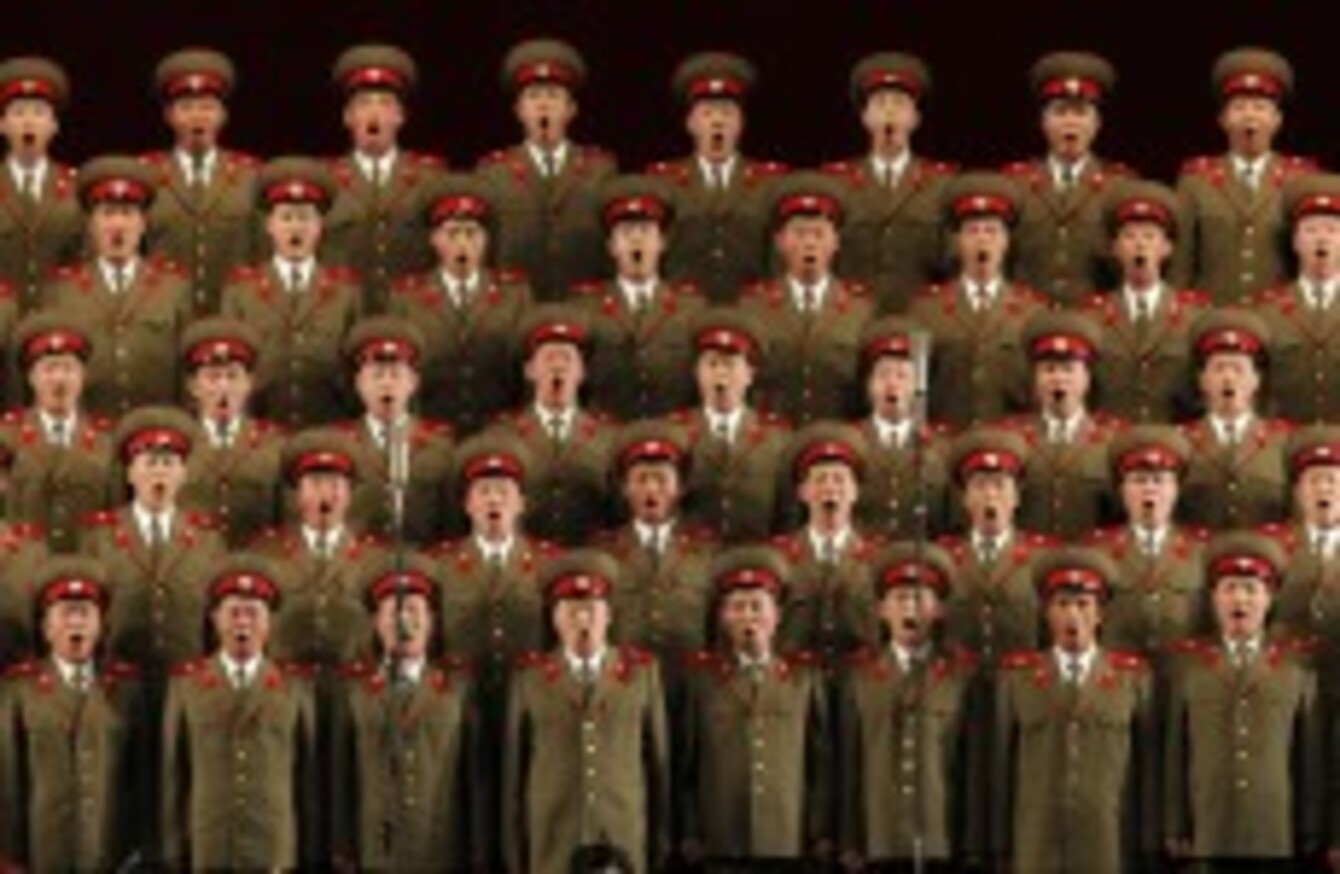 Image: Ng Han Guan/AP/Press Association Images
Image: Ng Han Guan/AP/Press Association Images
IT'S A DAY of rest, and you may be in the mood for a quiet corner and a comfy chair. We've hand-picked the week's best reads for you to savour.
1. Looking on the bright side of life
David Free looks back at the humour of Monty Python and how their comedy has stood the test of time, having behaved "as if nothing was sacred and everything was ridiculous". (The Atlantic)
The Pythons knew their stuff; when they didn't, they read up on it. Researching the Middle Ages for Holy Grail, they learned that taunting the enemy was a common tactic in medieval sieges. So, apparently, was catapulting dead animals. Thus the completed film features Cleese's imperishable turn as the French taunter, whose strange shouts of abuse from the battlements ("Your mother was a hamster and your father smelt of elderberries") are followed by the flinging of the dead cow.
2. The human touch
Julian Baggini looks at the increasing use of coffee capsules in restaurants and wonders what else will end up being automated. (Aeon Magazine)
You might not care much about fine dining or coffee. But you probably do value the skills of the artisan and might well believe that food is one of the ever-dwindling number of domains where individual human flair and creativity cannot be bettered by the mass-produced and mechanised. If so, you should care about the challenge to your assumptions that the rise of capsule coffee represents.
3. When North Korea follows you
Asawin Suebsaeng tells the story of American Jimmy Dushku and how being followed on Twitter by the official account for North Korea has made his life more difficult than he ever could have imagined. (Mother Jones)
"One person wrote in detail about how he was going to come to my house and hurt me; others tell me they hope I die, or that they will be the one to do it," Dushku says. "On the other hand, the most entertaining messages I've received have been from Australians. They always send such cheerful messages and it's a nice change from the negative ones."
4. Against all the odds
David Roberts writes about the Australian explorer Douglas Mawson and his hellish story of survival. (National Geographic)
For three hours, Mawson and Mertz called into the depths, hoping against hope for an answering cry. They had far too little rope to lower themselves into the crevasse to search for their companion. At last they accepted the inevitable. Ninnis was dead. Gone with him were the team's most valuable gear, including their three-man tent, the six best huskies, all the food for the dogs, and nearly all the men's food.
5. The new currency
Ben Paynter documents the American phenomenon that has lead to the widespread theft of a particular brand of washing detergent. (New York Magazine)
Most of the people stealing the detergent, Sergeant Thompson points out, are the same criminals who used to break into houses or mug pedestrians – male addicts whose need to feed their habits can foster a kind of innovative streak. "They are smart. They are creative. They want high reward and low risk," he says. Theft convictions can come with a maximum fifteen-year prison sentence, but the penalty for shoplifting is often just a small fine, with no jail time. For the most active thieves, says Thompson, stolen Tide has in some ways become more lucrative than the drugs it's traded for. "It's the new dope," he says. "You can get richer and have less chance of doing jail time."
#Open journalism No news is bad news Support The Journal

Your contributions will help us continue to deliver the stories that are important to you

Support us now
6. Denying the past
Gilbert King looks back at Albert Speer, a Nazi and close personal friend of Hitler who, after cultivating an image of having been a 'Good Nazi', found his past catch up to him. (Smithsonian Mag)
After serving the full 20 years, Speer was released in 1966. He grew wealthy, lived in a cottage in Heidelberg, West Germany, and cultivated his image as a "good Nazi" who had spoken candidly about his past. But questions about Speer's truthfulness began to dog him soon after his release. In 1971, Harvard University's Erich Goldhagen alleged that Speer had been aware of the extermination of Jews, based on evidence that Speer had attended a Nazi conference in 1943 at which Heinrich Himmler, Hitler's military commander, had spoken openly about "wiping the Jews from the face of the earth."
… AND A CLASSIC READ FROM THE ARCHIVES…
In 1966, Gay Talese wrote in Esquire about Frank Sinatra, the man who did not want to be interviewed.
Sinatra with a cold is Picasso without paint, Ferrari without fuel — only worse. For the common cold robs Sinatra of that uninsurable jewel, his voice, cutting into the core of his confidence, and it affects not only his own psyche but also seems to cause a kind of psychosomatic nasal drip within dozens of people who work for him, drink with him, love him, depend on him for their own welfare and stability. A Sinatra with a cold can, in a small way, send vibrations through the entertainment industry and beyond as surely as a President of the United States, suddenly sick, can shake the national economy.