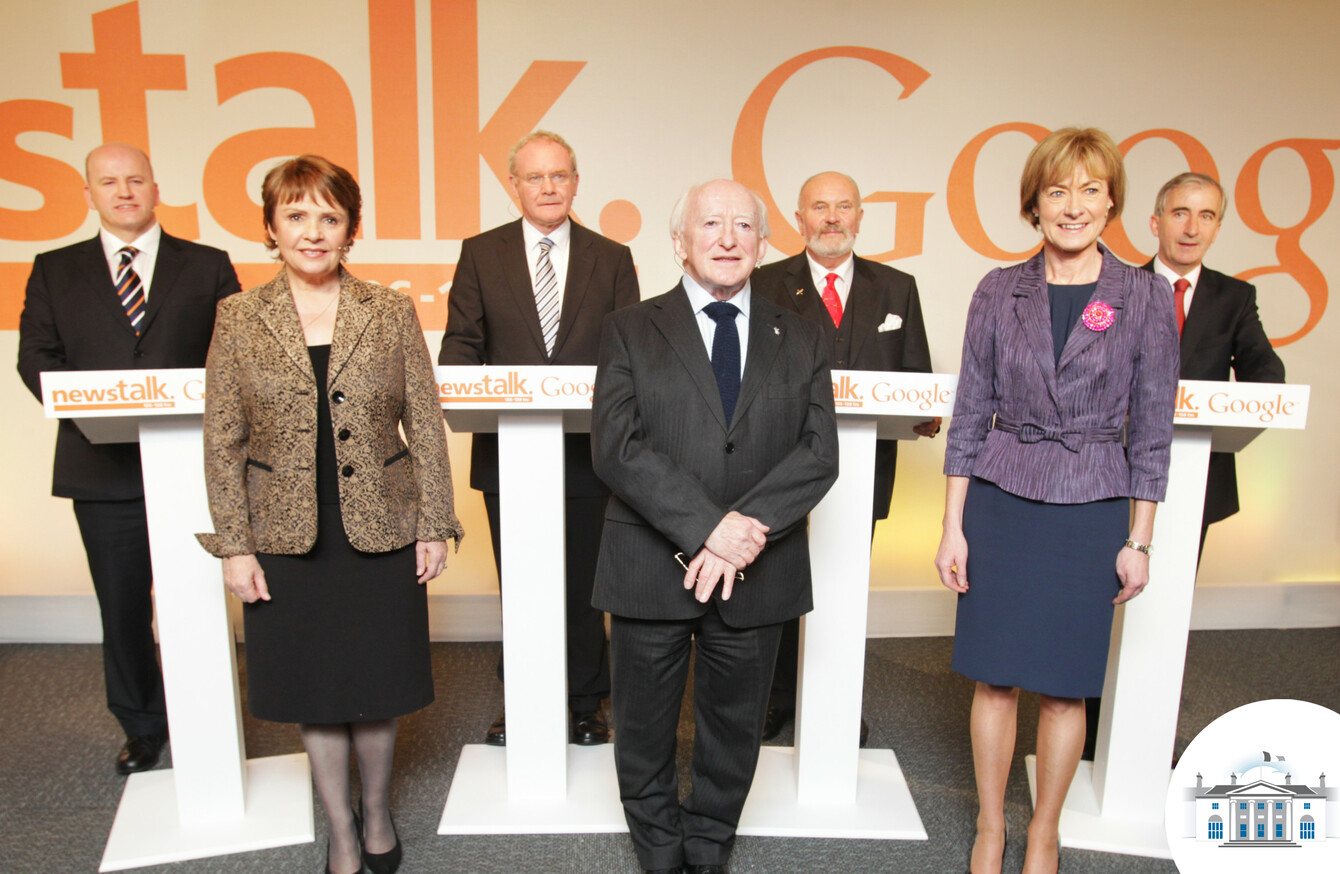 The candidates from last time around.
Image: Leon Farrell/Rollingnews.ie
The candidates from last time around.
Image: Leon Farrell/Rollingnews.ie
DO YOU REMEMBER the one where the pop star, the poet, the reality-TV star, the ex-IRA chief and the gay rights crusader were among those bidding to become president of Ireland?
That was how some of the world's media covered the 2011 presidential election in a very different Ireland to the one we have today.
Michael D Higgins ended up winning out of course, but it was a bit of a bizarre campaign with plenty of interest in it for a number of reasons.
One was that we would be getting our first new president for 14 years after two terms from Mary McAleese. Another was that there were so many candidates contesting it.
And another was that it was the first election to happen since the proliferation of social media, meaning every misstep or wrong move by a candidate would be focused on and amplified like never before.
In or out?
Before we'd settled on the final seven (!) candidates, there was much speculation over who would throw their hat in the ring.
He hadn't even said he was going to run, but broadcasting legend Gay Byrne was heavily rumoured to be plotting a bid and a Red C poll in August 2011 had him as favourite among the electorate to become the next president.
Such a bid never materialised, but he wasn't the only television celebrity being talked about as a potential president.
Such was the swell of rumour that Eamon Dunphy felt the need to rule himself out of the running, declaring to Dave Fanning on 2FM that he'd rather spend the next seven years in Mountjoy than in the Áras.
One figure from the telly who did put themselves forward was Sean Gallagher, the businessman who appeared on the show Dragons' Den. 
He easily won the support of the required four councils, and he was joined as an independent by Dana Rosemary Scallon, who had won the Eurovision for Ireland, Senator David Norris and Mary Davis. 
In the case of Norris, he'd actually ruled himself out of the race in August before re-entering it again in September.
While Labour and Fine Gael chose established political representatives in Higgins and Gay Mitchell, Sinn Féin opted to put forward Martin McGuinness as its nominee for the presidency.
McGuinness' historical links to the IRA made him a target of opposition parties, with one instance seeing then-government chief whip Paul Kehoe sending tweets linking the Sinn Féin man to the 2004 Northern Bank robbery.
The election campaign was obviously partisan in a number of areas, and outright confrontational in others.
Blown tires and familiar slogans
There was a surprising spat early in the campaign – over a campaign slogan.
Give or take a comma and a full stop, hopeful's Gay Mitchell and Mary Davis's campaign teams managed to come up with the EXACT same message to voters.
The Fine Gaeler's website and flyers carried the banner slogan: "Pride at home, respect abroad."
The independent Davis, meanwhile, had gone live with posters that said: "Pride at home. Respect abroad."
Both sides maintained they'd had the slogan first until Mitchell's side backed down, with his posters eventually reading "Understands our past, believes in our future".
Another incident came when Dana was forced to cancel her scheduled campaign appearances on a day in october, following a tyre blowout to her car.
Afterwards, she claimed she was "lucky to be alive" following the 100km/hr blowout. A subsequent garda investigation would find no foul play in the incident.
Resounding lead undone
In an Ireland on its knees following the collapse of the economy, the presidential election came hot on the heels of the general election earlier in the year with a Fine Gael/Labour coalition looking to steer Ireland out of the mire it had gotten into.
Sean Gallagher began to ride high in the polls, and held a clear lead following the initial few debates involving the candidates.
He'd come from relatively nowhere to the forefront of the political sphere, positioning himself as an entrepreneur and activist at a time of economic turmoil around the country. He talked of bringing back jobs and inspiring business.
It also helped that his many rivals were unable to overcome the intense scrutiny placed upon the presidential candidates.
Davis herself admitted her reputation was damaged by her perceived reputation as a former member of a number of State boards but blamed negative campaigning from rivals.
McGuinness also accused opponents of negative campaigning, describing Fine Gael's criticism of him as "dark propaganda". Norris was similarly dogged by negative headlines.
As support for others floundered, Gallagher's support grew.
#Open journalism No news is bad news Support The Journal

Your contributions will help us continue to deliver the stories that are important to you

Support us now
He had a double-digit lead over Michael D Higgins going into the infamous Frontline debate hosted by Pat Kenny on 24 October.
In the last televised debate before the election, Gallagher's hopes would soon lie in ruins.
The latest spat of the acrimonious campaign saw McGuinness spar with Gallagher during the debate over Gallagher allegedly collecting a €5,000 cheque from a man to be delivered to the Fianna Fáil party.
McGuinness accused Gallagher of being "up to his neck" in the "cronyism, the developers, the speculators and those who effectively destroyed the economy of this country". 
Gallagher denied having collected money.
After an ad break, Pat Kenny said there'd been a "development" from the McGuinness for president Twitter account, with claims Sinn Féin would soon produce the man who gave Gallagher the cheque.
A visibly flustered Gallagher began to say that the man in question was a "convicted criminal, a fuel smuggler". Then came the hammer blow.
"If he gave me an envelope – if he gave me the cheque, it was made out to Fianna Fáil headquarters, it was nothing to do with me," Gallagher said. 
It would transpire later that no such tweet had originated from McGuinness' account, and had in fact come from a fake account. 
After long legal wrangling, RTÉ eventually apologised to Gallagher and paid him "substantial damages" over the affair in 2017. 
But the damage had been done in October 2011, and Gallagher's presidential campaign never recovered.
Michael D Higgins – whose controversies throughout the campaign were confined to issues such as having smoked cannabis – overtook his rival and swept to victory.
Conceding defeat, Gallagher said: " Today is not a day for making decisions like that – everyone will tell you that today is a day for celebration… it is an end of one journey, and possibly the beginning of another… I'm not making any decisions about anything – other than maybe taking a few days off."
Fast forward seven years, and it is these two who lead the race yet again with another cast of characters lagging behind.
And, just like last time around, it would take a monumental swing in the poll numbers to bring about a different result after the election next week.