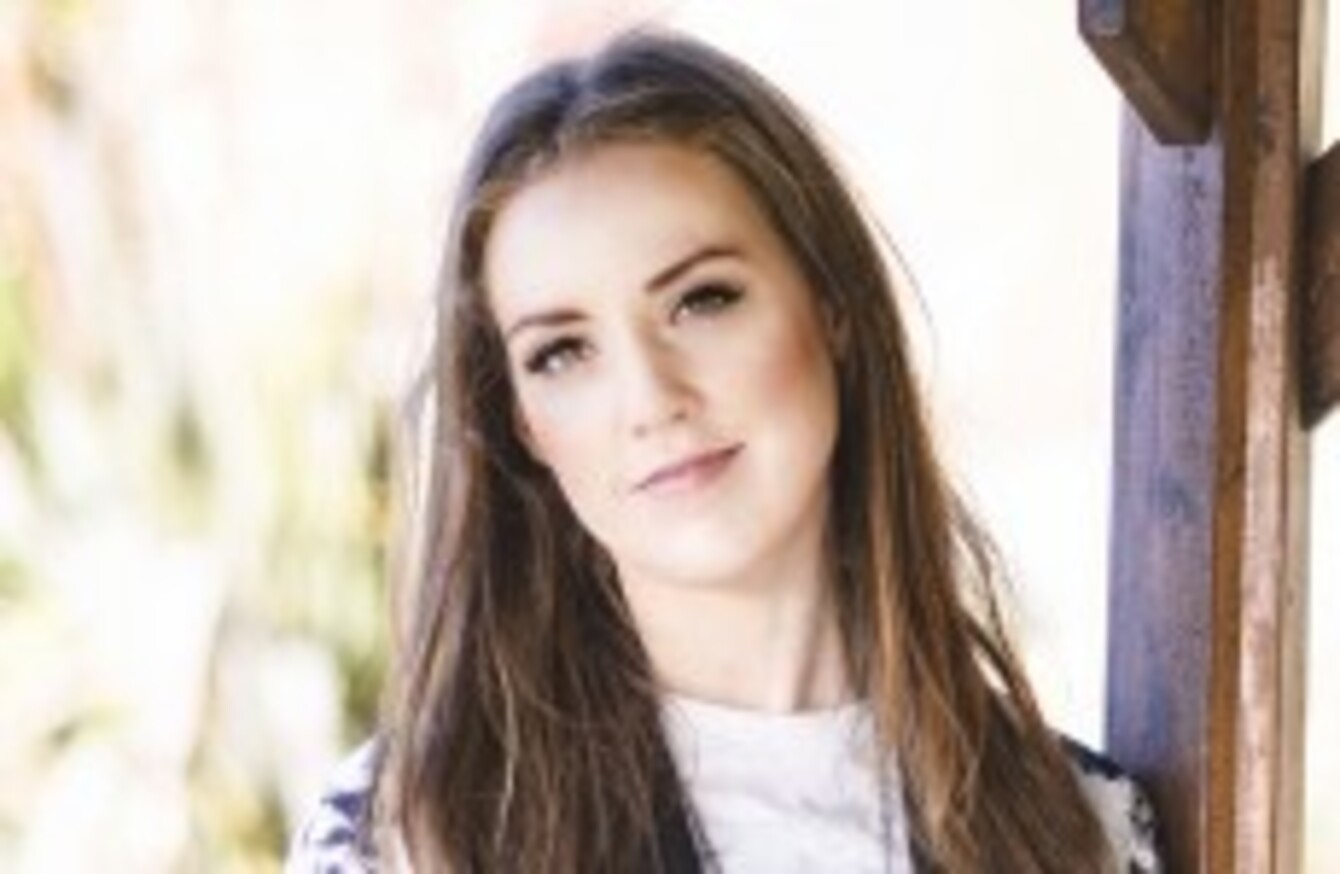 Image: Anna Groniecka
Image: Anna Groniecka
'I wanted to reader to finish this book and be absolutely furious. Furious about what happened to Emma, furious about our low rate of [rape] conviction, furious at the fact the victim is blamed. That rage is the only way change is going to be enacted.' – Louise O'Neill
LOUISE O'NEILL IS having a moment. Or maybe Ireland – and beyond, as news of the young west Cork author's powerful work spreads – is having a Louise O'Neill moment.
The 30-year-old's name has been on everyone in the Irish publishing world's lips since last year, when her debut novel Only Ever Yours (dystopian fiction which you can read more about here) was published.
The buzz grew and grew as word spread that the follow-up, Asking For It, was going to be about a rape case in a rural village; and the noise has continued to grow in the past few weeks as word spreads – mainly through Twitter and blogs, two major online arbiters of what deserves attention – of just how great (and disturbing) the book is.
Was she asking for it?
Centred on the story of a Leaving Cert student, Emma (18), who lives in a rural town in the south of Ireland, Asking For It is about what happens to her one night at a party, an incident that changes the course of her life.
It's not an easy read, not least because of what happens to Emma, but also because the book has a wider focus too, tackling rape culture and what rape survivors can experience here, both socially and legally.
At last count, Ireland had the lowest conviction rate for rape cases (following allegation) in Europe, standing at 1 – 2%. The EU average is 8 – 10%.
In its most recent report (from 2013), the Rape Crisis Network said that of the people who contacted it about a rape allegation, 91% knew the perpetrator. 48% of survivors of adult sexual violence reported it to a formal authority.
It's likely readers will see themselves in one of O'Neill's characters – maybe Emma, or one of her friends, her mother, her dad.
The reader might struggle with empathy for Emma; they might judge her and her actions. They might have been through something similar. They might have to confront their own thoughts and judgement on an issue that appears more grey than black-and-white.
Asking For It is an uncomfortable read, and O'Neill wants it to be that way.
The book, said O'Neill, was inspired in part by a few incidents: Todd Akin's comments about 'legitimate rape'; Whoopi Goldberg's 'rape rape' comments about Roman Polanski; the Steubenville case in the US – and the treatment of the so-called 'Slane Girl' in Ireland, who was pictured in a sexual situation at Slane with two men.
"It wasn't just the fact that these men had violated this girl in the most reprehensible manner," said O'Neill of Steubenville. "It was their sense of entitlement which I thought was incredible. They thought they were infallible."
"Male attitudes and attitudes in general towards women are something I am very interested in and very passionate about," she explained. These attitudes, and the culture that helps create and foster them, are part of what she grabs and tackles in Asking For It.
Was she asking nice?
From the early stages, O'Neill was intent on having protagonist Emma as the 'mean girl'. "I wanted to invert that trope of the idea of the victim being this sweet innocent girl," she explained. "Again, that does happen, but I feel I've seen that [explored] so many times."
She wanted "to make the reader almost complicit because of the fact Emma is unlikeable". The reader isn't always going to understand or condone Emma's actions, forcing them to think deeply about what occurs in the book.
Because she behaves in ways before and after the rape that don't conform to our ideas of how a victim behaves like before, and reacts afterwards. That is really important – we need to understand there is no such thing as a perfect victim.
Rape can happen to people of all ages, backgrounds, appearances – "there is no standard 'this is what a rape victim looks like'".
She wanted the reader "to almost get to a point where they are saying she nearly was asking for it, she nearly was asking for that to happen to her". 
To have that frightening moment of realising you are blaming her as well.
O'Neill wanted to encourage people to question their own subconscious beliefs or notions around rape. "You might not agree with everything I've done," she acknowledged. We are all flawed in our own ways, and Emma is "a mass of contradictions".
In addition, she wanted the experience "to be as authentic to real life as possible", which meant there was no fairytale ending planned. O'Neill visited the Cork Rape Crisis centre and spoke to rape survivors for the book, having thrown herself into an intense six-month writing process.
The research was so intense that O'Neill had nightmares about being raped. By the time she was finished, she "felt very defeated, very burnt out and exhausted".
 If she was asking for it…
She describes her first draft approach as "very obsessive" – she locks herself away at home in West Cork, not going out, not seeing people, just her and her writing wedded together for half a year.
"I was really taking on Emma's personality nearly, and really trying to get into it. It was draining and I don't think I was very pleasant to be around for those six months." Though a third book is most definitely on the agenda, the experience left her depleted:
When I finished, I thought: 'I don't know if I can ever write a book again'.
Usually she's able to remain relatively unattached from her fictional characters, but Emma stayed with her, even today. 
That's because "there are millions of Emmas" in the world, pointed out O'Neill: "Every two seconds in the US, there is a sexual assault. This isn't a dystopian novel, this is real life."
There needs to be a "huge cultural shift in how we see rape", said O'Neill.
#Open journalism No news is bad news Support The Journal

Your contributions will help us continue to deliver the stories that are important to you

Support us now
"The only way that will happen is with parents discussing the issue of consent with children [she emphasises that this means boys as well as girls]; with better sex education in school, not just focusing on reproduction but on consent".
She said that it's up to people to stand up to misogyny, "not saying it's 'not worth the hassle' having this argument".
It's going to take sustained 'being very annoying' for 10 years and maybe it will change.
Did she ask you twice?
While Only Ever Yours was aimed at young women (both of her books are in the 'young adult', or YA category, which has exploded in the past few years thanks to the success of authors like John Green), O'Neill wants this book to be read by all genders.
"It's really important that they read this," she said, pausing to note that this isn't meant to sound pretentious, before expanding:
Not because I am the best writer or because my book is so much better than any book. This kind of book and this kind of literature needs to be read so that they can begin to understand the messages both myself and other writers are trying to convey – and [that] we are trying to dismantle rape culture.
A prolific tweeter, O'Neill is never shy to share her thoughts on current feminist issues. But does it sometimes get dispiriting to realise you're coming across the same issues over and over and over again?
"I remember reading the Handmaid's Tale when I was 15," she recalled, "and going 'my God, I can't believe how relevant it feels and it's 15 years old. And [now] I can't believe it's 30 years old and it's just as relevant."
But she does believe progress is being made, pointing to the swell of voices talking about the Bill Cosby sexual assault allegations.
O'Neill is one of this generation's feminists who isn't afraid to speak out about misogyny, sexism, or issues she feels need to be discussed. Her books are a way of furthering that discussion – but she believes the issues raised in Asking For It are not all about her.
I kind of feel like this is bigger than me, and I am just the messenger and putting it out there. It's much more important than me.
Her aim? To get people talking. To get people angry. To make people furious. That rage, that discussion – that's how, she said, people can bring about change.
Asking For It is published by Quercus and available now.