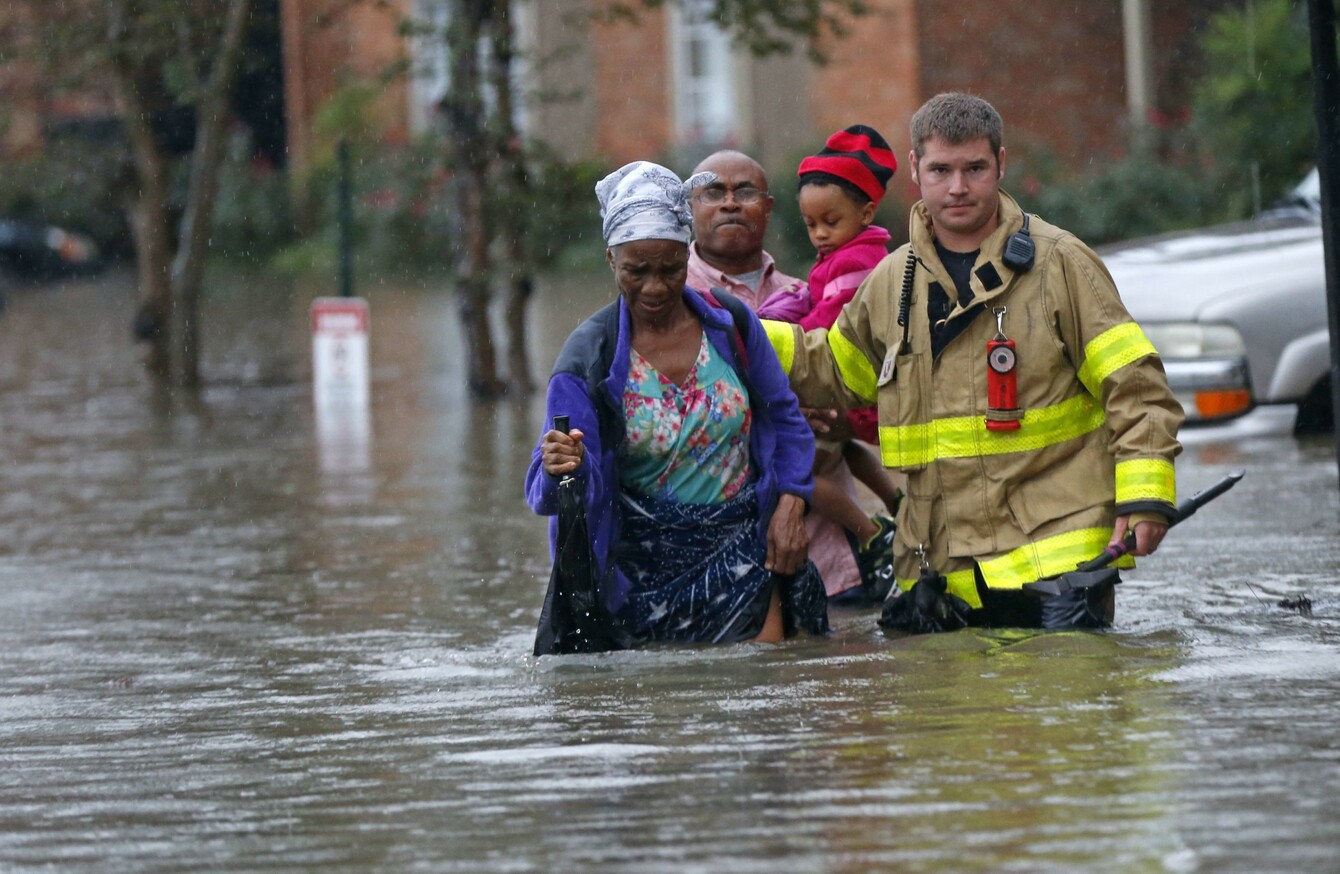 Member of the St George Fire Department helping Baton Rouge residents
Image: Gerald Herbert/Press Association
Member of the St George Fire Department helping Baton Rouge residents
Image: Gerald Herbert/Press Association
MORE THAN 10,000 people are in shelters and more than 20,000 people have been rescued across south Louisiana because of widespread flooding.
It is estimated that five people have been killed so far, but officials are not yet ready to confirm numbers.
Rain-swollen rivers and creeks burst their banks, causing havoc across parts of southern Louisiana. The federal government has declared a state of emergency.
High-water vehicles, boats and helicopters have been rescuing people and bringing them to safer areas.
Busloads of people who were rescued from floodwaters in Baton Rouge continue to arrive at a sprawling film studio being transformed into a makeshift shelter, Celtic Media Centre.
Governor John Bel Edwards says President Barack Obama called him and said:
The people of south Louisiana are in his thoughts and prayers and the federal government will be a solid partner.
Animals
Rescuers have also saved hundreds of pets as they go door-to-door searching for people.
Lieutenant Davis Madere from the Louisiana Department of Wildlife and Fisheries says the priority is always rescuing humans.
But he says he and his teams have rescued at least 100 pets since they started working Friday, including cats, dogs, birds, and even a gerbil.
Madere says rescuers have encountered lots of snakes while out on the water but no alligators.
Not out of danger
National Weather Service meteorologist Gavin Phillips says the low-pressure system that drenched south Louisiana has moved into Texas. But he says there's still a danger of fresh floods, as swollen rivers drain toward the Gulf of Mexico.
Phillips says there could be flooding later in the week.
Executive director of the Mississippi Emergency Management Agency, Lee Smithson, says extensive damage assessments of the thousands of flooded homes will begin later today.
Other problems
Louisiana's governor says mobile service outages are affecting rescuers' ability to communicate with residents asking for help, and with each other. The AT&T switching facility in the area was knocked out by floodwaters.
In a statement, the company says they are working to restore affected wireless service as quickly as possible. AT&T says they have technicians and resources ready and as soon as it's safe in affected areas, they will get to work.
The company is recommending customers text before calling and use wifi where it's available.
The flooding has also stranded motorists for nearly a day on Interstate 12 motorway. Trains in New Orleans have stopped running and it is not yet certain when they will reopen.