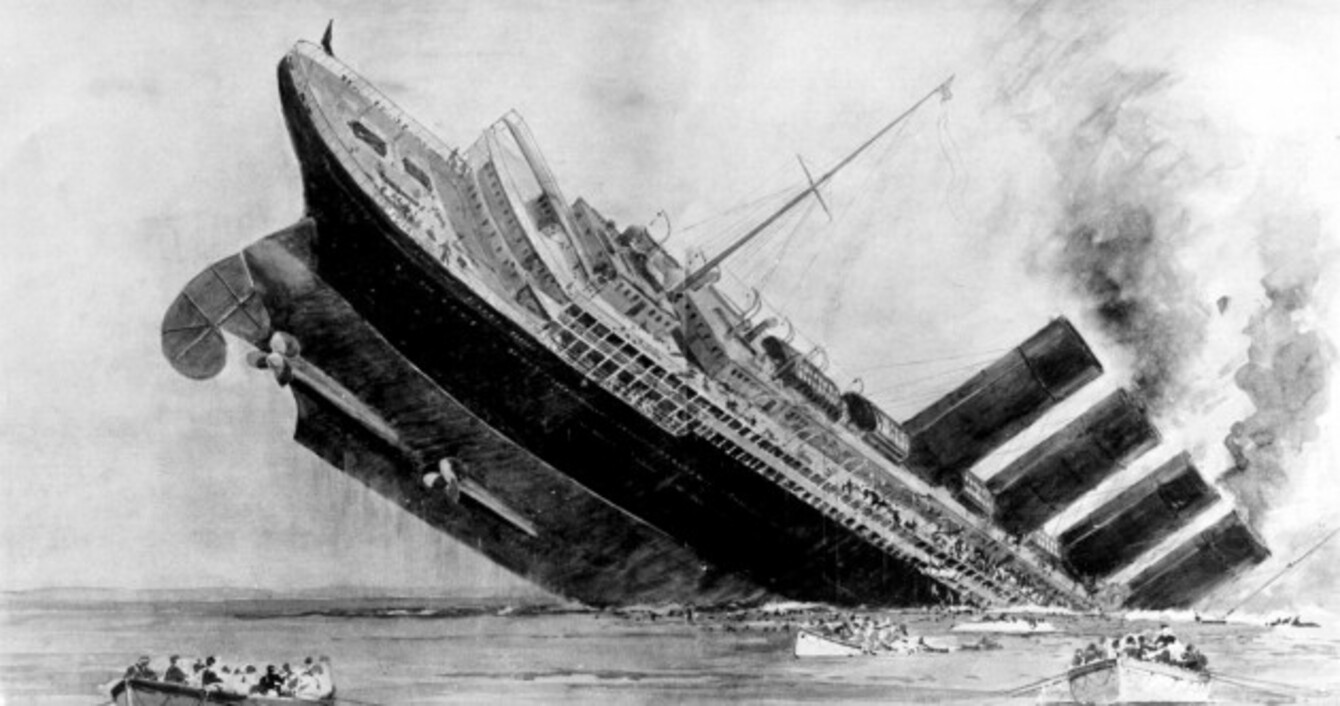 Artist's impression of the sinking of the Lusitania.
Image: Tophams/PA Images
Artist's impression of the sinking of the Lusitania.
Image: Tophams/PA Images
THE LUSITANIA SANK 11 miles off the Old Head of Kinsale, Cork on 7 May 1915 after being attacked and struck by a torpedo fired by a German submarine U-20.
After a second explosion, it took just 18 minutes for the vessel to sink – causing the deaths of 1,198 people. About 760 people survived.
Over the next few weeks the people of Cork will mark the centenary of the sinking with a series of events and lectures.
Cork County Mayor Alan Coleman said the sinking had "huge global significance". He is one of the many people who believe the deaths of 128 American passengers in the tragedy is the reason why the US entered World War I.
At a more local level, Coleman noted that the Lusitania's sinking was the "biggest human tragedy" and "greatest maritime disaster" to ever happen off our coast.
He told TheJournal.ie the series of events will "celebrate the heroic response" of locals, particularly RNLI rescuers who "rowed out 12 miles to witness this incredible human tragedy".
Coleman spoke about how the local community had to deal with corpses washing up along the coast, stating: "The navy was overwhelmed – they had to sail out and collect bodies."
Titanic
He noted that until Leonardo DiCaprio and Kate Winslet the Lusitania was perhaps better known than a certain other ship.
Before the Hollywood treatment of the Titanic, the Lusitania was a much bigger event because of its huge political implications.
Cork County Council has spent about €100,000 on the programme of events, matching funding raised by local communities
Coleman said "huge crowds" are expected to attend events in the coming month, particularly the opening of the restored Old Head signal tower in Kinsale on 7 May.
Several other events are planned for the coming days and weeks – including a series of free lectures, reenactments and the opening of a museum.
Full details are available here.
Coleman said interest remains in the ship as there is "still mystery to unfold".
Why did Germany pick that time to make the attack? Why so close to the Irish coast? … Were there munitions on board? Was there gold on board?
"The secrets are still held on the hull at the bottom of the sea."