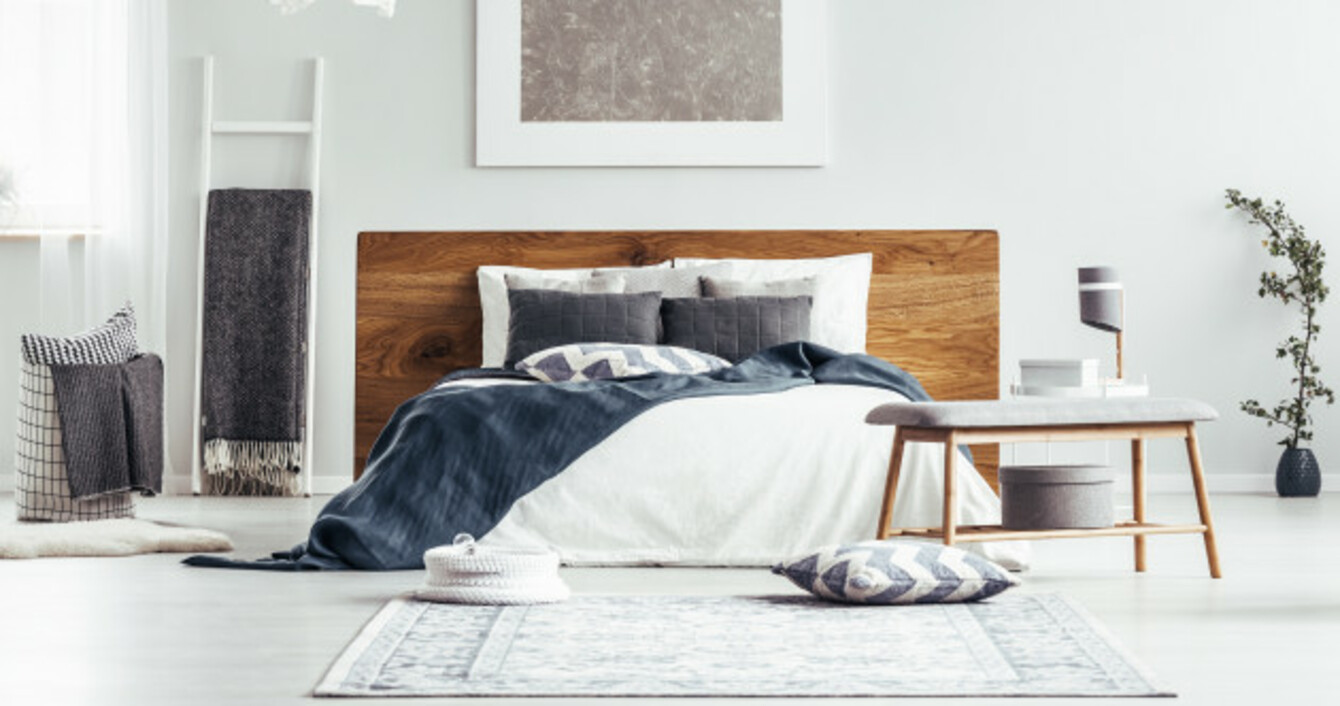 Image: Shutterstock/Photographee.eu
Image: Shutterstock/Photographee.eu
REGARDLESS OF YOUR decor style, be it classic or contemporary, the appeal of a hotel-worthy bed is something every homeowner or renter can agree upon.
A delightful bed is one of the most enjoyable aspects of checking into a luxury hotel – but it needn't be something you experience once in a blue moon for several hundred quid. It is something that with a few smart choices and clever styling tricks you can enjoy every night at home.
And why not? Considering the fact that we spend 30-odd years on average in bed, and that sleep quality is one of the most crucial aspects of our day to day wellbeing, it's well worth the investment.
Behold, the ultimate guide to transforming your bed into something that would rival your favourite five-star.
1. Start with the piece de resistance: the mattress topper
First things first. The hotel bed isn't just about aesthetics: it's largely about comfort. One thing you're sure to find if you investigate a luxury hotel bed worth its salt is a high quality mattress topper, often referred to as a comforter.
This is an essential first step, especially if you don't have the most amazing mattress or bed frame – it will take the comfort levels up significantly. One of the best you'll find on the market right now is the Francis Brennan mattress topper from Dunnes Stores.
It's pricey (from €150 to €300) but with duck down and feather, you can expect to sleep like you've never slept before. What's more, it fattens up the bed which adds to the full and luxurious appearance you're after.
2. Get savvy between the sheets
High quality sheets are obviously a no-brainer when it comes to fancier beds, but there still exists a lot of confusion around the mysterious world of linen quality.
According to Arnotts' buyer for Linens, Martin O'Keefe, cotton sheet quality is often evaluated by thread count, which literally refers to the number of threads in the fabric, or more specifically, the number of threads per square inch. The higher the thread count the softer and more durable the sheet. Your average high street bed linen comes in at around 200, while expensive sheets are up around the 400 mark.
But buyer be warned; it's not uncommon these days for certain brands to offer 700 and 800 hundred thread count. The reality is that's just not possible (you can't fit that many threads into one square inch). The highest thread count you can get from good quality cotton is 400. Any higher and the suppliers are generally spinning very low quality cotton together (so splitting the plys to get more threads, which are much thinner) to create a super high thread count. This actually compromises the quality of the sheet.
If you're still in doubt, you can check your sheet's quality by holding it up to the light – the less light that shines through, the better quality the sheet. For something hotel worthy, choose organic, Egyptian and Pima cottons instead of synthetic materials.
O'Keefe adds: "Good quality cotton like Egyptian cotton is well worth paying that little bit more for; it will last you longer and will definitely have an impact on the quality of your night's sleep. Linen is also a natural fabric and will have the same effect."
Invest in quality sheets from brands like Yves Delorme (available at Arnotts), BeDeck and Behrens. For something more stylish but equally as good quality, West Elm is a firm favourite. Aesthetically speaking, a hotel bed will always be pared back and minimal with either a pure white set or a very subtle pattern.
3. It's all about the cushion stacking
Pillows are a very personal choice. What you go for will depend on the kind of support you need for your neck, whether or not you have allergies, or whether you just happen to prefer pillows that are flat or those that are super squishy. For hotel quality, they will be a heavier pillow, usually composed of duck down and feather. Squish the top of them in the middle for the stylist's touch.
But whether you invest in new pillows or not, there is a clever way to create the hotel bed illusion, as explained by Jo Linehan, stylist and co-founder of GAFF Interiors. "Rather than throw smaller scatter cushions on top of the made bed, stack your head pillows upright and add a much larger cushion – in a slightly different colour – behind your front pillow. This gives depth and again, fattens the whole thing up which alludes to luxury."
They're less of a hassle than several scatter cushions (you rarely want to rest your head on a tiny cushion but you will find these larger square ones comfortable as well) and they're an effortless and affordable addition to visually up the ante. Ditch the 25 scatter cushions and embrace the hotel aesthetic of 'less is more'. You'll find perfect large square cushions with changeable covers in Meadows & Byrne.
4. Add a bedspread for the final touch
Another thing you're sure to find on a premium hotel bed is a rich and luxurious bedspread. Fold it over and lay it across the bottom of the bed. Consider choosing a bedspread in a slightly different texture – but not too different in terms of colour – as the more texture, the more luxurious it will appear.
Incredibly practical on colder nights, or if you want to lie down without getting under the duvet, the comforter adds another layer to your five-star bed. Remember, it's all about large layers of texture and quality. A washed cotton or Paisley cotton bedspread will be more so what you'd find in a hotel, rather than a light velvet throw.
5. Look beyond the bed
To complete the aesthetic side of things, look around the bed. What's your bedside furniture or lighting situation? For the real hotel effect, you might consider having wall lighting fitted. This frees up your bedside table surface space – the less clutter the better for the five-star effect.
Check out Cult Furniture or Spark and Bell for chic and luxury lighting options that work perfectly to elevate your sleeping space to the stuff of dreams.