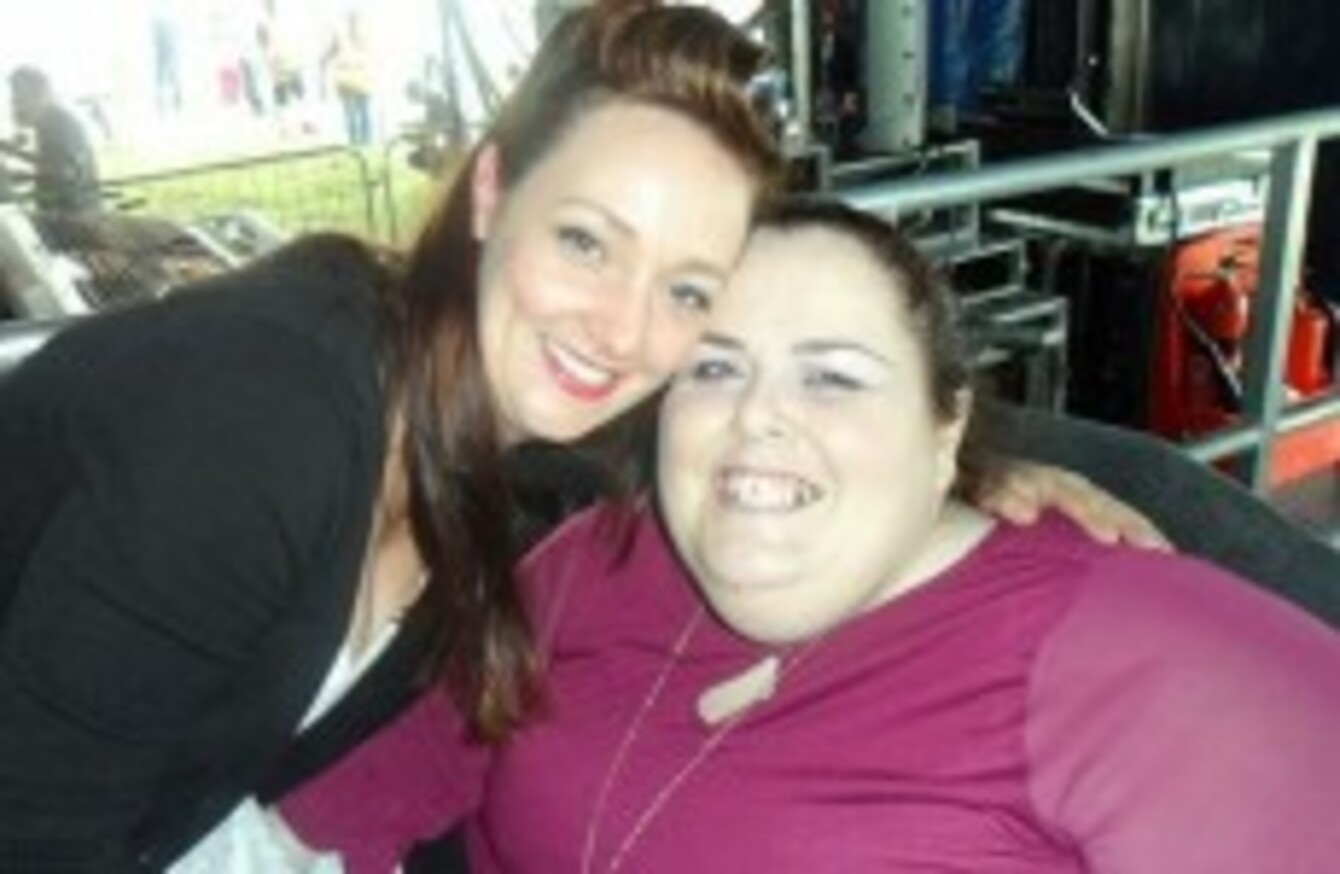 Maggie (right)
Maggie (right)
MAGGIE MCGINLEY IS facing her third Christmas in hospital as she waits for Galway City Council to do essential work on her house – a small extension that she applied for in 2009.
The 33 year old has been in Galway University Hospital since April 2012 and the council have now told her it will be next July before it can get planning permission for the extension.
McGinley, from Knocknacarra in Galway, is in a wheelchair and has a rare bone condition which has led to three separate amputations.
She told TheJournal.ie that she realised she needed the extension urgently after a situation arose five years ago which could have killed her.
In 2009, paramedics arrived at her house but couldn't get her onto a stretcher as there wasn't enough room in the house.
I had to get on my chair and go out to the hall and get on the stretcher from there with an oxygen mask on.
"When we got to the hospital we found out I had clots in both lungs and my doctor told me I could have dislodged them by moving like that – which could have killed me."
Maggie applied for the extension so that she wouldn't have to deal with a situation like that ever again.
She added, "My doctor at the time called a meeting with the council and some staff here to say 'Is there any way there could be an extension?'
They said they would look into it. That was five years ago and nothing has happened so far.
'Not a huge amount of work'
Maggie was recently offered residential care as the extension has still not been carried out. She said, "We had this discharge meeting and I actually had to leave it.
They were saying it would be July 2015 before they get the planning permission for the extension I asked for in 2009.
"I know what's going to happen, they get me into a home and then I'm considered 'suitably housed' – it will be like 'you don't need to go anywhere else'.
"Just because it says home in the title doesn't mean it's my home.
I don't need it. I have a home with my mother, I have a life. I don't need to be put away.
Maggie said she's been told three times in the past five years that a feasibility plan is being carried out but that nothing has been done yet.
She made the point that, "The doctors kept telling me I could go home if I was stable but I kept getting little medical setbacks but as far as the council were concerned I could have been discharged at any time and they still didn't do any work on my house."
Labour Councillor Niall McNelis told TheJournal.ie, "I was given a commitment that the assessment would be done by this stage. I'm disappointed that it's not done.
I'm not happy with the suggestion that was made about her going into a home- that day is over. Nobody should be sent into a home like that anymore if they don't need it.
"I'm waiting for a feedback from Galway City Council but I haven't got that. It's a very sad situation."
Independent TD, Noel Grealish told TheJournal.ie, "It is completely unacceptable that she has to remain in hospital despite being capable of returning home albeit following some alterations."
He visited Maggie's home with Councillor Mike Cubbard and said:
There is not a huge amount of work to be undertaken to make the house suitable for Maggie.
"I have raised this matter with the Chief Executive of Galway City Council, Brendan McGrath and he advised that I meet with the Director of Services for Housing. This meeting is to take place next week."
TheJournal.ie contacted Galway City Council on Thursday but so far it has made no comment.
Maggie's condition
Maggie has been in a wheelchair since she was five years old due to a condition called transverse myelitis.
She then contracted a rare bone infection called osteomyelitis which has led to the three amputations.
"I only got this in 2002 and it was my left foot that was always at me." Speaking about her first amputation, she said:
My doctor told me at 1 o'clock on Wednesday 7 November 2007 and I went down at 2 o'clock the same day and got it done.
"I was just tired to be honest… I was two weeks after turning 27 and I was graduating from my masters in advocacy. I just wanted it done. I thought it would stop me coming into hospital.
"Ten months later I lost the left foot and it was never sore – never, but it got infected in the exact same bone.
It took five years to lose the right foot, 10 months to lose the left and a year later I lost my left knee.
"I had two okay years but then with my condition worsened, bones started coming out of my wounds and stuff.
"The infection is now in my pelvis bone – when it was my feet I got them amputated but there's not much you can do with the pelvis."
'I just want to go home'
Maggie has two Masters degrees from NUI Galway in Public Advocacy and Activism and Community Development. She told TheJournal.ie that she actually completed her thesis in her hospital bed.
It wasn't that bad. I used the hotspot on my phone to get the internet as there was no Wifi in hospital at the time. I had to use an iPad because my laptop was rubbish and it was hard to type on that.
"I just want to try and live as normal a life as possible and I want to get a PhD.
"I'm on intravenous antibiotics now and that's really my only option. I've tried coming off them seven times but I can't.
I get my bad days and when I get them they're really bad but I can have them at home. There's nothing they can really do apart from up my antibiotics.
"I don't want to be here and I can go home. I need to get my pain settled but that's ongoing."
She described how it only takes 24 hours to set up an Out Patient Antibiotic Treatment (OPAT) but that as she can get sick quickly- she needs a stretcher to be able to get into her home in case she needs to get to hospital.
You would think it would be a medical thing that would keep me here instead of this.
"I don't mind my chair or my illness but I don't understand why I have to beg to go home.
"I just want to go home. I have no privacy here, it's a hospital and you have to respect patients."
She said that she can't really play music loud in the hospital or watch a film with her friends or boyfriend in comfort.
She also explained how her youngest niece who is four thinks the hospital is her home and calls it 'Maggie's room'.
Maggie said one of the hardest things about living in a hospital is spending Christmas there.
"I got sick a month before I turned 5 in October and I still went home for Christmas.
Christmas 2012 was the first Christmas eve I spent in hospital and I hated it and coming back here on Christmas night is just shit.
"OPAT can't be organised for a night so I need to get back for my antibiotics – also I can't be away for a night because then I'm technically giving up my bed.
I have spent two Christmas's in here in a row and I don't want a third.
"If I knew I was going to be home soon – at least I'd have something to look forward to."