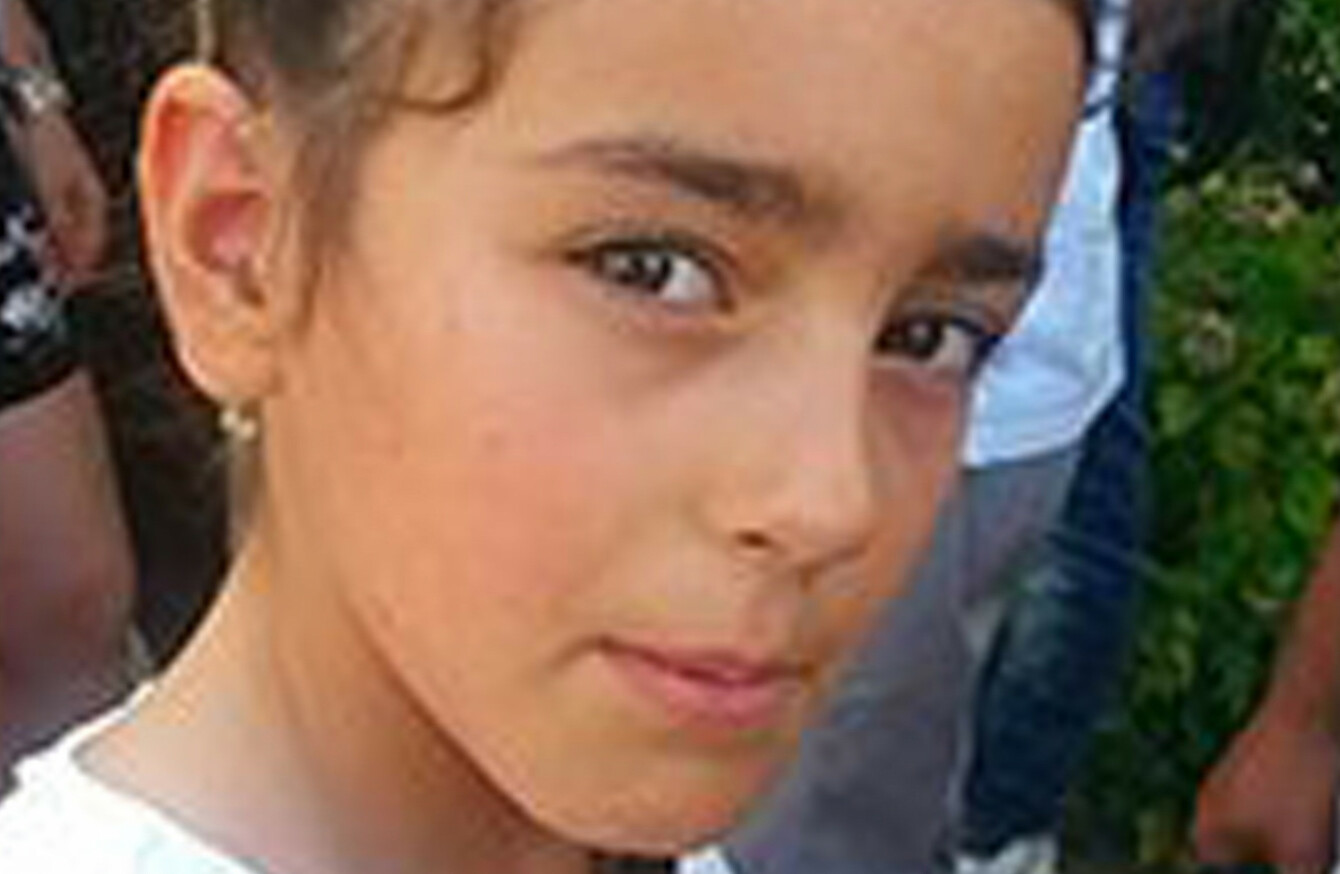 A photo of missing Maelys, via the Gendarmerie Nationale.
Image: Gendarmerie Nationale/AP/PA Images
A photo of missing Maelys, via the Gendarmerie Nationale.
Image: Gendarmerie Nationale/AP/PA Images
THE MAN CHARGED with kidnapping a nine-year-old French girl during an Alps wedding has admitted during police questioning that she got into his car but denies abducting her, his lawyer told AFP today.
A week after Maelys de Araujo went missing in the eastern village of Pont-de-Beauvoisin, a 34-year-old man was remanded in custody on charges of "kidnapping, illegal confinement or arbitrary detention", the public prosecutor said in a press release yesterday.
The man was a guest at the wedding, which Maelys was attending with her parents when she went missing in the early hours of Sunday morning, 27 August.
Her DNA was found in his car.
DNA traces
The suspect's lawyer Bernard Meraud said the man — who was taken in for questioning last week, released and later re-arrested — told police Maelys "got into his car with a little boy, onto the back seat to see if his (the suspect's) dog was in the boot".
He confirmed that traces of her DNA had been found on the dashboard but that his client denied kidnapping her.
The disappearance of the little girl, who was wearing a white dress and carrying a cuddly toy, has dominated French headlines over the past week.
Scores of police, search and rescue teams, divers and cavers spent the past week combing woods and lakes in the area about 50 kilometres north of Grenoble for signs of her.
The charged man was arrested last week along with a friend over inconsistencies in their account of the night's events, but the pair were later released.
Car was washed
His car had previously caught the attention of investigators. The man, who lives in the area with his parents, washed the vehicle after the wedding. His lawyer claimed he did so in order to sell it.
On Sunday, he was re-arrested after the police uncovered fresh evidence.
"Confronted with testimony, findings and scientific evidence, he persisted in his denials and explanations," the prosecutor's office in Grenoble said.
"This did not convince the investigative judges, who decided to hold him," it added.
Sniffer dogs lost the scent from Maelys's cuddly toy in a car park outside the community hall where the wedding was held, raising fears she was kidnapped and whisked away by car.
Police have interviewed about 250 people since Sunday, including most of the 180 guests at the wedding, as well as several others who attended parties held the same night at a nearby bar and church hall.
Comments are closed as a man has been charged.