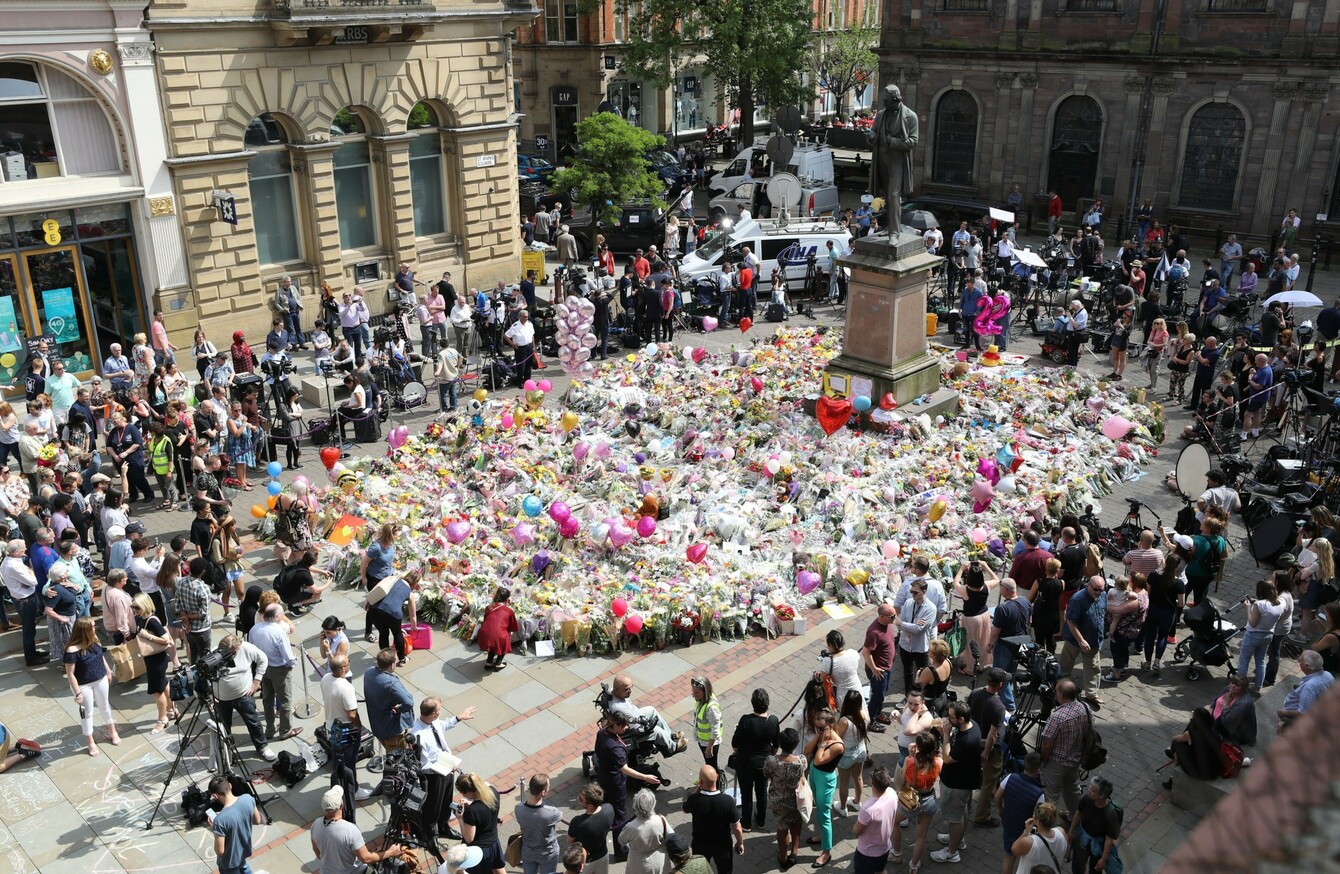 Tributes in St Ann's Square, Manchester, to remember the victims of the terror attack in the city earlier this week.
Tributes in St Ann's Square, Manchester, to remember the victims of the terror attack in the city earlier this week.
POLICE IN WIGAN have evacuated homes as the investigation into Monday's terror attack on Manchester Arena continues.
Greater Manchester Police say the evacuation was brought about after "suspicious items" were found in a house in the town.
The investigation of the blast that killed 22 people extended across Europe and into Libya today, where most of the suspected bomber's family lived. Authorities in multiple countries worked to determine if Salman Abedi, who died in the blast, acted alone or with assistance from a sophisticated cell.
After Abedi's mother and three of his siblings were brought in for questioning, a Libyan official told of a final phone call he placed to his mother and brother just before the attack. On that call, he purportedly told his mother: "Forgive me," said Ahmed bin Salem, a spokesman for the Special Deterrent Force.
"He was giving farewell," bin Salem added.
The number of arrests in the UK ticked up to eight as British Transport Police said armed officers would begin patrols on some trains because of an increased threat of terrorism.
Greater Manchester Police Chief Constable Ian Hopkins said, without elaborating, that searches of suspects' homes brought "very important" clues in the probe of Monday's bombing at the close of an Ariana Grande show.

Widening
Meanwhile, the investigation into the blast widened.
Authorities chased possible links between Abedi and militants in Manchester, elsewhere in Europe, and in North Africa and the Middle East. They were exploring potential ties to Abdalraouf Abdallah, a Libyan jailed in the UK for terror offences, and to Raphael Hostey, an Islamic State recruiter killed in Syria.
Abedi's family remained a focus, too, with a brother in England, his father and another brother in Libya among those being detained. Abedi's father was allegedly a member of the al-Qaida-backed Libyan Islamic Fighting group in the 1990s — a claim he denies.
An emerging portrait of the bomber remained complicated by competing assessments over whether Abedi held views that had sparked concern and attention before the bombing.
Akram Ramadan, a member of the Libyan community in Manchester who attends the city's Didsbury Mosque, said Abedi was banned from the mosque after he allegedly interrupted an imam's anti-Islamic State sermon.
"He stood up and started calling the imam — 'You are talking bollocks,'" Ramadan said. "And he gave a good stare, a threatening stare into the imam's eyes."
Mohammed Fadl, a community leader, rejected that account. While Abedi's family was well-known in Manchester, Abedi himself did not attend many gatherings, Fadl said.
However, Fadl said he had heard Abedi's father took his son's passport away over concerns about his ties to alleged extremists and criminals.
"Very few people in the community here were close to him, and therefore Salman's fanaticism wasn't something the community was aware of," he said.
In Libya, bin Salem said Abedi's mother told investigators her son left for the UK four days before the attack after spending a month in Libya. Based on the account from a younger brother, investigators think Abedi used the internet to learn how to make a bomb and "seek victory for the Islamic State," bin Salem said.
The allegations clashed with what Abedi's father said a day earlier in an interview with the AP. "We don't believe in killing innocents," Ramadan Abedi said before he was detained in Tripoli.