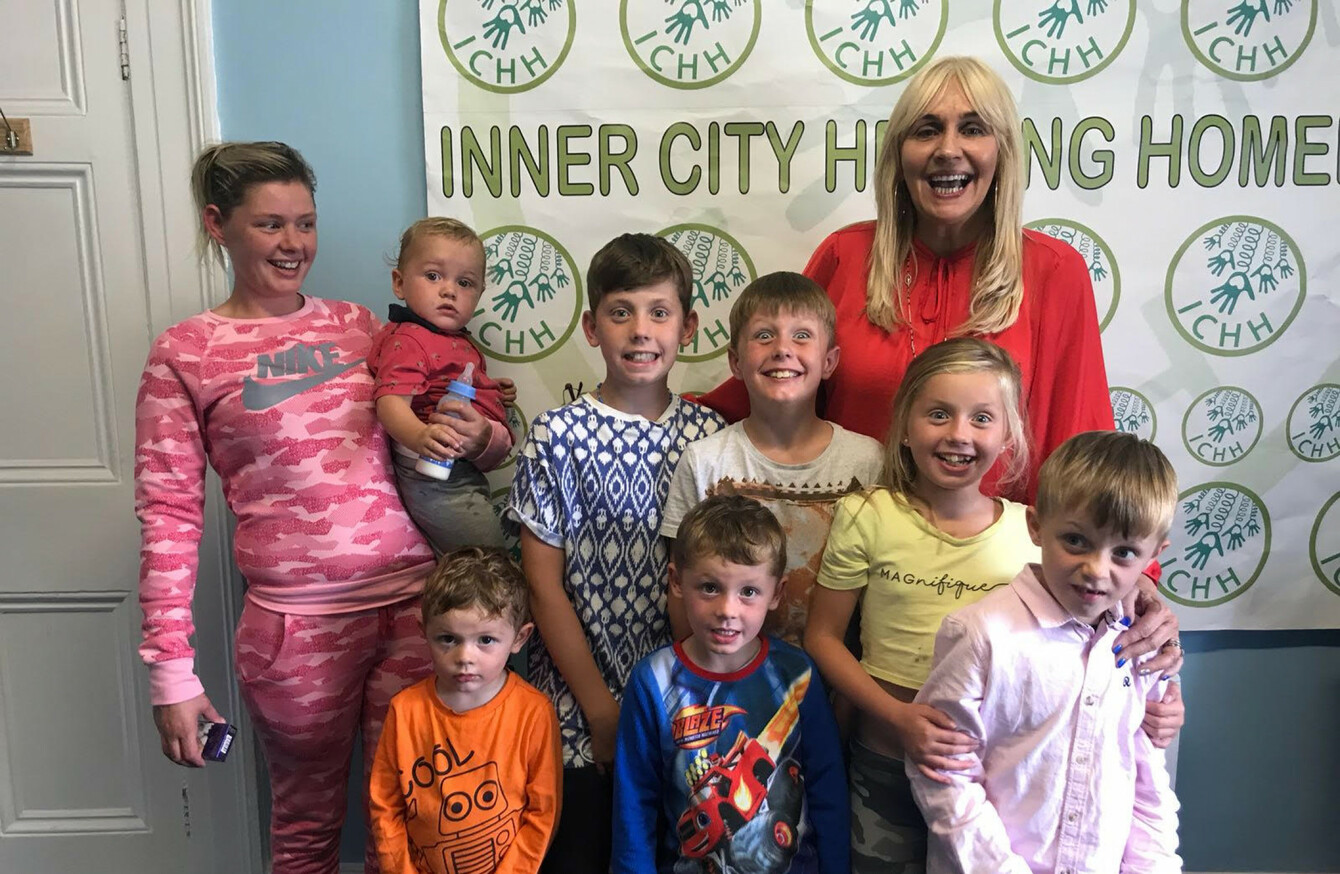 Margaret Cash and her children with RTÉ's Miriam O'Callaghan
Image: RTÉ
Margaret Cash and her children with RTÉ's Miriam O'Callaghan
Image: RTÉ
THE MOTHER-OF-seven who spent the night in a garda station with her children last week has said the council has offered her a three-bed apartment on a trial basis.
Margaret Cash (28) and six of her children, aged from one to 11, spent the night in Tallaght Garda Station in Dublin on Wednesday of last week after failing to secure suitable emergency accommodation.
She and six of her children were provided with emergency accommodation by Inner City Helping Homeless the following day and have been staying there since. Another one of her children was staying with a family friend, having recently been released from hospital after suffering from a viral infection.
On Monday, Dublin Regional Housing Executive (DRHE) said that the family had been offered evening/nighttime emergency accommodation on a "continuous basis" but turned it down. The accommodation was evening/nighttime only, DRHE said.
Anthony Flynn, CEO of ICHH, had said that DRHE's offer of accommodation was "unsuitable" as Margaret and her children are expected to leave the accommodation early in the morning and "wander the streets" until they are allowed back in the evening.
Speaking to RTÉ Radio One's Today with Miriam, Margaret said that she received a call from the council this morning outlining that she is being given a week's trial in an apartment in Dublin city centre from Friday, and after that, they will take it month-by-month.
"It's better news than what it was last week, when they were expecting me to go night-by-night again, I'm really happy," she said.
Margaret said she has yet to tell her children the news but that "they'll be delighted, they'll be over the moon".
Presenting to garda station
Margaret, who is from Tallaght, became homeless last September after the private house she was renting was repossessed.
She said that she was advised on Wednesday night last week to present to Tallaght Garda Station after Focus Ireland could not secure emergency accommodation for her and her children. She said she was then offered accommodation in Meath for the night, but she would not have been able to travel there that late at night.
Margaret and her family then spent the night in Tallaght Garda Station.
Speaking of what it's like to experience homelessness, Margaret said: "It was horrible, it was shocking. I suppose I don't really know how to explain it.
"I felt horrible as a mother. I felt disgusted with myself."
Support and criticism
Margaret told Miriam that she and her family have received great support from Inner City Helping Homeless since she presented to the garda station.
"They done what the council should have done… they opened my eyes up to people that are actually good," she said.
Images from her Facebook account has led to some criticism online. When asked about that she said: "I never told anybody I was poor. Being poor and being homeless are two entirely different things."
In a statement last week, DRHE said that it appreciates how difficult the situation is for Cash and her family.
The Department of Housing also said in a statement last week that Minister for Housing Eoghan Murphy has spoken with DRHE and it confirmed that they are reviewing the processes in place for those who present late at night in need of emergency accommodation.
Latest figures from the Department of Housing show that 9,872 people were in emergency accommodation during the week of 18-24 June, an increase of 26 people compared with the previous month.
The figure includes 6,048 adults and 3,824 children.