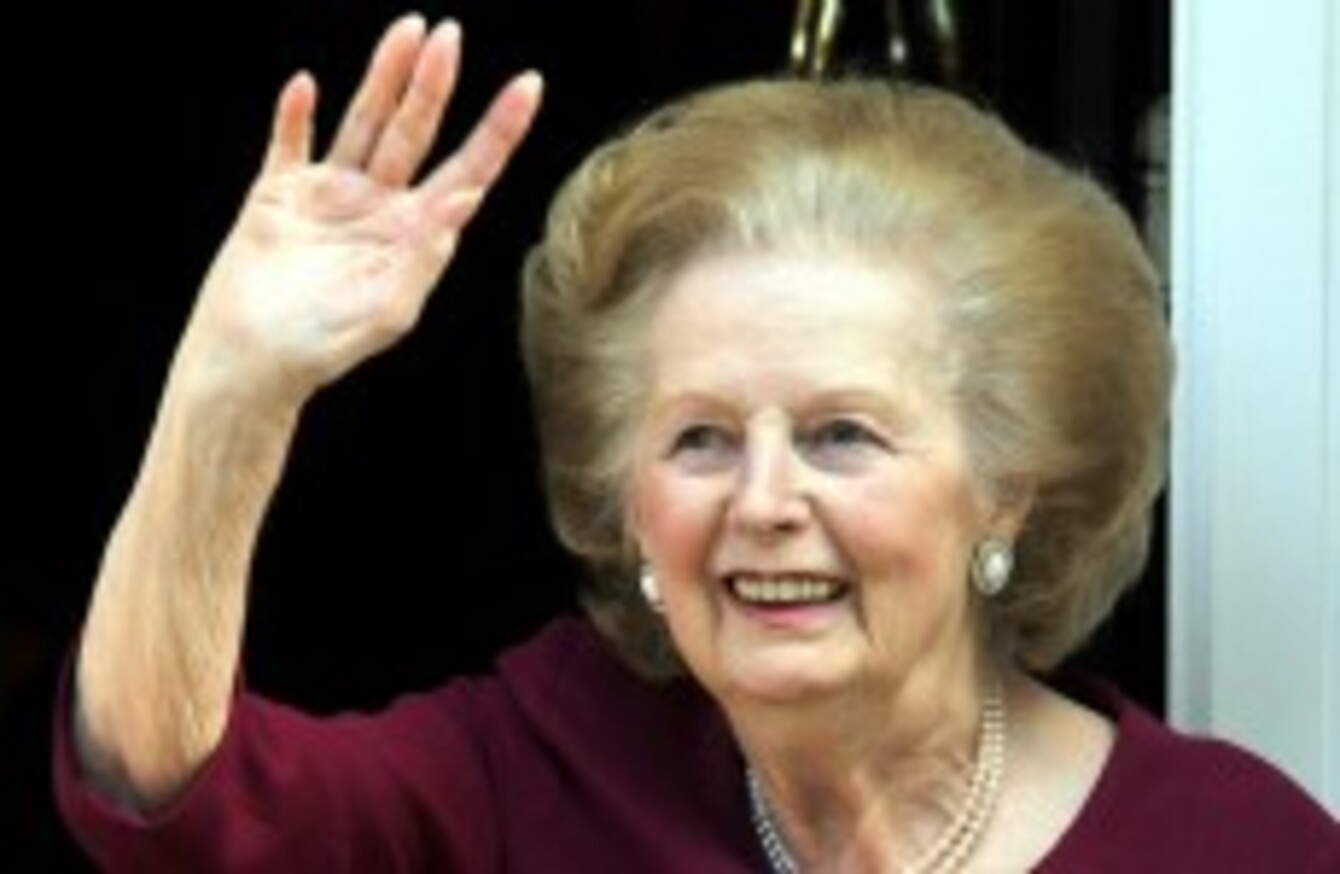 Margaret Thatcher waves to wellwishers from her home in London in 2010 after being hospitalised for flu.
Image: John Stillwell/PA Archive
Margaret Thatcher waves to wellwishers from her home in London in 2010 after being hospitalised for flu.
Image: John Stillwell/PA Archive
MARGARET THATCHER, the former British prime minister, has died at the age of 87.
Thatcher, who led the British government between 1979 and 1990, suffered a stroke and died peacefully this morning, her spokesman Lord Bell said.
The former Conservative leader had lived a withdrawn life after leaving active politics. She had suffered a number of strokes since 2002, and had been suffering from dementia for some time.
The 'Iron Lady' was an intensely divisive figure, propelled to popularity by leading the UK to a military victory over Argentina in the Falklands War in 1982 – but also remembered for an agenda of privatising public services, facing down Britain's powerful trade union movement, as well as introducing the widely-despised council 'poll tax'.
In 1987 she became the first British leader in over 150 years to lead her party to victory in three successive general elections.
Her political philosophy was labelled by both allies and opponents as 'Thatcherism', insisted that individuals were responsible for looking after themselves, before government stepped in to help them.
"It is our duty to look after ourselves and then also to help look after our neighbour and life is a reciprocal business and people have got the entitlements too much in mind without the obligations," she wrote in 1987.
She was also remembered for her uncompromising stance against republican paramilitaries in Northern Ireland, publicly resisting attempts by IRA hunger strikers to win political prisoner status at the Maze prison in Belfast.
With the then-Taoiseach, Garret FitzGerald, she signed the 1985 Anglo-Irish Agreement – the first time that the British government had given the Republic of Ireland a consultative and advisory role in the governance of Northern Ireland.
The agreement came a year after an IRA assassination attempt at the Conservative party conference in Brighton in 1984, which killed five people including the wife of one of her cabinet ministers.
She was divisive even within her own Conservative party, however, causing her chancellor Nigel Lawson to resign over her decision to bring the UK into the European Exchange Rate Mechanism – while her foreign secretary Geoffrey Howe resigned solely because he loathed her top-down style of decision-making.
Born Margaret Hilda Roberts in 1925, she was the daughter of a grocer to whom she attributed her personal political philosophy: "You'll never get anywhere if you don't work, girl."
Buckingham Palace said Queen Elizabeth had been 'saddened' to learn of the death of her former prime minister, while the current prime minister David Cameron wrote on Twitter that Britain had lost "a great leader, a great Prime Minister and a great Briton".