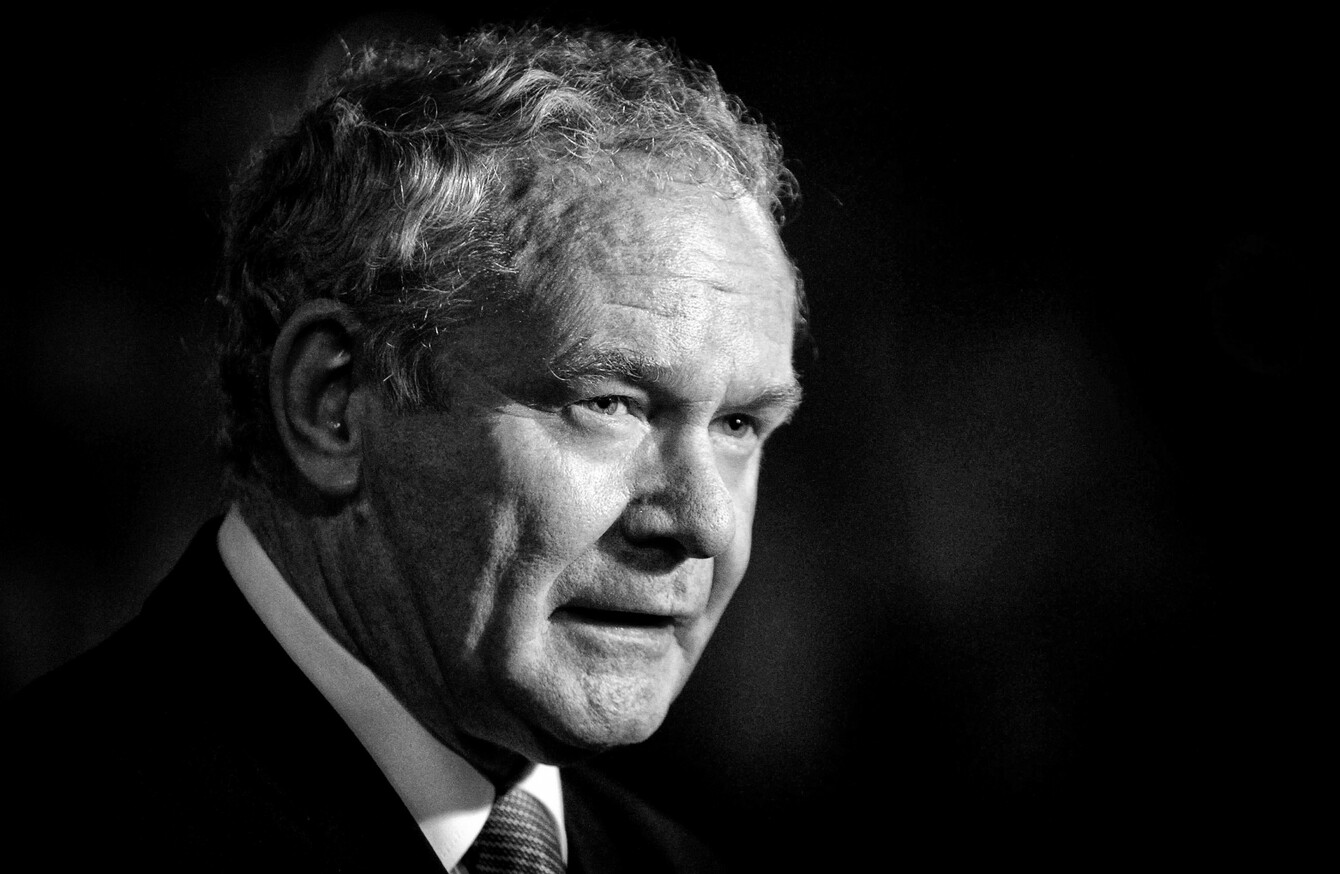 Image: Niall Carson via PA Images
Image: Niall Carson via PA Images
THIS WEEK MARKS the one year anniversary of the death of Martin McGuinness, and his family is asking the public to support a fundraising charity walk in his memory later this month.
The Chieftain's Walk will make its way from Glenowen, Derry to An Grianán, Donegal on Sunday 25 March to raise funds for the North West Cancer Centre.
McGuinness, Sinn Féin's former Deputy First Minister of Northern Ireland, died on 21 March 2017 after a battle with amyloidosis.
Amyloidosis is a rare disease that occurs when a substance called amyloid builds up in your organs. Amyloid is an abnormal protein that is produced in your bone marrow and can be left in any tissue or organ.
"The idea for the charity walk to Grianán is something my parents had discussed, never thinking that he wouldn't be here to take part," Fiachra McGuinness, Martin McGuinness' son said.
"My mother and we, as a family, felt he would want us to go ahead and we are very grateful to all those who have supported it so far," he said.
Of course, it will be hard but, as ever, we will get through it as a family and I'm sure it will be inspiring too.
Alongside the charity walk, there will be a number of other events taking place to mark the anniversary.
Former Sinn Féin leader Gerry Adams is to speak of his memories of Martin McGuinness at an event in the Millenium Forum in Derry.
"I am sure it will be very emotional. There will also be a Gaelic blitz and these are all really fitting ways to remember my father because they all represent things that he loved and were synonymous with him," Fiachra McGuinness said.
McGuinness went on to explain why the family chose to end the walk in Grianán.
"Grianán, in particular, was a very special place for my father. He loved to walk up to the fort and there's no doubt that, at 5.5 miles, the walk will be challenging for some," he said.
However, reaching the top will be a major sense of achievement and even if you don't feel up to doing the full route, I'd still urge people to sign up, walk what you can and join us on the final stretch.
People can register for the Chieftains Walk on its Facebook page or online here.