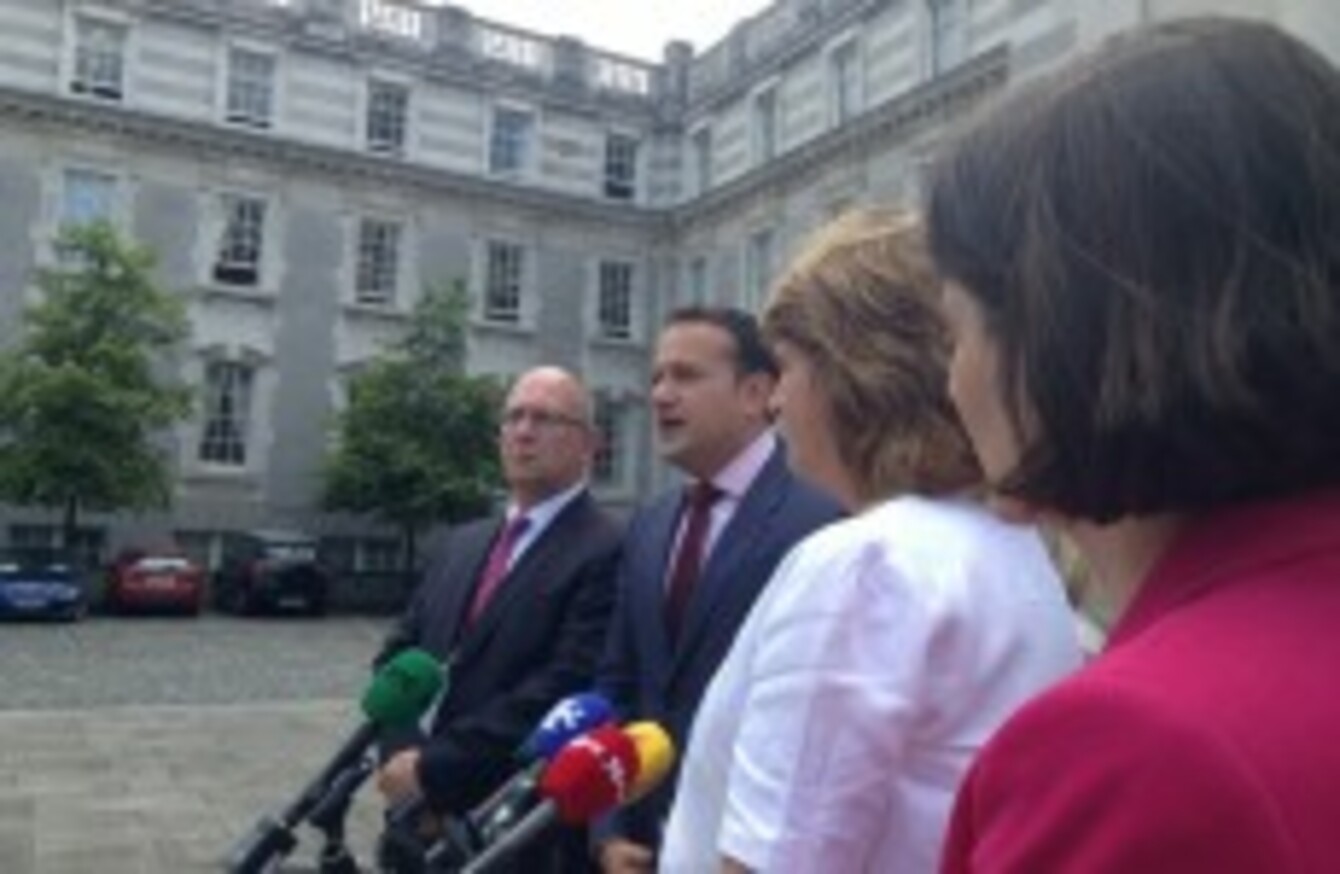 Image: Catherine Healy/TheJournal.ie
Image: Catherine Healy/TheJournal.ie
DUBLIN'S THREE MATERNITY hospitals are set for a wholesale relocation, the Department of Health has announced.
Some 40% of babies born in Ireland are delivered in one of the three Dublin hospitals, with the Rotunda, Holles Street and the Coombe all complaining in recent times of a critical shortage of space.
However, the principal reason for re-evaluating their locations came about after it was decided to develop the new national children's hospital on the campus of St James' in Inchicore – necessitating the building of a maternity hospital on that site.
The Coombe will be relocated to St James' Hospital, while the Rotunda will move to Connolly Hospital in Blanchardstown.
The announcement follows an earlier decision to move the National Maternity Hospital from Holles Street to St Vincent's University Hospital.
Planning permission
Minister for Health Leo Varadkar confirmed the agreement earlier today, saying that structural inefficiencies in the hospitals had become apparent in recent years.
But the TD for Dublin West denied that the Rotunda's relocation to Blanchardstown was a political move.
When this proposal was first made, this was one of the concerns I had – that it might be perceived that way. Being an elected official and politician, I know that the public rarely rewards you for the promise of something. It's only when it's actually built that they'll believe you, so I don't see any major flood of votes coming to myself or the Tánaiste.
While there is no confirmed timeline for the opening of the new sites, he said that planning permission for the new National Maternity Hospital would be submitted by the end of the year, while applications for the two other sites would be made in the next 18 months.
In a statement, Varadkar added that international best practice is to co-locate maternity hospitals with adult acute services.
Rebuilding these hospitals on new campus sites will be safer for mothers and will ensure access to a full range of specialised services like intensive care, cardiology and other specialities when needed, without necessitating patient transfer.
Tánaiste Joan Burton, who joined Varadkar at today's briefing, called the plan "ambitious and sensitive".
I am very conscious that the hospitals involved have given hundreds of years of service to Irish women, but in many cases the buildings are just not suited to modern maternity services.
Approval
The announcement has also been welcomed by representatives of the various maternity hospitals in question.
Lorcan Birthistle, CEO of St James' Hospital, said the decision is "in line with international best practice".
"With the tri-location of services on the St. James's campus, we will realise an academic health sciences campus that values world-class research, education and innovation, which in turn will drive excellence in clinical care," he said.
The RCSI Hospital Group called the decision "a new dawn for patients and medicine".
"The Rotunda is a hospital with great heritage and skills.  At last it will have a modern facility appropriate to mothers and babies," said Anne Maher, chairwoman of the group.
The current Irish maternity model of standalone hospitals is not the norm internationally.
In a 2008 report on Dublin's maternity services, KPMG recommended that all such hospitals should be co-located with adult acute services as a matter of best practice.
Meanwhile, a planning application for the new children's hospital on St James' campus is due to be lodged in the coming weeks.
- additional reporting by Catherine Healy