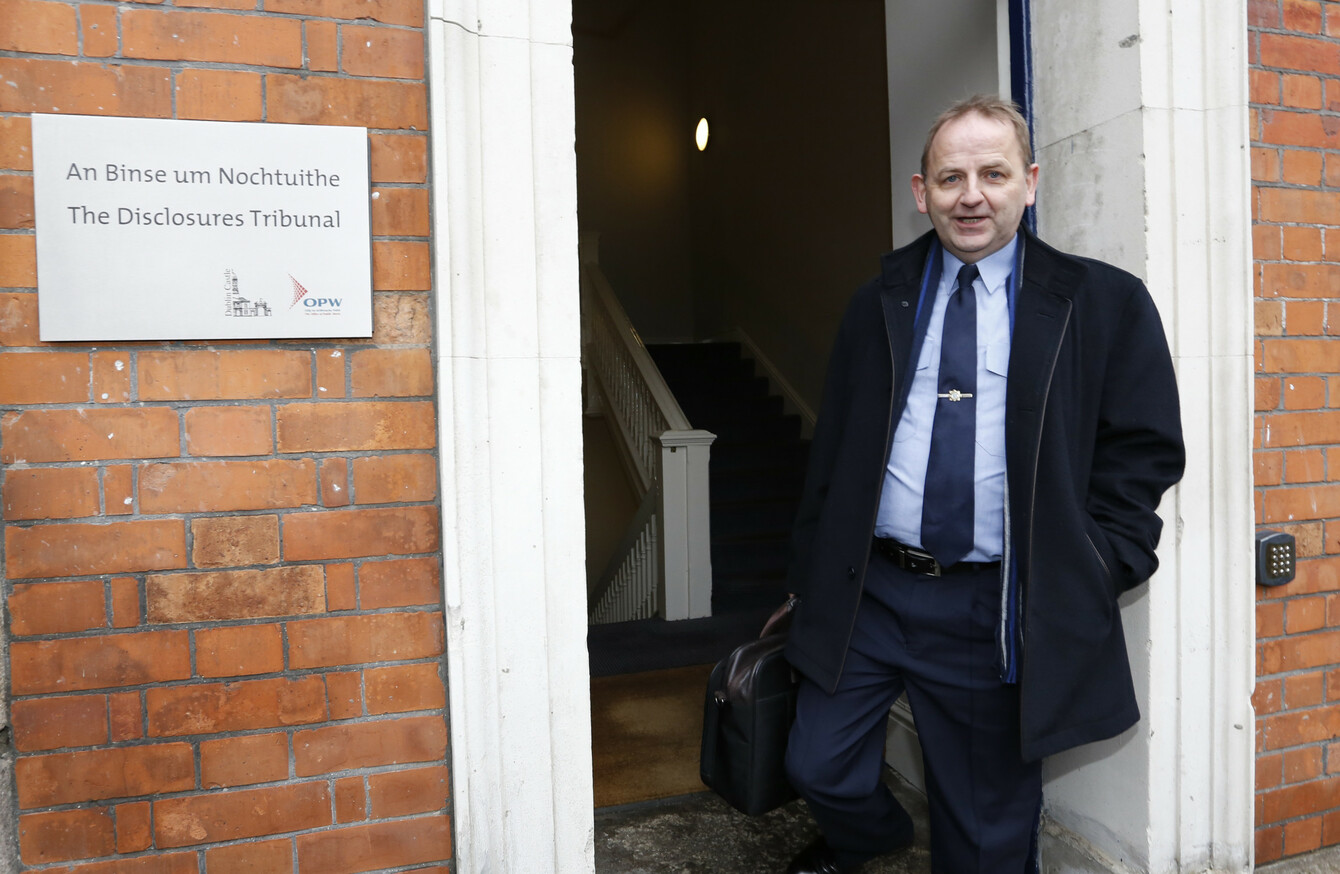 Image: RollingNews.ie
Image: RollingNews.ie
Updated 5.29pm
GIVING EVIDENCE AT the Disclosures Tribunal today, Maurice McCabe has said he was told by a TD that former garda commissioner Martin Callinan had said that the whistleblower had "sexually abused his own children and nieces".
McCabe went on to say that he met former garda press officer David Taylor in September 2016, who informed him that he had been directed by Callinan to "destroy him".
Furthermore, McCabe said that Taylor told him that Nóirín O'Sullivan was aware about it all, and had been the "pusher" of negative media briefings against McCabe.
Getting visibly upset on a number of occasions, McCabe said he had been determined to find out who was "spreading the rumours" about him, and described his shock at receiving a letter from Tusla detailing a far more serious claim of sexual assault against him than had already been alleged.
"Not to be trusted"
Outlining a meeting he had with Fianna Fáil TD John McGuinness in May 2016, McCabe was asked by Tribunal counsel Patrick Marrinan what the TD told him at that meeting.
McGuinness had previously agreed to meet then-commissioner Callinan in an underground car park in west Dublin in January 2014.
At this point, McCabe became upset and Mr Justice Peter Charleton adjourned matters for roughly 10 minutes.
When proceedings got under way again, McCabe said: "He [Callinan] said that I wasn't to be trusted.
He said that I sexually abused my children and my nieces.
McCabe added: "I remember driving home that evening. I didn't know which way I went home. I didn't say anything till I got home and told Lorraine [his wife]. I was unsure of what to do."
He went on to say that he got in touch with former garda press officer Superintendent David Taylor later on that summer, and had sought to meet him.
He said he met Taylor and his wife Michelle at their home on 20 September 2016.
McCabe said that Taylor told him: "I destroyed you."
He outlined that Taylor had informed him of an "orchestrated campaign" against him by Callinan and Nóirín O'Sullivan.
"He [Taylor] then started to explain to me a few things," McCabe said. "An Garda Síochána were obsessed with me.
If there was an article praising me, Callinan would say 'use your phone, do him down, he has to be buried'.
McCabe said that Taylor told him that Martin Callinan would draft texts to be sent, and send them to Taylor who then forwarded the messages to senior gardaí, journalists and politicians.
On the McGuinness meeting with Callinan – which he said Taylor was aware of – McCabe said: "I asked him 'was that in relation to me'. He says 'it was'. I asked was it in relation to me and my children. He said 'it was'."
He also said he was told that Nóirín O'Sullivan was "the pusher" who "knew everything" about what was going on.
McCabe compiled all the information he says he got from Taylor and made a protected disclosure to then-Minister for Justice Frances Fitzgerald.
He also said he forgave Taylor for passing on all of this information about him.
'Horrific'
At the beginning of 2016, McCabe had received a letter from Tusla which contained an erroneous claim of sexual assault against him.
Ms D had made certain allegations against McCabe but the January 2016 letter contained an allegation of "digital penetration", which had appeared on McCabe's file as a result of an error.
Describing getting that letter, McCabe said: "I felt horrific. In relation to the Ms D, it was a life-changing matter but this one was just incredible.
To be accused of what I was accused of. I didn't know what to do that night.
McCabe was also asked about Martin Callinan and his description of the actions of whistleblowers at the Public Accounts Committee in January 2014 as "disgusting".
He said: "If I was to do it over again, I would have never have highlighted the penalty points. It was at that stage I started to get all the hassle… I think after that comment the floodgates were opened. It was extremely hard to take."
When an article by Paul Williams was published just a few months later containing an anonymised version of Ms D's allegations, McCabe said he knew "exactly who it was pointing at".
Ms D allegation
Earlier, McCabe was asked about the Ms D affair.
Ms D, the daughter of a colleague of McCabe's, made an allegation of sexual assault against the whistleblower in December 2006.
After an investigation by then-Inspector Noel Cunningham, it was found that there was insufficient evidence for a prosecution, and highlighted inconsistencies in Ms D's account.
McCabe received a phone call at the beginning of April 2007 from a figure in the State Solicitor's office, who conveyed the DPP instructions to this effect that there be no prosecution.
McCabe wasn't told this by Cunningham, however, until the former rang up the inspector three weeks later and asked about the status of the investigation.
"I should have been told. I was annoyed I had to ring him on the 23 April to ask for the directions," he said.
I was annoyed I had to ring him for them. It was an important issue in my life.
Furthermore, all the D family were told would be that there would be no prosecution in the matter.
"Wanted help"
After a number of public confrontations involving the D family, McCabe said he had a number of discussions about the issue to his superior at Bailieboro Superintendent Michael Clancy.
At the same time, McCabe was formally raising issues about the conduct of gardaí at the station.
In a letter to Clancy in January 2008, McCabe described instances of gardaí not turning up on time for duty, or turning up at all, flaws in investigations, cliques forming at the station, and an unprofessional approach to incidents.
He wrote: "The above seems to be the acceptable standard in Bailieboro. I cannot put up with the situation any longer."
According to the transcript of a meeting McCabe had with Clancy a month after the letter was sent, the former was very strong that the matters he had raised were not being addressed.
McCabe: "Why did you not help me?… Remember the issues I spoke to you for two hours over, all the serious issues."Clancy: "Yeah I've been working on this eh but I have not got round to them all in I spoke to guards handing around the station."
McCabe went on to say that he had highlighted issues of "gardas and sergeants coming in later, there was no files, they didn't know what they were doing," and Clancy replied that he didn't share McCabe's view but respected it.
McCabe went on: "All I wanted was help… I can't run the station unless I had the support of the superintendent. I had to bring these serious issues up to you.
I suffered as a result. I was completely victimised as a result.
Subsequent to this meeting, then, in March 2008, McCabe said he stepped down from his position of sergeant at Bailieboro in a case of constructive dismissal.
"I was forced out of my position as a result of my employer," he wrote at the time. He was then transferred to Mullingar traffic corps, where he has served since.
McCabe also emphasised at the Tribunal today that the issues he was highlighting about the conduct of gardaí were entirely separate to the D issue.
Furthermore, he says that it was actually Clancy's idea for him to write a letter to Clancy to "put forward" the reasons why the DPP directions should be given to the D family.
These directions would have gone towards exonerating McCabe of wrongdoing in this instance.
"A kick in the teeth"
On the back of McCabe's allegations of misconduct within his district, an internal garda report looked into his claims.
Although that investigation upheld a number of his complaints, a circular was sent out to stations in the Cavan-Monaghan district by then-Chief Superintendent Colm Rooney, saying that there were no systemic failures in management or administration of Bailieboro district.
Only "minor procedural issues" were identified according to the notice.
Speaking today, McCabe described this as a "kick in the teeth".
Reference was also made to a Facebook post around the time of the internal investigation that bore the message "Maurice the rat".
McCabe described that there was a certain culture within the gardaí that made it extremely hard for anyone such as himself to speak out.
He said: "[There's the] element that would blank you, not speak to you. It's the culture that's there. It's extremely hard to speak out. I have experienced it."
McCabe also said that he had received hundreds of emails and letters of support from people around the country, and that his children have never been slagged at school over his whistleblower status.
The Tribunal continues tomorrow with further evidence from McCabe.