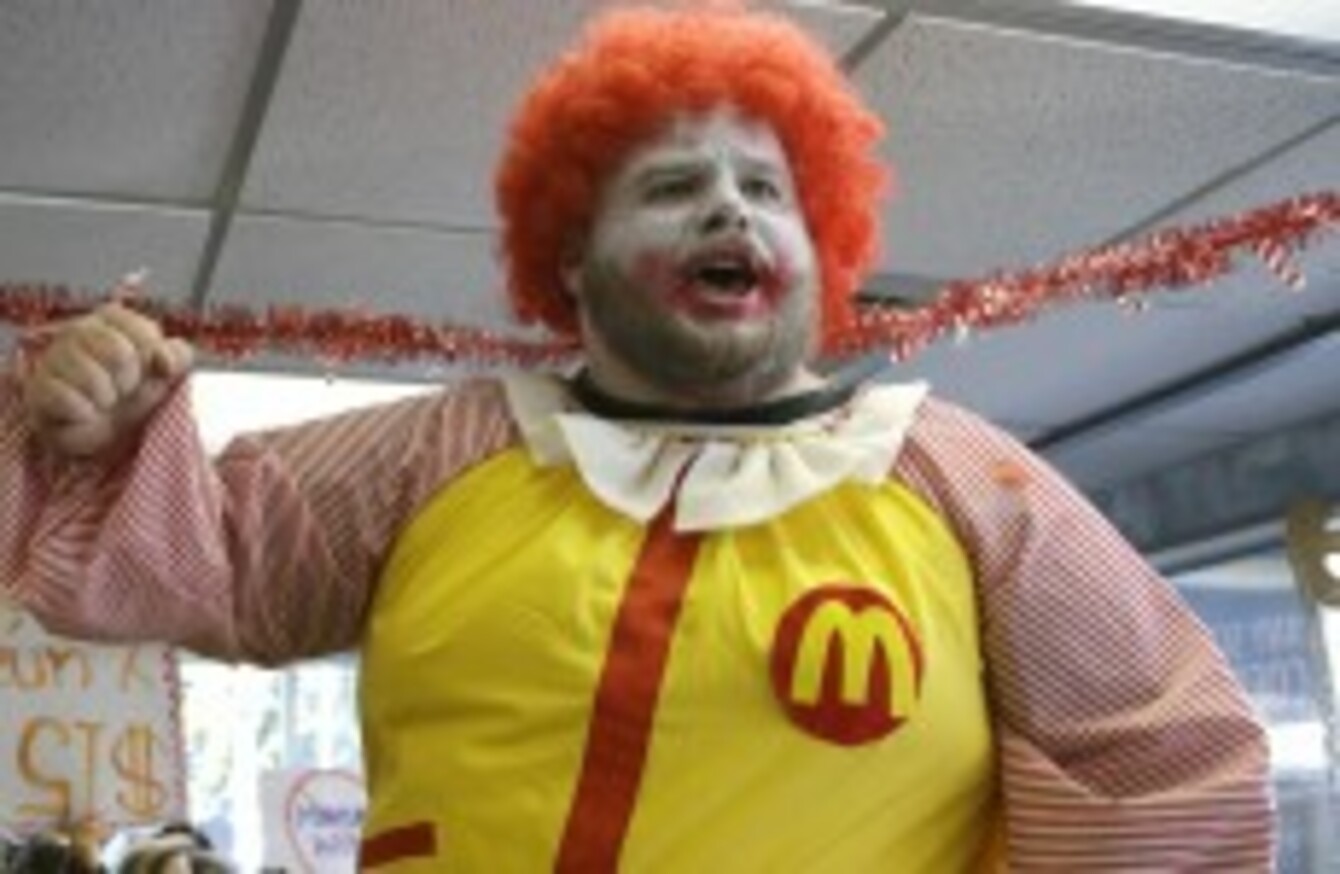 Image: Ben Margot/AP/Press Association Images
Image: Ben Margot/AP/Press Association Images
MCDONALD'S HAS ANNOUNCED year-on-year results today that show its numbers worldwide dipping once more.
Sales in the US and Asia were down 4% and 4.4% respectively compared with February 2014.  The bad news is slightly softened by its European figures, where sales are up 0.7% compared with 12 months ago (a lot of the good news coming from the UK market).
When taking into account franchise sales (which, to be fair, are not accounted for in the company's profits) global sales are down 8% for the year.
Big problems then.
With previous CEO Donald Thompson falling on his sword in January following the company's stock market stagnation during his tenure, new chief Steve Easterbrook, who took the reins on 1 March, has it all to do.
There has been a positive response to Easterbrook's ascension however with the company's shares increasing by 3.7% to €89.8 in the year since Thompson's demise.
The company's results statement insists that today's negative figures showcase the need to "evolve with today's consumers and reset strategic priorities".
The goal going forward is to be a true destination of choice around the world and reassert McDonald's as a modern, progressive burger company.
The fast food giant has experienced some very trying times in recent years.  Its US sales have been hit consistently by frenetic competition from the likes of Chipotle Mexican Grill, while its standings in Asia have taken an outright pummeling since 2014.
A series of health scares amongst other things in Asia saw the company lose €172 million in that market last year.  Overall sales in Japan decreased a massive 29% in February alone.
The company's results statement describes its Japanese woes as being attributable to "the broad-based consumer perception issues" there.  Such issues have resulted from a series of calamities including a human tooth being found in a portion of fries in August last year.
This happening served to compound a similar PR inferno in China in July when the company had to cut ties with one of its vendors, Shanghai Husi Food Co., which was accused of repackaging old meat.
As part of its recovery plan McDonald's is revamping its stateside operations in a bid to speed up service and draw customers back to its 14,000 restaurants there.
The company is planning to expand its 'Create Your Taste' program, a make-your-own-burger system, to more American restaurants in 2015.
McDonald's currently operates some 35,000 restaurants worldwide.