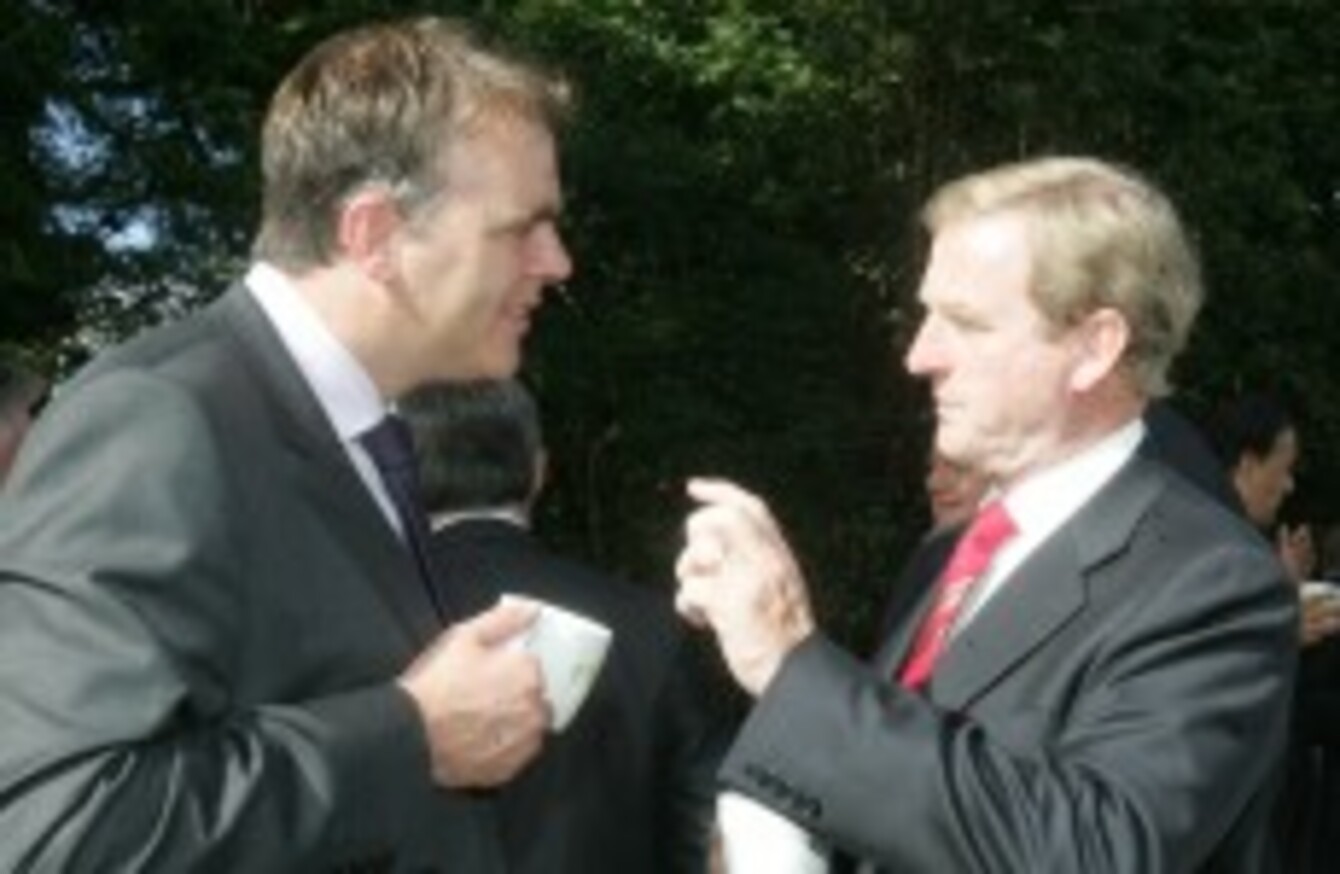 Joe McHugh and Enda Kenny.
Image: Eamonn Farrell/Photocall Ireland
Joe McHugh and Enda Kenny.
Image: Eamonn Farrell/Photocall Ireland
DESPITE THE CONTROVERSY surrounding the new Gaeltacht Minister's Irish language abilities, Joe McHugh has been giving BBC Radio 4 listeners a short Irish lesson.
"The important thing when you're speaking Irish is there has to be a flow to it," Joe McHugh advised 'Broadcasting House' presenter Paddy O'Connell.
McHugh proceeded to teach O'Connell how to say 'go dté mar a tá tú' (how are you) and 'tá lá ar dóigh ann' (it's a great day).
When asked to translate  more complicated phrases such as 'hear much and say little' or 'an open mouth often catches a closed fist', McHugh declined, saying he was looking ahead to taking a language refresher course and would not want to be "caught out on getting things wrong at this stage".
McHugh said he was "shocked, stunned, delighted, over the moon" and "quite emotional" to be nominated for the ministerial post.
Asked about coming under pressure over his cúpla focail that when Taoiseach Enda Kenny asked him about his Irish language skills, he admitted they were "not great, but rusty" because he has not really been speaking it for twenty years.
"It's daunting," he said of his portfolio, "but I'm going to go into it full steam ahead."
McHugh said his Irish refresher course would be starting first thing Monday morning. The Donegal TD said he hoped his own experiences in re-building his Irish language abilities would encourage others to do the same:
There's a vast chunk of the population that went to school, spent 14 years, got very, very good grades in their Irish, were able to speak it when they went to school and then all of a suddenly they just lose it. When you don't use it, you lose it. And if I can refresh myself and get there in a short period of time, I hope that will be a signal to other people that have been threatening it for years.