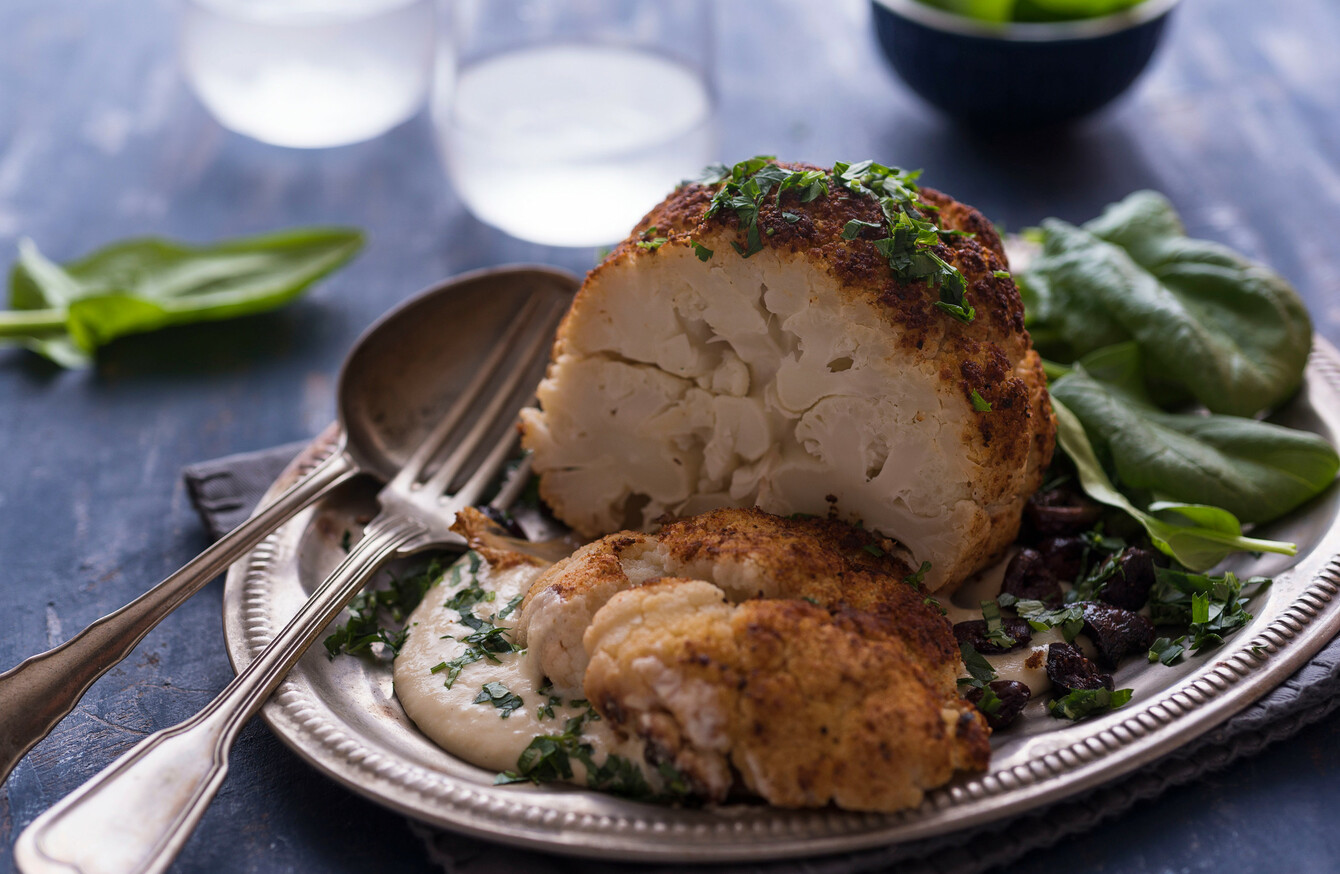 Image: Shutterstock/Vania Georgieva
Image: Shutterstock/Vania Georgieva
WE USUALLY ASSOCIATE a roast dinner with meat, but this doesn't have to be the case – whether you're vegetarian or not.
Maybe you just forgot to pick up a roast chicken, or maybe you feel like you've had your meat fill for the week – whatever the reason, there's an abundance of ways that veg can take centre stage in your next roast.
Nut roast can be the typical dish that comes to mind when thinking about a veggie roast dinner, but you won't see that on this list! We want to provide some inspiration on how to transform that butternut squash or aubergine that might be lying in the fridge into your next Sunday roast. 
Whole roast cauliflower: Whether you're vegetarian or not, roasted cauliflower is a seriously tasty dinner, and an impressive Sunday lunch! Begin by making the marinade; add olive oil, melted butter, crushed garlic, paprika and finely chopped rosemary to a bowl and mix until combined, adding more olive oil if needed.
Cut the stalk off the cauliflower so that it can easily sit in a baking dish, then smother in the marinade. Season, then pour a glass of wine into the bottom of the dish, along with some roughly chopped red onion and whole cloves of garlic. Cover with tinfoil, and bake for 70 minutes.
Remove the foil, baste with the cooking juices, and bake for another 15 minutes uncovered, until the cauliflower is cooked through and golden. Serve with roast baby potatoes, roast red onions from the pan and greens.
Stuffed portobello mushrooms: With their meaty texture and ability to take on other flavours so well, mushrooms are great for veggie dinners.
Prepare the portobello mushrooms by removing the stalks. To make a filling, fry onion and garlic in some hot olive oil until soft, then add in a finely chopped tomato, breadcrumbs, seasoning, cheese and chopped basil. Remove from the heat and stir to combine.
Fill the mushrooms with the filling, grate a little more cheese on top, and bake for 20 minutes. Serve with roast baby potatoes and a selection of vegetables. Want some crunch? Take advice from the GastroGays' stuffed mushroom recipe and add a few chopped hazelnuts.
Miso roast aubergine: Miso is full of delicious umami flavours making it the ideal marinade for when you're craving something really tasty!
Make a marinade by mixing together 1 tbsp miso paste, soy sauce, grated ginger, crushed garlic and a dash of sesame oil until it forms a thin paste. Cut the aubergine in half lengthways, and spread the paste all over the flesh. Bake for 25-30 minutes until the aubergine is cooked through, then serve with a selection of roast vegetables, using the cooking juices from the aubergine as a gravy.
Roast vegetable and halloumi skewers: As with any skewer dish, the first thing you need to do is soak some wooden skewers in warm water for about 15 minutes, which will prevent them from burning during cooking.
While they're soaking, chop some courgette, peppers and red onion into chunks, and then slice up your block of halloumi. Toss everything in a bowl with olive oil, seasoning and a pinch of cumin, then thread the vegetables and cheese onto the skewers.
Roast in a very hot oven (220°C) for about 10-15 minutes, until the vegetables are cooked through and turning golden. Serve with roast sweet potatoes and greens. If you're in the mood for something saucy, this mint-tahini dressing made by Grow Eat Gather sounds like the perfect accompaniment.
Butternut squash with couscous: Slice a butternut squash in half lengthways and remove the seeds, drizzle with olive oil, and bake in a hot oven for about half an hour.
Next, prepare the couscous by soaking in hot water according to pack instructions. While this is soaking, finely chop red onion, tomatoes, olives and peppers and place in a bowl. Stir through a spoonful of pesto, then stir in the cooked couscous, adding a splash of olive oil if the mixture is too dry.
Bake for another 20 minutes, until the butternut squash is cooked through. This would be delicious served with all of the usual roast accompaniments – potatoes, veg, the works!