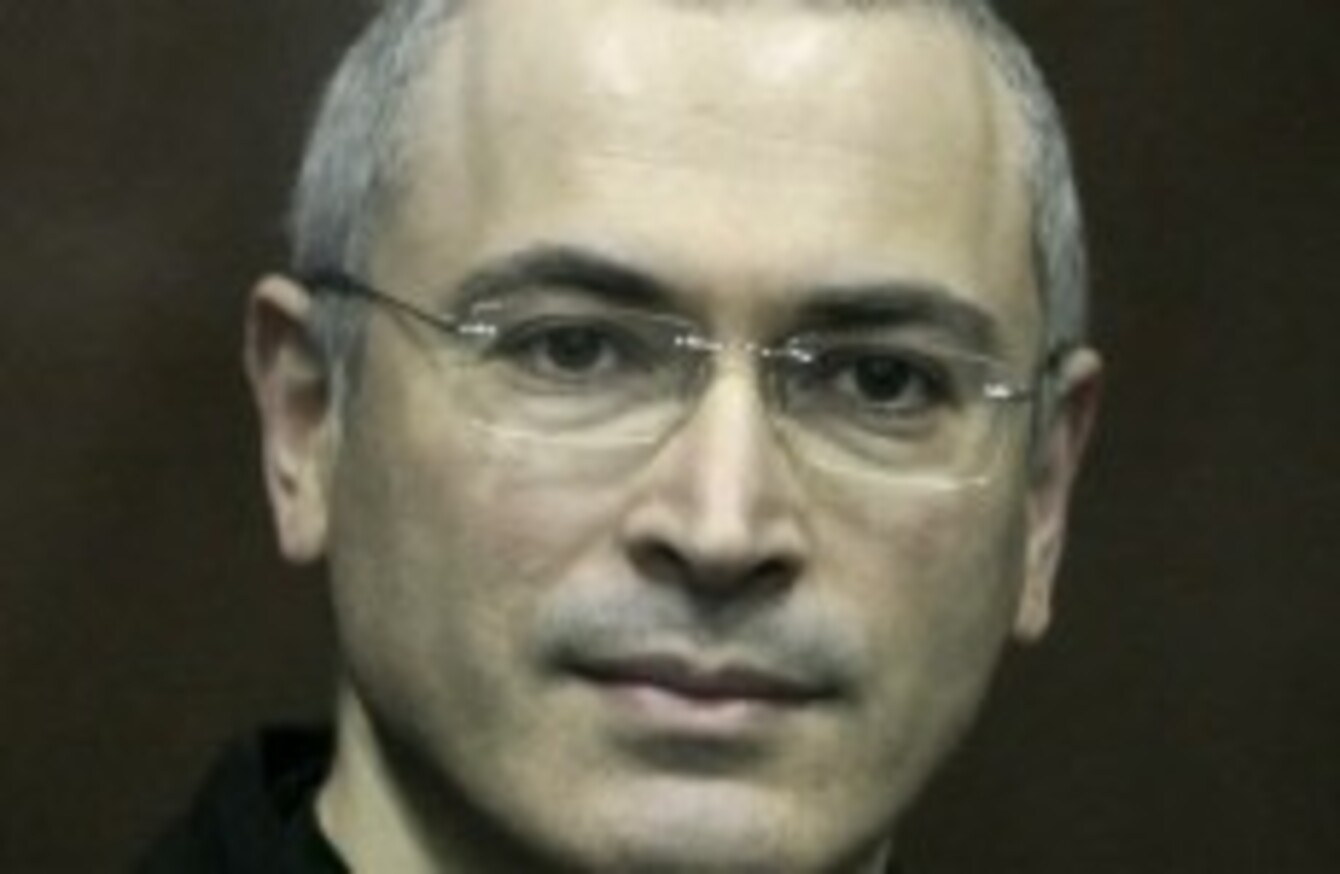 Mikhail Khodorkovsky
Image: Alexander Zemlianichenko Jr/AP/Press Association Images
Mikhail Khodorkovsky
Image: Alexander Zemlianichenko Jr/AP/Press Association Images
RUSSIAN PRESIDENT Dmitry Medvedev on Monday ordered the country's prosecutor-general to review the conviction of Mikhail Khodorkovsky, the former oil tycoon whose imprisonment was widely viewed as Kremlin punishment for his political ambitions.
In a statement released by the Kremlin, Medvedev also ordered re-examining the conviction of Khodorkovsky's business partner Platon Lebedev and 30 other people. The order follows Medvedev's meeting in February with leaders of the wave of massive protests that arose in December. Russian news reports say leaders at that meeting presented Medvedev with a list of names of those they regarded as political prisoners.
It was not clear whether Mdevedev's order would result in pardons.
"It may be simply a formal decision, not meaning anything, or it may be a signal from above that they have decided to close the Khodorkovsky and Lebedev case," Khodorskovsky lawyer Yuri Schmidt was quoted as saying by Russian law news agency RAPSI.
In a separate order, Medevedev told the Justice Ministry to present information about the denial of registration to Party of People's Freedom, an opposition grouping led by a prominent prostest figure, Vladimir Ryzhkov.
The moves came just hours after Vladimir Putin won a return to the Kremlin in Sunday's presidential election. With vallots counted from more than 99 per cent of the precincts, Putin had more than 63 per cent of the vote, Central Elections Commission head Vladimir Churov said Monday.
Political ambitions
During Putin's first term as president, Khodorkovsky challenged him by funding opposition parties; he was also believed to hold personal political ambitions. Putin had reportedly made an arrangement with Russian tycoons, who like Khodorkovsky had grown enormously rich through shady privatzation deals after the collapse of the Soviet Union, that these deals would remain unreviewed if they stayed out of politics.
Khodorkovsky was arrested in 2003 when special forces stormed his plane on the tarmac of a Siberian airport. He was convicted of tax evasion and sentenced to eight years in prison.
His release from that sentence would have come a few months before the presidential election. But in 2010 he was handed a second prison term for stealing from his own Yukos oil company. Critics saw the second case as a ruse to keep him in jail until Putin won a new term.
At the time of his arrest, Khodorkovsky was estimated to have a fortune of some $15 billion, making him Russia's richest person.
Yukos, which had been highly regarded by portfolio investors as one of Russia's most transparent companies, was sold off in pieces in connection with billions of dollars of back tax bills. Much of the company's assets were purchased by the state-controlled oil company Rosneft, boosting that company from a second-echelon position to being Russia's largest oil producer.