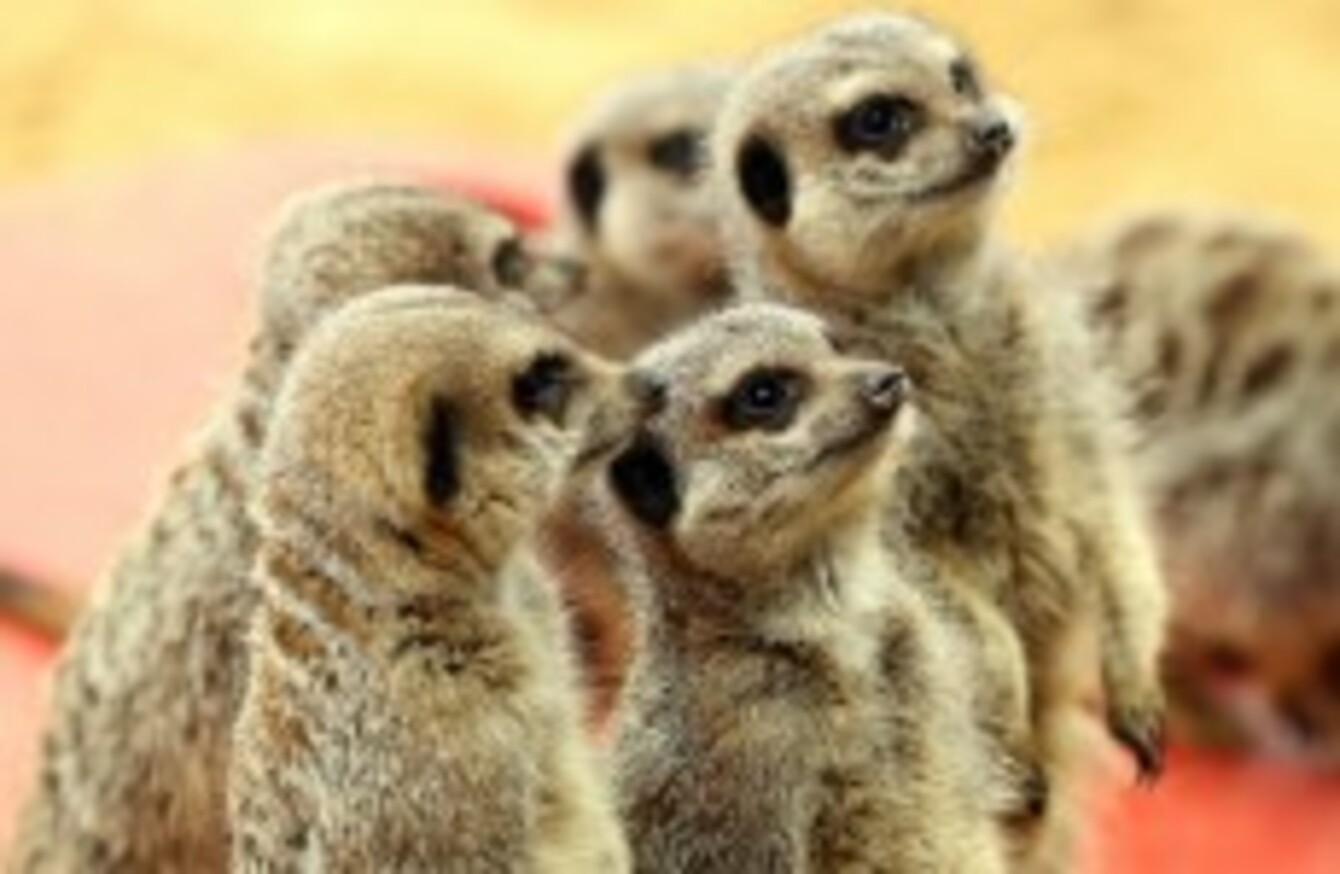 Nothing to do with the app itself, but who doesn't like seeing photos of meerkats?
Image: Chris Radburn/PA Wire
Nothing to do with the app itself, but who doesn't like seeing photos of meerkats?
Image: Chris Radburn/PA Wire
IF YOU'RE NOT keeping up with the sudden popularity of mobile livestreaming yet, you may want to get yourself acquainted pretty soon as it's only going to get bigger.
Currently, there are two apps on iOS competing against each other to become number one in the space. The first is Meerkat, which was launched a month ago while the other is Periscope, which launched this morning.
There are other similar apps out there, but the growing popularity of Meerkat, and the coverage Periscope has received since being acquired by Twitter means the concept is beginning to take off. But why is this happening now?
What do they do?
Both apps allow you to livestream footage from your iPhone (for now) in portrait mode. The ability to watch such footage live, no matter how banal, is fascinating in its own right and the spontaneity associated with both apps is their main appeal (You can rewatch clips on Periscope but doing that misses the point).
There's no guarantee that what you're watching will be exciting – actually, the chances of it being incredibly boring are rather high – but it's the same as Facebook, Twitter, Vine, Instagram or any other social app or site you can think of when they first started out (if you want proof, just check your first posts on any of the above services and marvel at how far you've come).
People will experiment with it first, livestreaming boring, mundane stuff like their commute or breakfast, but as time moves on, new and more interesting uses will be discovered.
What are the differences between the two?
The obvious one is playback. Meerkat requires you to watch a livestream as it's happening. When it's finished, there's no way you can watch it back. On Periscope, the video sticks around for another 24 hours (if you choose) before it's removed entirely.
The other is polish. While it's fun to use, Meerkat's interface can feel a little raw at times. There's a little bit of lag time when you're trying to view livestreams, and the quality isn't as sharp. When you go back to it after using Periscope, the interface feels a little archaic.
Periscope has a level of polish to it that is ultimately nicer to navigate and allows you to discover other streams happening in real-time.
Yet that doesn't matter right now as Meerkat has two things going for it, it's fun to use and a three-week head start has helped grow its popularity.
It's unfair to throw the latter at an app that's only been live for a few hours, but Meerkat's being first to move has seen stars like Jared Leto and Jimmy Fallon using it regularly.
From first glance, Periscope already has a number of people behind it like Chris Hadfield, David Blaine and Aaron Paul, but just having them signed up to it isn't enough, they have to be using it regularly for it to have any impact.
Although that hasn't stopped Twitter from trying to limit its reach by cutting off its access to users' contacts , but that hasn't hurt its popularity as the app raised $12 million (€10.9 million) recently.
What are the drawbacks?
Both apps function through push notifications so you don't miss a livestream from someone you follow, especially in the case of Meerkat which doesn't save videos.
The level of attention both apps need is far greater than a simple like or comment, it demands you drop everything and divert your attention to what's happening over there, and that is both their greatest strength and weakness.
#Open journalism No news is bad news Support The Journal

Your contributions will help us continue to deliver the stories that are important to you

Support us now
The other is mobile data. While compression technology has improved, videos still require more data to run and livestreams are only going to drive this usage up. It's unclear how much data the average livestream requires since they're both new, but it will be a concern for those with small data plans.
Why are these apps getting coverage now?
The technology and the quality of smartphones have improved to the point that broadcasting a livestream, and having the data speeds to do it, without problems is possible now. There's little to no lag time for either app – one of the biggest problems with livestream is keeping a consistent connection – and both are designed for mobile users.
Not in the sense that it's shrunk down for them but that videos are displayed in portrait mode, a more natural holding position for those watching and streaming.
In general, livestreaming has received a whole new lease of life thanks to services like Twitch, a livestreaming service for videogames that was bought by Amazon for $970 million, and YouTube bringing out its own version.
Some of its most interesting uses involve giving you access to things that you mightn't have access to through normal means, like the best parts of social media, and both Meerkat and Periscope tap into that.
So which one should you go for?
It's hard to say considering how young both apps are, but there's nothing to say that both can't exist side by side – Meerkat's founder Ben Rubin told Buzzfeed that he believes there will eventually be four type of livestream apps: beautiful, formal, non-formal and immediate – and the competition will be a good thing.
So if you're an iPhone user, just embrace it and enjoy the ride. Just be prepared for notifications to flood in when you start using it.