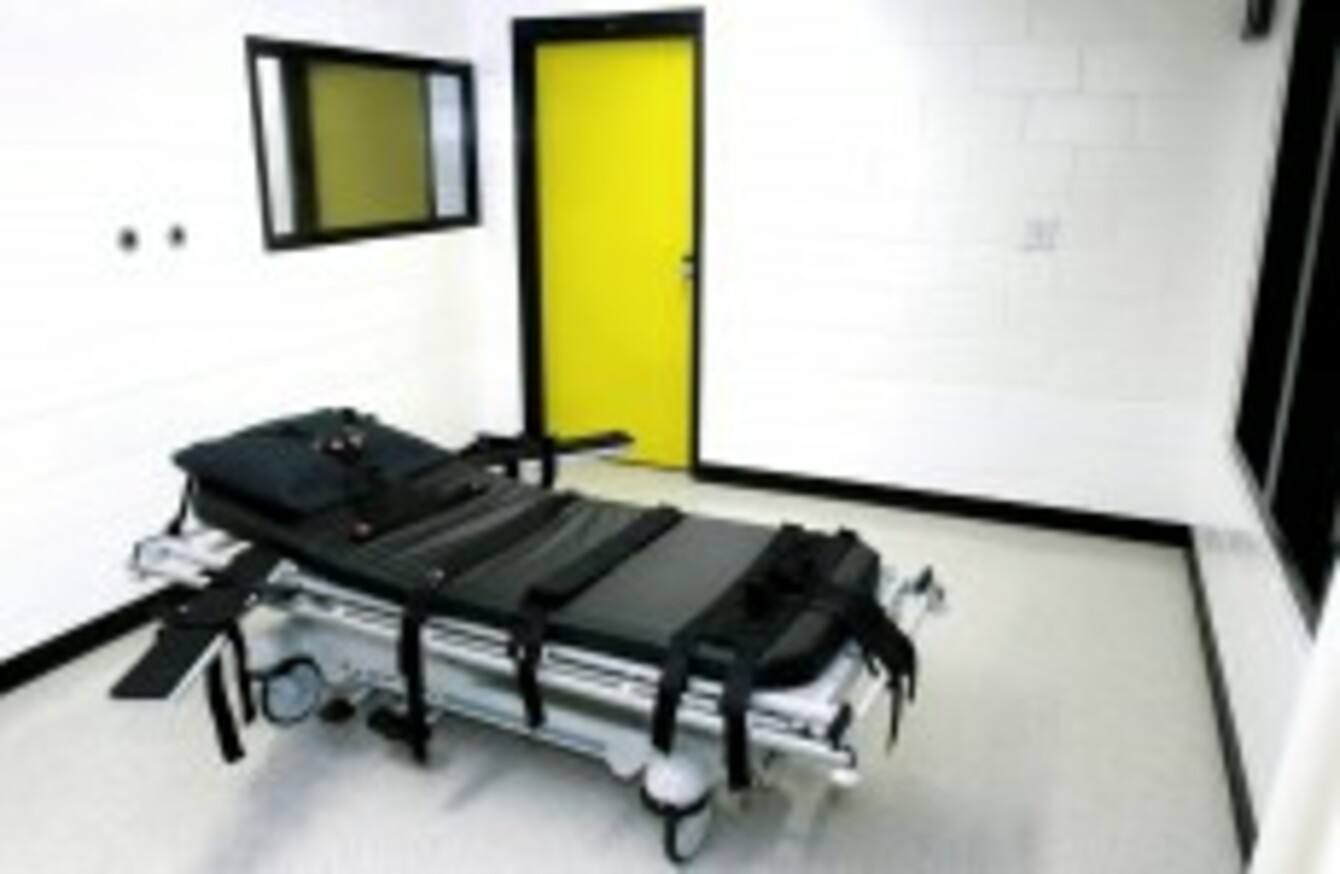 File photo of the death chamber at the state prison in Jackson, Georgia.
Image: Ric Field/AP/PA
File photo of the death chamber at the state prison in Jackson, Georgia.
Image: Ric Field/AP/PA
Updated 10pm
AN INMATE DIAGNOSED as mentally disabled in the US has been given a stay of execution by a judge in the state of Georgia.
A Fulton County judge has delayed the case until another state Supreme Court hearing on Thursday morning.
The case concerns Warren Hill, 52, who had already been serving life in prison for the murder of his girlfriend when he bludgeoned a fellow prisoner to death in 1990.
He was subsequently sentenced to death and was due to be executed by lethal injection at a Georgia prison later today barring a last-minute reprieve which has now been temporarily granted.
Superior Court Judge Gail Tusan has scheduled the case to be heard again on Thursday. She will hear arguments from Hill's legal team that a law which ensures the secrecy of the drugs used in lethal injections is not constitutional.
Amnesty International was among those to welcome the ruling, saying it "welcomes this development and the chance for the courts to address these troubling questions of secrecy and medical ethics"
"Beyond these important issues, Warren Hill has been determined to be 'mentally retarded' and thus his execution would have been unconstitutional, as the U.S. Supreme Court banned such executions in 2002," the organisation said.
Revised assessments
In 2000, three doctors ruled that Hill did not meet Georgia's criteria – regarded as the toughest in the United States – to be classified as mentally disabled.
However, those three doctors have since revised their assessments and unanimously agree that Hill, who has an IQ of 70, is a person with a mental disability.
Normally that would be enough to prevent authorities from executing Hill, who was scheduled to die by lethal injection at 11pm GMT. A 2002 Supreme Court ruling barred the execution of people suffering from mental impairment.
However, Hill's lawyers say they have been "procedurally barred" from raising his case in lower courts under a federal law designed to prevent prisoners from filing multiple appeals.
Hill had successfully received a stay of execution in July last year after appealing on the grounds of changes to Georgia's death penalty protocol.
"All experts who have evaluated Warren Hill agree: he is mentally retarded," Hill's attorney Brian Kammer said in a statement earlier. "Mr Hill's execution would therefore be a grotesque miscarriage of justice and render the Eighth Amendment a mere paper tiger.
"This case presents the extraordinary circumstance where an individual who is ineligible for a capital sentence is about to be executed.
- additional reporting from Hugh O'Connell
First published 8pm