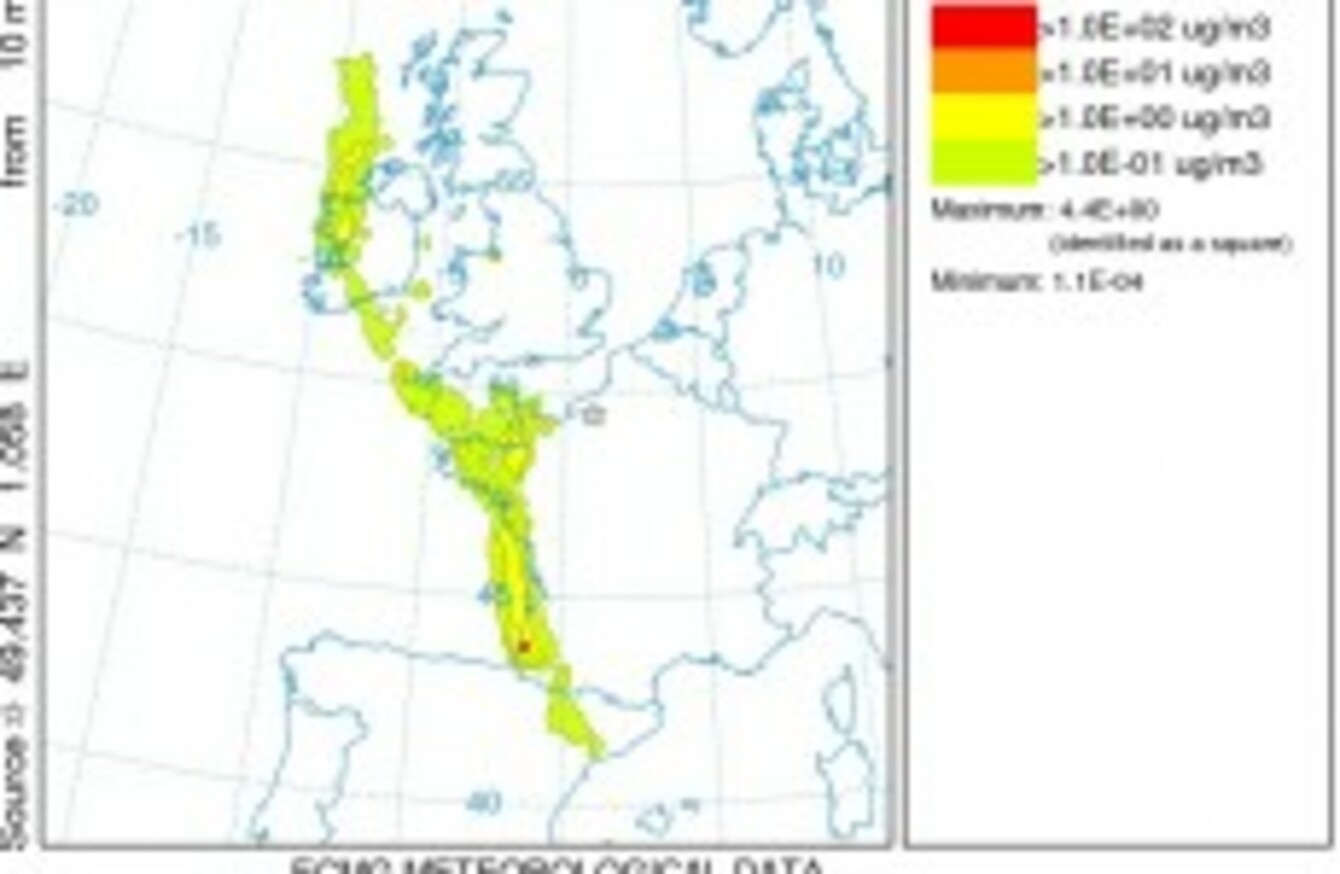 Spread of Mercaptan gas in January 2013.
Image: Met Eireann
Spread of Mercaptan gas in January 2013.
Image: Met Eireann
MET EIREANN IS providing a new service that help agencies in emergency cases related to the dispersion of hazardous materials in the atmosphere.
Radiation, gas, volcanoes
The system enables the authorities to track and forecast the movement of materials in the atmosphere, if there was a disaster of some kind, be it radiation, a gas explosion or volcanic plume.
The tailored system will help the Environment Protection Agency (EPA), the Radiological Protection Institute of Ireland and the Department of Agriculture, Food and the Marine (DAFM).
For DAFM the system is primarily aimed at predicting the movement of Foot and Mouth virus particles in the event of an outbreak of the disease, while the EPA will use it in the event of emergencies related to chemical spillages, large fires or distant volcanic eruptions that might compromise air quality over Ireland.
The RPII will use the system for guidance on the dispersion of radioactive materials released into the atmosphere.
Up-to-date information
The user-friendly system is designed so that the latest weather information is always available to provide the most up-to-date information in an emergency.
All data are at the native resolution of the forecast system and are automatically updated as new forecasts are produced.
Met Eireann has given an example of how it might work. Below shows an incident in January 2013 when a large quantity of Mercaptan gas was accidentally released by a factory in northern France.
Ireland experienced no major health issues but Met Eireann said the smell of 'rotten eggs' could be smelt over large distances.
The animation below shows how the gas plume likely dispersed in the lower atmosphere. Areas in red or orange were likely to experience traces of a bad odour. The concentration of the gas was not high enough to be smelt by the time the plume reached Ireland, two days after its initial release.