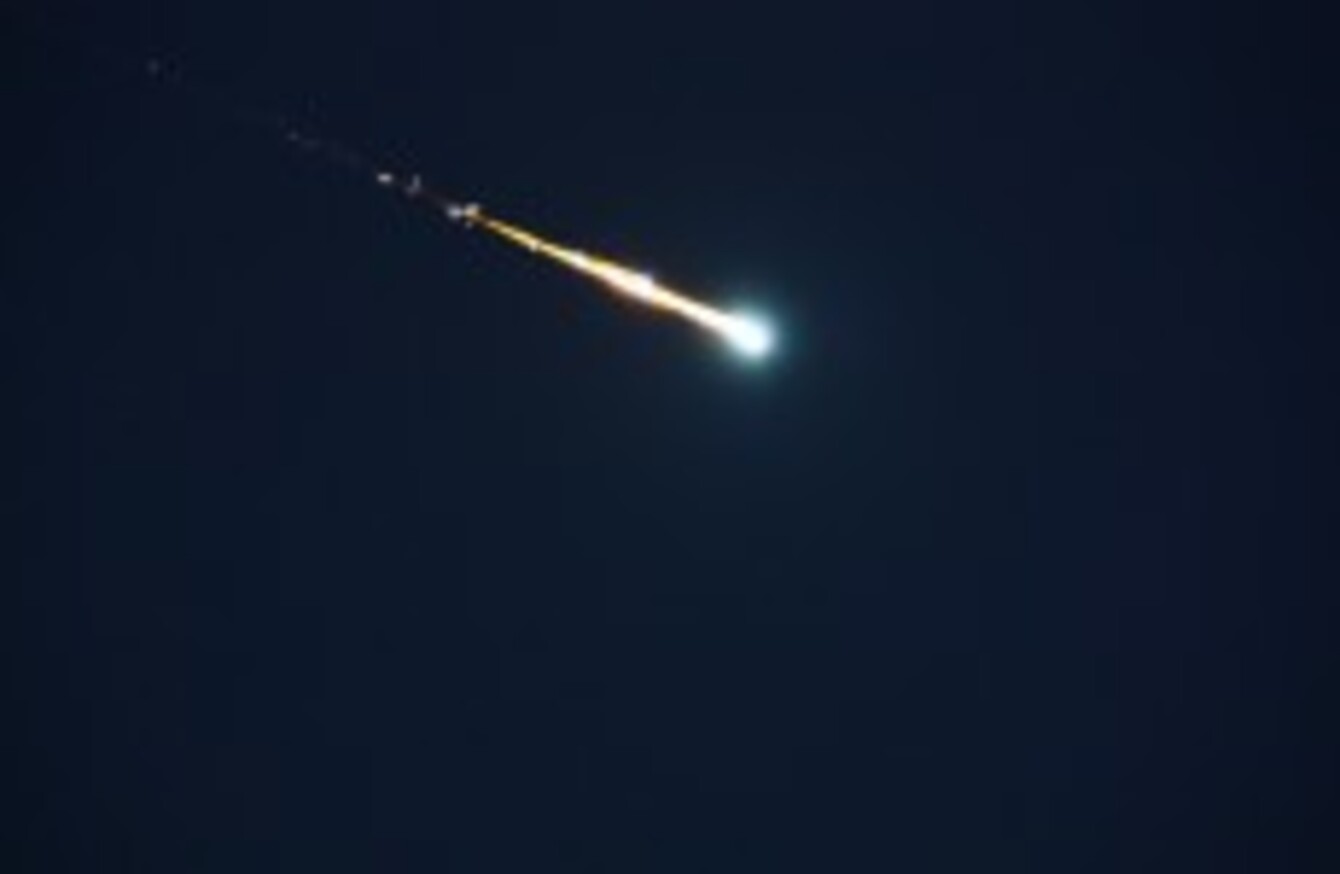 A fireball like the one which landed in Ireland last week
Image: Astronomy Ireland
A fireball like the one which landed in Ireland last week
Image: Astronomy Ireland
ASTRONOMERS ARE appealing for eyewitness accounts of the fireball that blazed across Irish skies last week, as it emerged it is likely to have landed somewhere in the north-west.
The meteorite was spotted over Ireland last Monday night. By collecting images and reports from witnesses, Astronomy Ireland have calculated that the rock's most likely 'drop zone' is around Sligo and the surrounding counties. More accounts will allow experts to triangulate its location more accurately, according to Astronomy Ireland's chairman David Moore – who told TheJournal.ie there could be a significant windfall for whoever locates the fireball's remains.
"In November 1999, we were able to triangulate a fireball to somewhere in north Co Carlow or south Kildare," he said. "It was found by a woman walking her dog, who sold it to a collector. It was reported that he paid £3000 sterling for three small fragments – we're talking about a quantity that would fit in a mug."
The collector later sold parts of the meteorite for US$500 per gram – or around thirty to fifty times the value of gold at the time.
Mr Moore also had some tips for any would-be meteorite hunters. "You're looking for a dark-looking rock," he said.
It'll probably be smooth on the outside because it's been melted by the re-entry process. Melted and charred. It will also probably be magnetic. But not dramatic looking, it's not made of kryptonite or anything like that, nothing dangerous.
A fragment of the 1999 meteorite found in Carlow (Photo: Astronomy Ireland)
Any fragments are likely to be simply lying on the ground, Mr Moore added. "The classic pitcure from science fiction is a rock smashing into the ground," he said. "Meteorites can be approaching at 100,000 miles per hour. But once they hit the upper atmosphere 100 miles up, the friction starts to slow it up and runs out of steam. It will go from 100,000 mph to just a few hundred in seconds. So it's only falling like any rock you might drop from a very high building. And unless it falls on very soft or boggy land, you're not going to get any sort of crater."
Astronomy Ireland are appealing for anyone who saw or recorded images of last week's fireball to submit the sighting via their website.