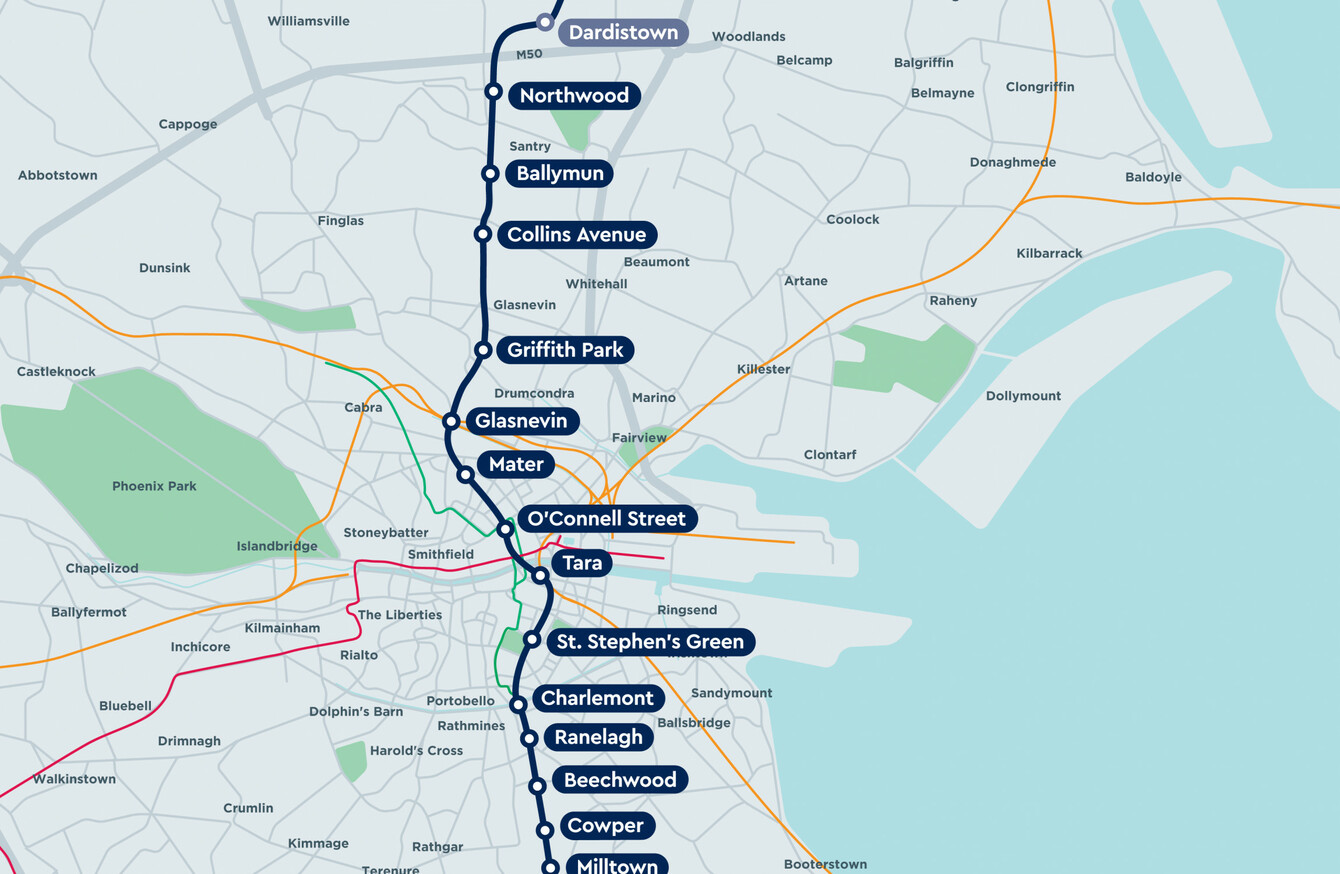 MetroLink route map
Image: NTA via RollingNews.ie
MetroLink route map
Image: NTA via RollingNews.ie
Updated Oct 30th 2018, 9:02 PM
UPDATED METROLINK PLANS have been delayed as a result of the high volume of submissions received by Transport Infrastructure Ireland (TII) during the public consultation period. 
In May 2018, TII and the National Transport Authority (NTA) launched a public consultation process on the Emerging Preferred Route for the MetroLink, the proposed 26km high-frequency metro from Swords to Sandyford. 
TII said the general public "demonstrated a high level of interest in the project and responded with a high volume of submissions". 
The MetroLink engineering designers are now considering "all the issued raised" and, as a result, are "reviewing the Emerging Preferred Route to take into account those concerns and suggestions made as appropriate". 
It was planned that the public would be updated on the project by November. However, the TII said that the project is "taking longer than anticipated".
"We now expect to update all stakeholders and hold the second non-statutory consultation early in the New Year," TII said. 
Delays and complaints
Plans for a Metro in Dublin have been floating around for some time; plans were halted in 2011 due to the economic downturn. Earlier this year, in March, a new plan was published for the MetroLink, which would see a route run between Swords and Sandyford.
Since then, the plan has received a significant amount of criticism. 
In July, Peter Nash, a member of the Rethink MetroLink Dublin South City group, told an Oireachtas committee that the proposed MetroLink was akin to the opening of a "Checkpoint Charlie" on the Berlin Wall. 
Outlining the group's concerns to the transport committee, he said transformation of the current Luas line to a segregated high-speed over-ground Metrolink southwards from Charlemont has "significant adverse social, environmental and commercial consequences for the adjacent neighbourhoods".
Nash said a segregated high-speed over-ground rail, in effect, creates a clear physical partition within communities.
The current plans also saw proposals to establish a tunnel boring machine launch site (used as a home for equipment for the project), which will share its perimeter with Scoil Mobhí in Glasnevin. The school shares its site with Na Fianna GLG, Scoil Chaitríona, and playschool Tír na nOg.
Representatives of the schools and clubs appeared before an Oireachtas committee in April to raise concerns about the planned site. 
However, speaking at an Oireachtas committee in June, the NTA's deputy CEO Hugh Creegan said that an alternative design was being considered.
"At this stage, it is likely but not certain that we will propose a single bore tunnel. This means we would no longer need to operate a tunnel boring site [on Na Fianna's grounds]," he said. 
With reporting by Gráinne Ní Aodha, Christina Finn and Paul Hosford