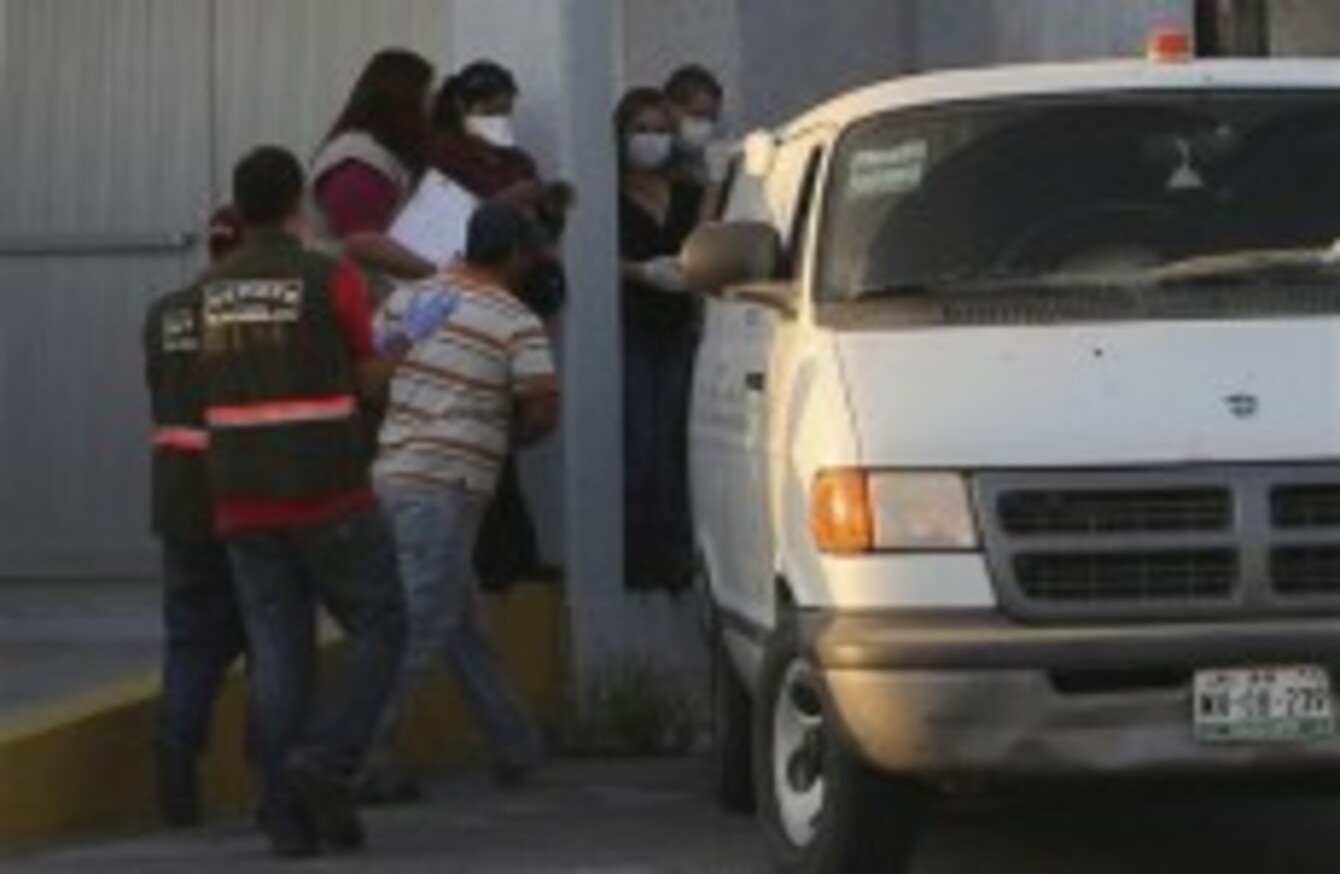 Forensic workers prepare to transfer bodies from a van into a large truck, not seen, in the northern border city of Matamoros, Mexico on Wednesday
Image: AP Photo/Rubios News
Forensic workers prepare to transfer bodies from a van into a large truck, not seen, in the northern border city of Matamoros, Mexico on Wednesday
Image: AP Photo/Rubios News
MEXICAN SECURTY FORCES uncovered a series of mass graves holding 59 bodies on Wednesday.
The discovery was made while they were searching for abducted bus passengers in a violent northern state bordering Texas.
The grisly find was made near the ranch where drug cartel gunmen less than a year ago massacred 72 migrants who were trying to reach the United States.
Investigators struggled to exhume the bodies in the mass grave to determine whether they belonged to kidnapped bus passengers, migrants who frequently ride buses in the area, or drug traffickers executed by rivals.
Tamaulipas state investigators and federal authorities went to the site about 130 kilometres south of the border at Brownsville, Texas, to investigate reports that gunmen had begun stopping buses and pulling off some passengers in the area from 25 March.
Two other such cases were reported in subsequent days, in what may have been an attempt at forced recruitment by a drug gang, Tamaulipas state interior secretary Morelos Canseco said.
The gunmen reportedly abducted almost exclusively men and allowed the remaining passengers to continue on their way.
Security forces reported that a series of eight burial pits had been found, one of which contained 43 bodies and the others 16 corpses. The bodies were being examined to determine their identities and cause of death.
Two of the dead were reported to be women. Many of the victims found in the pits appeared to have died between 10 and 15 days ago, dates that would roughly match the bus abductions.
President Felipe Calderon's office issued a statement saying the find "underlines the cowardliness and total lack of scruples of the criminal organizations that cause violence in our country."
While there was no immediate confirmation that a drug cartel was involved, officials refer to the cartels as "criminal organizations."
Mexican drug cartels have taken to recruiting migrants, common criminals and youths, Mexican authorities say. The country's drug related violence has claimed the lives of 34,000 people in the last four years, according to AP.
But drug gunmen also operate kidnapping rings, and erect roadblocks on highways in Tamaulipas and other northern states, where they hijack vehicles and rob and sometimes kill passengers.
San Fernando is on a major highway that leads to the US border, but it wasn't immediately known whether the victims found in the mass grave had been kidnapped from that road.
Drug gangs across Mexico also sometimes use mass graves to dispose of the bodies of executed rivals.
- reporting from AP