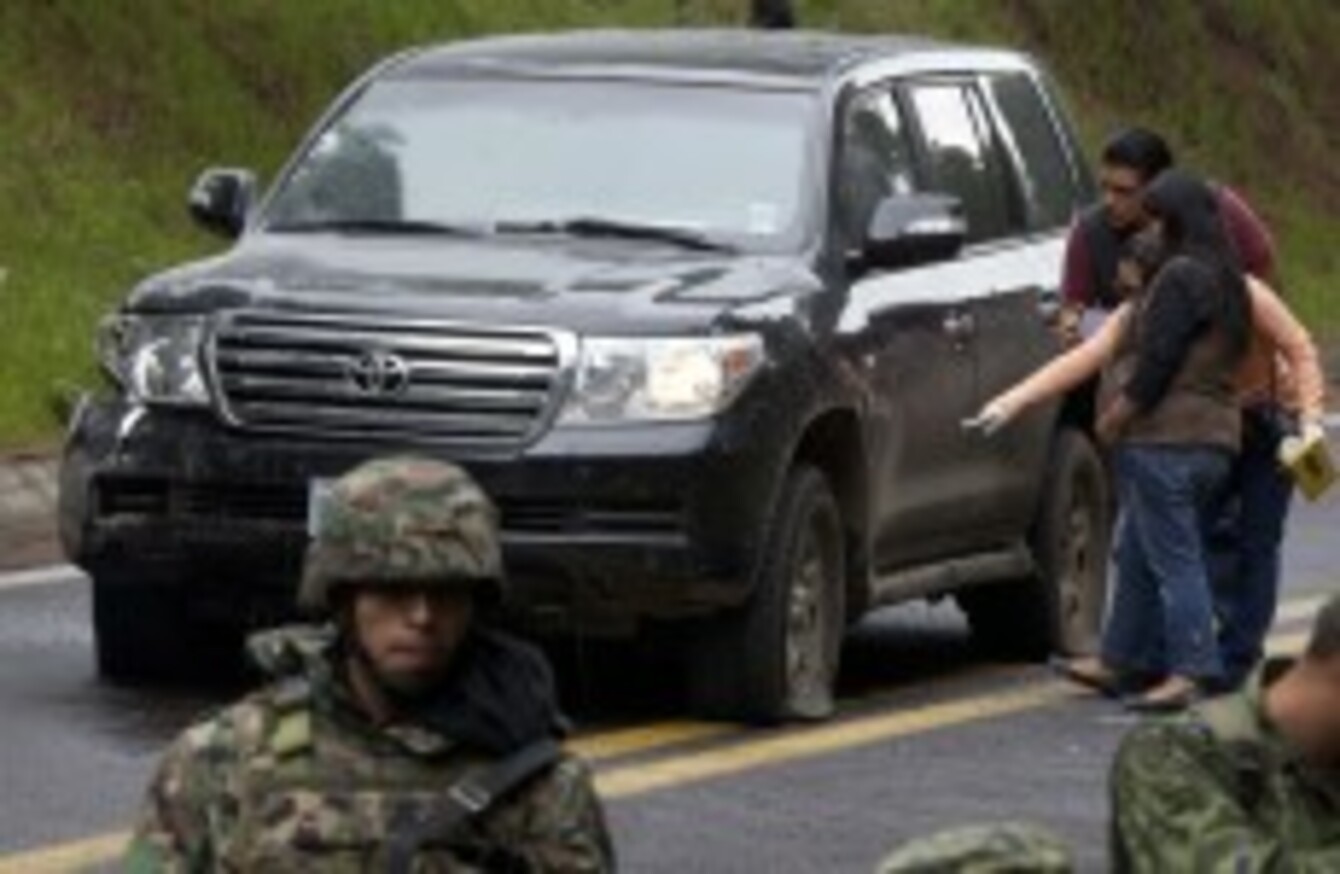 An armoured US embassy vehicle attacked by unknown assailants is checked by security personnel near Tres Marias, Mexico yesterday.
Image: AP Photo/Alexandre Meneghini
An armoured US embassy vehicle attacked by unknown assailants is checked by security personnel near Tres Marias, Mexico yesterday.
Image: AP Photo/Alexandre Meneghini
MEXICAN AUTHORITIES ARE trying to sort out why a US Embassy vehicle was shot up by federal police on a rural back road in mountains south of the capital, leaving two US government workers wounded.
Officials from both nations said the federal officers were chasing criminals when a hail of bullets was fired at the embassy sport utility vehicle, but the accounts left many questions unanswered.
The two American workers were taken to a hospital in the nearby resort city of Cuernavaca. One had a gunshot wound in his leg and the other was wounded in the stomach and a hand. Hospital officials in Cuernavaca said the wounded were later transferred to a Mexico City hospital in stable condition.
The US Embassy did not release the names of the injured workers, who it said were heading to a military training base south of Mexico City. Its statement said the employees and a Mexican naval captain travelling with them were fired on by a group of men, and were chased when they tried to escape. The naval officer was not seriously injured.
Mexico's federal police agency acknowledged that its own officers fired on the embassy's SUV, which appeared to be armored and has diplomatic plates. It said the officers were in the area looking for criminals, but it did not explain what happened.
Its statement said at least four vehicles fired at the embassy vehicle on a road south of the capital, but it did not clarify whether any or all of them were federal police units. Federal police spokesmen did not respond to The Associated Press requesting further comment.
A U.S. official who was briefed on the shooting said later that all the shots were fired by federal police.
Once rare attacks
Mexican prosecutors said in a statement late last night that 12 officers based in Mexico City were being held for questioning. Officers based in the capital have jurisdiction only in Mexico City and in four suburbs of neighboring Mexico State, not in Cuernavaca.
The embassy employees were on their way to do training or related work at a military base, the US official said and the shooting broke out in an area that has been used by common criminals, drug gangs and leftist rebels in the past.
Mexican officials said the Americans' vehicle initially was fired on by a carload of gunmen who first displayed their weapons as the embassy SUV drove along a stretch of dirt road off a highway that connects Mexico City to Cuernavaca.
The US driver of the Toyota tried to escape, but three other vehicles joined the original one in pursuing them down the dirt road and onto the highway.
Passengers in all four vehicles fired, and the Mexican naval captain called for help, government officials said. Federal police officers and Mexican soldiers then showed up on the road.
The SUV stopped on the highway, but it wasn't clear if the driver was halted by the chasers or stopped because of the wounds.
The vehicle was riddled with bullets, most concentrated around the passenger-side window. The area was cordoned off and guarded by more than 100 heavily armed marines and soldiers, and the highway was closed for hours. Investigators examined what appeared to be shell casings.
Attacks on diplomatic personnel in Mexico were once considered rare, but this was the third shooting incident in two years.
In 2011, a U.S. Immigration and Customs Enforcement agent was killed and another wounded in a drug gang shooting in northern Mexico. A drug-gang shooting in 2010 in the border city of Ciudad Juarez killed a U.S. consulate employee, her husband and another man.
While Mexico City has largely been spared the drug violence that hits other parts of the country, Cuernavaca has been the scene of drug gang turf battles involving remnants of the Beltran Leyva cartel.