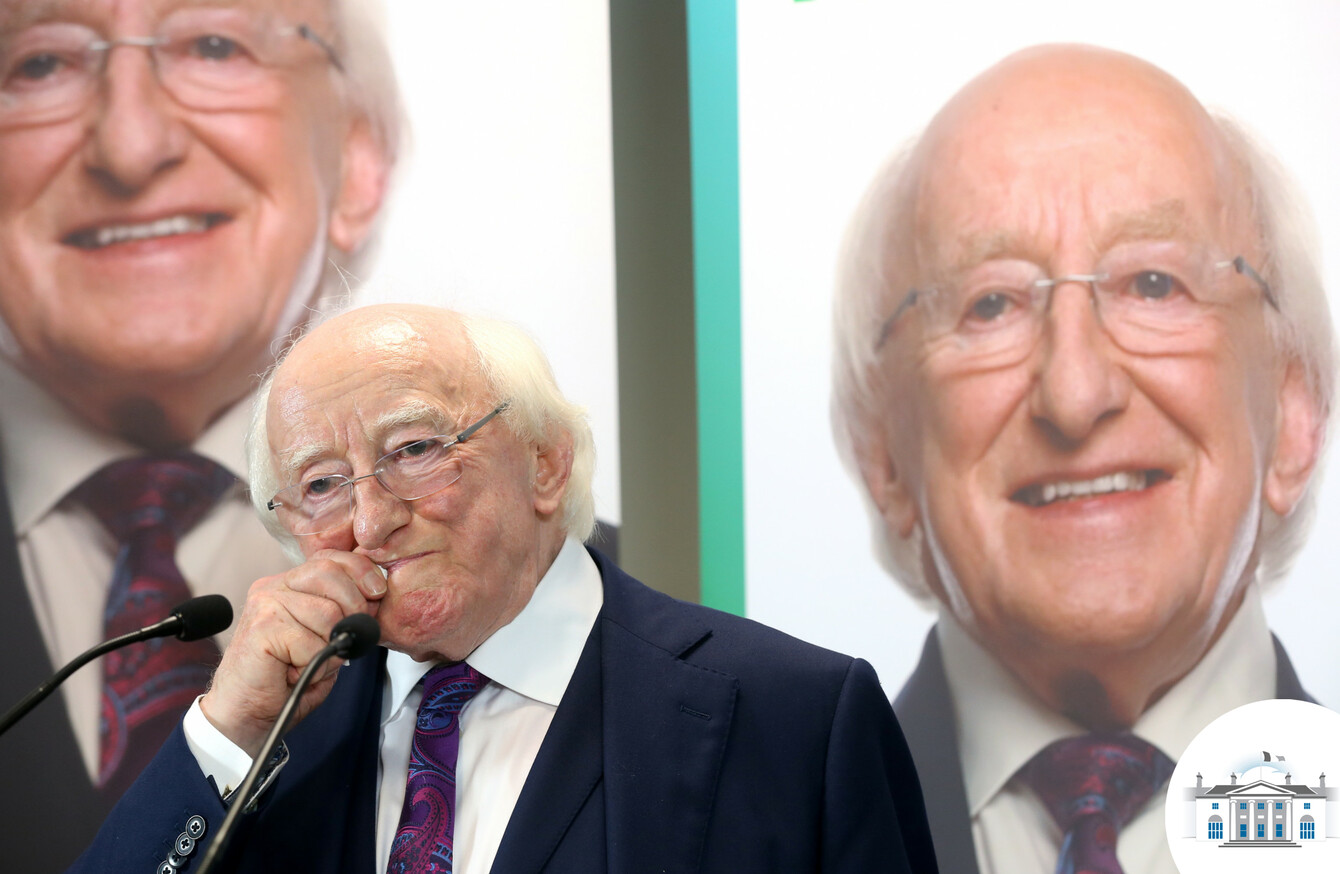 Michael D Higgins launching his re-election campaign on Wednesday.
Image: Sam Boal
Michael D Higgins launching his re-election campaign on Wednesday.
Image: Sam Boal
IF THE CANDIDATES for the presidency felt their route to a nomination was an uphill one, the reality of what they face in the next month was made clear to them this week.
Not because the debates have started but more because the incumbent finally spoke as a candidate, doing so with the confidence of someone who's done and seen it all before.
The president faced about 45 minutes of questioning from a room full of journalists who had been waiting for such an opportunity, some even complaining that such a chance is rarer than it should be. 
His performance was one that displayed the savvy of someone who has been in politics for over 50 years. 
While it will ultimately be the public who decides whether the answers he gives over the next four weeks are sufficient, Michael D. Higgins began his campaign by at least facing some of the potentially tricky topics that have been discussed about his presidency.
The most persistent of those has been about the cost of a presidency that has been the most visible of any in recent times.
These questions were given an extra urgency and justification in the Public Accounts Committee this week and came at a potentially difficult time ahead of the president's campaign launch. 
But Higgins both defended his record and pledged greater transparency on the issue, saying that he would be "totally open" to greater oversight of presidential expenses. 
When pushed by one journalist over stays in expensive hotels on foreign trips, Higgins noted that his travel plans are made by the Department of Foreign Affairs and not the Áras. 
"I couldn't care less if I stay in a tent," Higgins said, adding that he had done just that while on a Concern trip to Somalia. 
Higgins also addressed his controversial comments on the death of Fidel Castro, stating that it was his duty as President to comment on heads of state, comparing it to his recent statement on the death of the Vietnamese president.
From his rebuttal it was clear that Higgins had anticipated the question, something which will no doubt make his five opponents sit up and take notice. 
Higgins was criticised for being slow to confirm that he was seeking a second term and – with some justification – he was even accused of playing politics with the role by doing so.
If that is indeed the case, Higgins has used his long lead-in time to prepare for the questions that would inevitably come his way. It displays the forethought of a canny operator and it is another reason why his status as a runaway frontrunner is justified.
This is the first presidential election since 1966 where an incumbent has been challenged and lessons have surely been learnt by Higgins and his team on the outcome of that vote.
On that occasion Eamon DeValera did not actively campaign and the decision almost backfired on him spectacularly, coming within 10,000 votes of being defeated.
DeValera did not engage in debates, as Higgins did not on Thursday, but nor did he canvass or hold extensive rallies. 
#Open journalism No news is bad news Support The Journal

Your contributions will help us continue to deliver the stories that are important to you

Support us now
Such a strategy may have been poor back then but it is unthinkable in today's news cycle and it's unlikely that Higgins would have favoured it in any case. 
Speaking on Wednesday about his yoga teacher and his enthusiasm for more radical social change, Higgins seemed almost pleased to be speaking with the freedom of a candidate and not as the nation's first citizen.
He will be engaging in campaign events and made a point of saying that he "hopes to join the many, many young people campaigning for me".
But he wasn't ditching the advantages of incumbency either, citing scheduling commitments as the reason why he couldn't debate and speaking about Constitutional matters through the frame of his presidency.
"I'm absolutely clear that I will be able to draw a very clear line between my work as president and my work as a candidate," Higgins claimed.
It was somewhat of an ambitious promise given how difficult it is to separate him from his presidency. It would not be wise either given that it's his strongest asset.
Indeed, on the ballot paper Higgins' occupation will be listed simply as 'President of Ireland'.
And that is the first problem for the five challengers, Higgins status confers on him an advantage that they cannot compete with. The second is that they've also to face Higgins the candidate, a not insignificant opponent either.